5 Things to add in your Small Business Post-Pandemic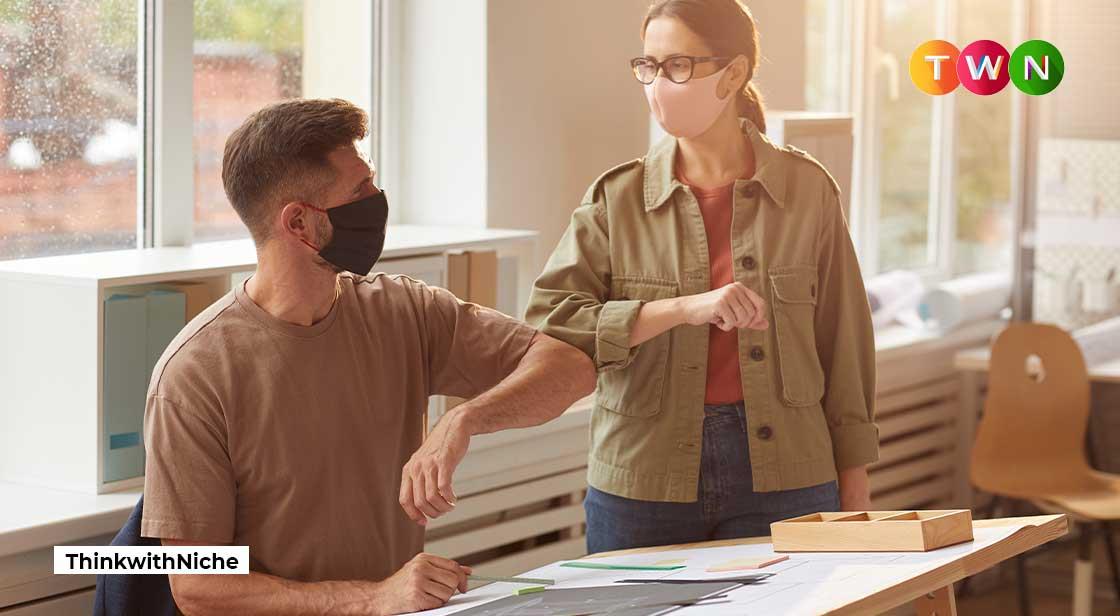 When the Covid pandemic hit the world, a concept of social distancing was adopted everywhere as physical contact was the leading way of the transmission of this virus. Hence, the business owners have to come up with new ways to keep their audience involved and stop them from turning towards any other alternatives. #TWN
Continue Reading..
During the course of the Pandemic, most people came forward to support small businesses. As per the surveys conducted by Go Daddy and OnePoll, since the Pandemic, 76% of the people preferred buying from a small business rather than buying from giants like Amazon and Alibaba. Hence, the pandemic proved to be a blessing in disguise! However, a new kind of challenge has risen. How to retain the customer base that has been built during these tough times?
Hence here are 5 things that must be added to your business to enhance your User Experience.
1. Contactless payment options
By the name itself, it is clear that this type of payment option is a process in which the transaction happens between the buyer and seller, without any kind of physical contact between them. Post pandemic, everyone wants to avoid physical contact as much as possible, as the virus is transmitted through direct contact. Hence, it is best advised for small businesses to provide their customers with the option of contactless payment options. These options include credit cards, debit cards, smart cards, and smartphones by using radio-frequency identification or Near Field Communication, E.G., Samsung Pay, Apple pay, Google Pay, and more.
By adding this payment method in your store you can avoid any physical contact and hence attract more customers as they'll be less skeptical of catching the virus.
2. Curbside Pickup
Customers are a little bit concerned about collecting their orders directly from the stores, as it is not safe to visit any crowded place. Consequently, most stores have turned towards the Curbside Pickup option but, for some, this is an entirely new concept.
Let's understand what curbside pickup is?
Well, this service allows the customers to collect their order from a specific location instead of collecting it from the store or getting it delivered to their houses. It may sound fairly innovative and new, but it is quite an old concept and has been practiced by stores like Walmart since 2013.
You can follow these simple steps to provide this service:
Ask your customer to place an order and mention where and at what time he wants to pick it up.

Get his order properly prepared and all packed.

Go to the location preferred by the customer and get the job done.
3. Online Stores
Having an online store is a must for your small business if you want to survive in the present scenarios. As we have seen, a ton of businesses got totally ruined because of their utter dependency on their offline store, and when the lockdown was imposed, they had no backup plan and hence, faced the consequences.
Having an online store allows you to get in touch with your customers and allow them to place orders without any actual interaction with the seller. Even if your physical store is not in operation, still your sales don't get affected much. Apart from contactless operations of a business, an online store also has many other benefits like extended hours for business to operate as you might get tired and sleep. Besides, a website works 24/7 and allows your customers to place an order even when you are not available to provide the services.
Setting up an online store is much easier nowadays because of platforms like Shopify and WooCommerce. You have to simply go through their registration process, and you are all good to go. They even provide a detailed tutorial for the people to whom the concept of the online store is new or simply for the people who are beginners.
4. QR code menus
If you are a restaurant owner or a food joint owner, this feature is a must for your business. Post pandemic, people are avoiding physical contact as much as possible and traditional menus are something that gets handled and touched by multiple hands. Hence, whoever touches those menus, their chances of getting infected with Covid and other kinds of diseases are increased.
With QR code menus, this problem can be easily conquered as this kind of menu does not require any touch as they are not something in a physical form or hard copy. These are simply QR codes that customers can scan through their phones and can turn on the digital menu. These kinds of menus are also easy to maintain and update. In a traditional menu, even if you make a slight change, you get all the reprinted altogether but, it is not the same with a digital menu as you have to simply go and update it on the web portal one time, and you are all good to go. These menus also cut a lot of cost because of the single men working for every customer and, you can avoid getting an individual menu printed for every table.
5. Self Checkouts
These checkouts are done with the help of a machine instead of a traditional way of checkout to complete a purchase. In this method, the customer simply grabs his belongings, scans the barcode, completes the payment process, and simply checks out without any interference from human beings. These kinds of checkouts not only ensure less human interaction but are also beneficial for the business as it reduces the labor cost and enhances the user experience.
Conclusion
In most of the surveys conducted about what the customers want in real-time, one thing was determined that everything came to one conclusion that was less physical contacts and all these services are dedicated to making physical contact as less as possible.
Adaptation is the key to survival, let it be anything an animal or a business that has failed to adapt has eventually failed to survive. Including these small changes in your business can determine the chances of your survival because these changes have helped a lot of businesses to not only survive but also improvise and grow.
You May Like