A Milestone of $100 Billion a year – Is it Possible for FDI in India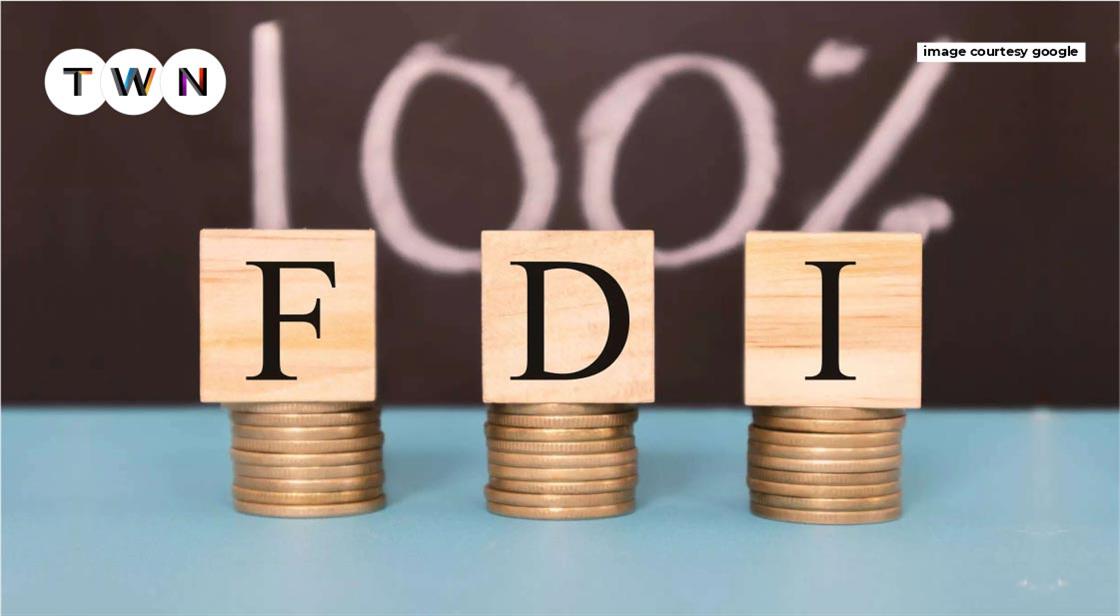 FDI inflows include equity investments, earnings reinvested, and other capital. According to the most latest set of data for 2021-22, released by the Reserve Bank of India last month, Karnataka was the top receiver state, accounting for 38 percent of FDI equity inflows, followed by Maharashtra (26 percent) and Delhi (14 percent ). Karnataka received foreign investment primarily in computer hardware and software, automobiles, and education. Let's know if FDI in India will reach the milestone of $100 billion per year. #TWN
Continue Reading..
Will India be able to sustain this as the global financial crisis worsens due to the Ukraine war? Will it be capable of attracting $100 billion in foreign direct investment in a year? When, if ever? We will know about this topic in the blog you are reading. The FDI inflow in India has seen some major ups and downs. Be it Covid or the Ukraine war, the foreign investors consider India as a hotspot for investment, and hence, the FDI.
FDI Inflow in India
In the last two years, India (the world's fastest-growing major economy in the world) has received $165 billion in foreign direct investment (FDI). The world was reeling from Covid-19 during these pandemic years. Despite the fact that India was deeply affected by the second wave, businesses from a record 101 countries invested in 57 sectors in 2021-22. They were willing to forgo Covid concerns in order to invest in the India story. In fact, the total inflows to India during the pandemic years—$81.9 billion in 2020-21 and $83.5 billion in 2021-22—were greater than what the country received in the first six years of Manmohan Singh's rule.
FDI inflows in India include equity investments, earnings reinvested, and other capital. According to the latest set of data for 2021-22, released by the Reserve Bank of India last month, Karnataka was really the top recipient state, accounting for 38 percent of FDI equity inflows, followed by Maharashtra (26 percent) and Delhi (14 percent). Karnataka received foreign investment primarily in computer hardware and software, automobiles, and education.
So far, the Govt. of India has not declared any objectives. Deepak Bagla, CEO & MD of Invest India, contends that FDI is about more than just money; it is also about global recognition and trust. "We can have $100 billion in FDI inflows yearly in 24 to 36 months if we have a supportive global ecosystem," he says. Aside from Russia's invasion of Ukraine, other conditions that contribute to an increasingly volatile financial environment include high inflation and interest rates, fears of a global recession in certain regions of the world, supply chain backlogs, and a scarcity of inputs such as semiconductors. "However, India's rapid growth will entice investors." "It is the world's fastest-growing large economy," says Bagla.
Under the Department for Promotion of Industry & Internal Trade, Invest India is an investment marketing and facilitation agency. Bibek Debroy, chairman of the Prime Minister's Economic Advisory Council, believes the figure could exceed $100 billion. According to Debroy, annual FDI inflows of up to $120 billion are feasible in three years.
EVR Ramana Reddy, Karnataka's additional chief secretary in charge of important departments like commerce, industries, and information technology, believes India will reach the $100 billion FDI mark "very soon," assuming the creative industry remains intact. "Of the 100 unicorns born in India the year before, 40 arose from Karnataka." "Startups were also important in our FDI inflows," he says. Since 2000-01, India's FDI data has been a roller-coaster ride, with dramatic increases such as a 155 percent year-on-year increase in 2006-07 and occasional slips such as a 26 percent decrease in 2012-13. Such data swings make forecasting future FDI trends difficult for analysts. In the last 22 years, gross FDI increased year on year for 17 years and decreased five times (2002-03, 2003-04, 2009-10, 2010-11, 2012-13).
As Per an RBI bulletin issued last month, net FDI dropped down to $39.3 billion in 2021-22 from $44 billion the previous year "due to higher outward FDI by India and restitution by foreign investors." With more Indian companies purchasing assets in foreign territories, net FDI is likely to be under pressure in the coming years. However, net numbers do not alter the fact that India has received more foreign funds during the pandemic. This is primarily due to the fact that most sectors are open to 100 percent FDI under the automatic route.
As per the facts above, it is possible that FDI inflow in India might cross that margin of $100 Billion a year regardless of the ongoing pandemic and major economic mishaps.
The FDI policy in India is worth knowing to comprehend why FDI inflow is important for the economic growth of the nation.
FDI Policy in Brief
The Department of Industrial Policy and Promotion is the nodal Dept for the formulation of the Government's Foreign Direct Investment Policy (FDI). It is also in charge of maintaining and managing data on inward FDI into India based on money transfers disclosed by the Bank of India (RBI).
The FDI policy is being reviewed on a regular basis in order to make it more investor-friendly. To lure elevated amounts of FDI, the government has implemented a liberal FDI policy in which FDI up to 100 percent is permitted via the automatic route in most sectors/activities. Significant changes have recently been made to the FDI policy regime to guarantee that India continues to remain an increasingly appealing investment destination. The Department actively participates in the liberalization and rationalization of FDI policy. To that end, it has engaged in numerous consultations with stakeholders on various facets of the FDI policy.
Conclusion
FDI inflows in India are guided by the policy put in place by the Department of Industrial Policy & Promotion. The aim is to keep the FDI inflow high so that economic stability can be maintained for the nation. Dips were observed, but the recovery was pretty okay. As a result, a milestone of $100 Billion a year can be achieved.
You May Like