7 Growth Priorities & 8 Key Industries: Union Budget 2023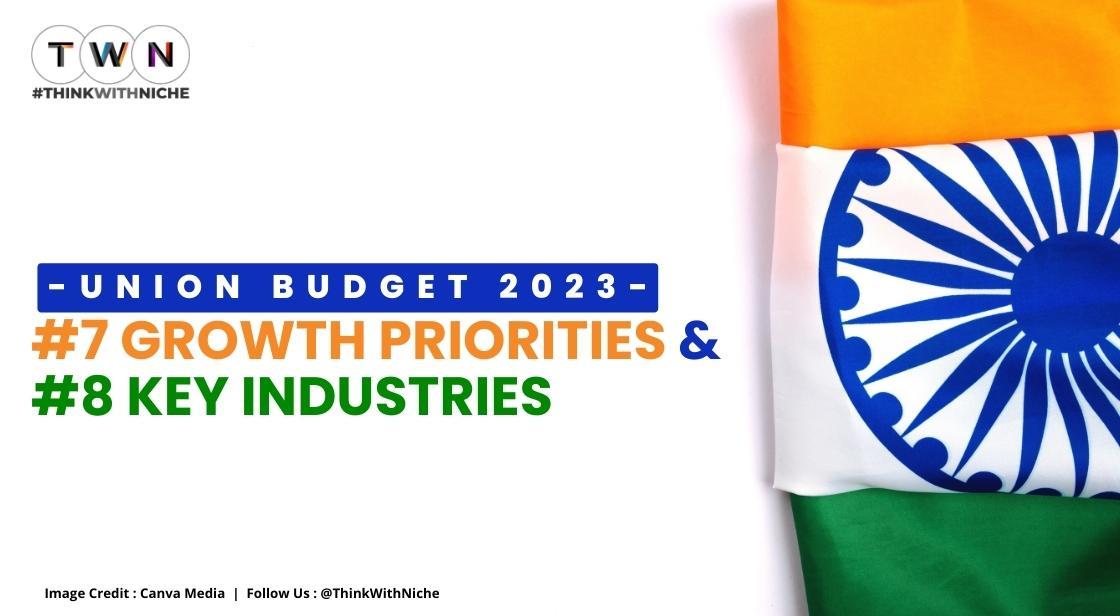 The fifth budget under Modi 2.0 was unveiled on Wednesday by Union Finance Minister Nirmala Sitharaman. This Budget 2023 is the first budget of Amrit Kaal. The Indian economy is on the right track and is poised for a bright future, according to Nirmala Sitharaman, who stated this in the final comprehensive budget before the general elections next year.
Sitharaman highlighted significant modifications to the tax slabs under the new tax regime as well as a significant increase in funding for railways and capital expenditures, which will greatly benefit taxpayers and the economy. The Budget for 2023-24 kept its focus on expanding Capex showing that the Modi government's priorities are building roads, highways, and railway lines.
The middle class has been given some relief in terms of tweaks in the new income tax regime clearly pointing out that the government wants a shift towards the new regime from the older one.
The Union Budget has succeeded on all counts, including a significantly increased allocation for capital spending, initiatives to boost the manufacturing sector, especially MSMEs, and a focus on advancing industries that are highly employment-generating, including agriculture, start-ups, and renewable energy.
In this blog post, we will discuss 7 Growth Priorities & 8 Key Industries of Union Budget 2023.
Continue Reading..
On February 1st for FY2023-24, Finance Minister Nirmala Sitharaman delivered her sixth consecutive Union Budget. The Finance Minister stated earlier this month that the upcoming Budget will "follow the spirit" of prior Budgets and continue to support growth through public spending. The Minister stated that the Budget will also "establish the framework" for the following 25 years.
The NDA government of Prime Minister Narendra Modi, now in its second term, has released its fourth budget. The allocation to important sectors like health, defense, education, and agriculture will be closely monitored as this Union Budget for 2023–24 is delivered against a backdrop of geopolitical unpredictability, rising inflation, and a sluggish global economy. Let's look at the Union Budget 2023's 7 Growth Priorities and 8 Key Industries.
The following is a full reading of the numerous initiatives Finance Minister Sitharaman unveiled in the Budget 2023, broken down by sector:
1. Startup industry
The finance minister said that the government will establish an Agriculture Accelerator Fund (AAF) to support Agri-startups by young entrepreneurs in rural areas. In order to facilitate inclusive, farmer-centric solutions, a digital public infrastructure for agriculture will also be established.
The government extended this till March 31 of the current year in the budget from the previous year. For three consecutive years out of the first ten years following incorporation, tax incentives have been offered to eligible businesses founded before March 31, 2023.
Startups that were incorporated on or after April 1, 2016, may seek an exemption from paying income taxes. For three consecutive years out of the first ten years following incorporation, recognized startups that receive an inter-ministerial board certificate are free from paying income tax.
In order to encourage startups in the nation, the government has taken a number of actions. The Fund of Funds for Startups (FFS) scheme, Startup India Seed Fund Scheme (SISFS), and Credit Guarantee Scheme for Startups (CGSS) are implemented as part of the Startup India initiative to offer funding at different stages of a startup's business cycle.
2- The Aviation industry
On Wednesday, Finance Minister Nirmala Sitharaman proposed an increase in capital spending for infrastructure development of 33% to Rs 10 lakh crore for the years 2023–24, or 3.3 percent of the GDP.
- She claimed that the recently established infrastructure finance secretariat will help to draw in more private investment while presenting the Budget.
- She declared that the government would resurrect 50 new airports, helipads, water aero drones, and advanced landing grounds in an effort to significantly enhance regional air connectivity.
- The Union Civil Aviation Ministry received Rs 3,113.36 crore from the Budget as well.
3. Education industry
Three centers of excellence for artificial intelligence will be formed in leading educational institutions, and 100 laboratories in engineering universities will be developing applications employing 5G services, according to budget statements on digital projects.
- A national digital library for children and adolescents will be established to make excellent books more accessible across genres, geographies, and languages.
- The center plans to recruit 38,800 teachers and support staff for the 3.5 lakh indigenous students who would attend the 749 Eklavya Model Residential Schools.
4. Agricultural industry
Allocations to the agriculture sector and rural development have expanded at a CAGR of 12% over the previous ten years, while the entire budget has grown at a compound annual growth rate (CAGR) of 11%.
However, a closer examination of the data reveals that the entire budget has only slightly increased, by 4.7%, from Rs. 1,10,254.53 crore in the FY 2022–23 Revised Estimates (RE) to Rs. 1,15,531.79 crore in FY 2023–24.
Compared to last year, when the sector received 3.36 percent of the entire budget, this year's allotment was only 2.7%.
By 2022, the government had set an ambitious goal of doubling farmers' income. However, it was not mentioned in the Budget Speech. The emphasis of the speech seems to be more on financing, start-ups, and private investment.
With an emphasis on animal husbandry, dairy, and fisheries, the agriculture credit objective has climbed to Rs 20 lakh crore (from Rs 18 lakh crore last year). With an investment of Rs 2,516 crore, this would begin with the computerization of 63,000 primary agricultural credit organizations.
5. MSMEs industry
The FM had suggested updating the MSMEs credit guarantee scheme last year. Sitharaman announced on Wednesday that the revised scheme would go into effect on April 1, 2023, with an injection of Rs 9,000 crore into the corpus. This will provide for an additional Rs 2 lakh crore of collateral-free guaranteed loans. Additionally, there will be a 1% reduction in the cost of the credit.
PM VIshwakarma KAushal Samman (PM VIKAS)
India has long been known for its famous products made by traditional artisans and crafters who use their hands and tools to create their work. The FM claimed that the artwork and handmade goods produced by them truly capture the essence of Atmanirbhar Bharat. "A package of help for them has been conceptualized for the first time. By connecting them with the MSM, the new initiative will allow them to increase the effectiveness, scope, and reach of their offerings.
Vivad se Vishwas I – Relief for MSMEs
The budget states that government and government undertakings will restore 95% of the forfeited sum related to the bid or performance security to MSMEs who failed to complete contracts during the Covid period. MSMEs who are struggling to make ends meet due to economic upheavals can benefit from this.
Entity DigiLocker
An entity According to the budget, DigiLocker would be set up for usage by MSMEs, big businesses, and charity trusts. This will make it easier for these businesses to securely store documents online so that they can easily share them when necessary with various authorities, regulators, banks, and other business entities.
Presumptive taxation
Our economy's growth engines are MSMEs. Presumptive taxation had previously been available to micro businesses with a turnover of up to Rs 2 crore and some professionals with a turnover of up to Rs 50 lakh.
6. Defence industry
Presumptive taxation had previously been available to micro businesses with a turnover of up to Rs 2 crore and some professionals with a turnover of up to Rs 50 lakh.
The Ministry of Defence has received the biggest budget of any ministry, at Rs 5.94 lakh crore, but this is hardly a material increase from Rs 5.25 lakh crore for the current fiscal year.
- Following the conclusion of Finance Minister Nirmala Sitharaman's Budget address, shares of Bharat Electronics, Bharat Dynamics, Hindustan Aeronautics, Paras Defence, and BEML all experienced a 5–9% - Following the conclusion of Finance Minister Nirmala Sitharaman's Budget address, shares of Bharat Electronics, Bharat Dynamics, Hindustan Aeronautics, Paras Defence, and BEML all experienced a 5–9%
- The government has prohibited the importation of a number of goods as part of its expansive Atmanirbhar Bharat program, including essential components for defense equipment. Which implies that they are now being produced in India.
7. Renewable energy
Highlights of Budget 2023 for the renewable energy sector include a 48% increase in funding for this sector.
- The budget estimate for this year's allocation is Rs 6,900.68 crore, which is 45.3% more than the RE of Rs 7,033 crore.
Highlights of the IT ministry's budget for 2023:
Highlights of the IT ministry's budget for 2023:
- The budget estimate for this year is nearly twice as large as it was two years ago, at Rs 8,118.65 crore for the year of 2021–22.
Highlights of the Budget for the Road Ministry for 2023 include a 36% increase in funding to around Rs 2.7 lakh crore for 2023–2024 for the Ministry of Road Transport and Highways (MoRTH).
- The MoRTH capital expenditure plan for 2023–2024 includes an estimated Rs 1.62 lakh crore for the National Highways Authority of India (NHAI). According to the updated government projections, the NHAI will invest Rs 798 crore as IEBR in 2022–2023
8. Auto Industry
2023 Federal Budget Automotive Sector: Nirmala Sitharaman, the finance minister, gave her fifth Union Budget to lawmakers on Wednesday. Notably, the Modi administration's final complete budget before the Lok Sabha elections early the following year was Budget 2023-2024. As a result, there is considerable interest in the Union Budget 2023–24.
The federal government's commitment to achieving the net zero emission target by 2070 is clearly demonstrated by the Union Budget. If the budget is implemented correctly at the local level, the expectations we had for it from the perspective of the EV industry will be fully satisfied. The country's stated incentives and packages for agritech and EV-related technologies are both quite encouraging, and substantial development from rural to urban regions is to be expected.
Featured in the 2023 Budget: What do the seven priorities, or "Saptrishi," actually mean?
1. Inclusive growth
Many groups have benefited from the government's Sabka Saath Sabka Vikas policy, including women, SC, ST, OBC, and other disadvantaged groups.
2. Reaching the last mile
We just introduced the Aspirational Blocks program, encompassing 500 blocks for saturation of government services, building on the tremendous success of the Aspirational District program.
3. Investment and Infrastructure
The capital expenditures are being sharply boosted by 33% to Rs 10 lakh crore, or 3.3% of the GDP.
4. Realizing potential
A National Data Governance Policy will be introduced, allowing startups and academic institutions to access anonymized data to promote innovation and research.
5. Financial Industry
By injecting Rs 9,000 crore into the corpus, the revamp schemes will go into action as of 2023.
6. Green growth
The Ministry of Petroleum and Natural Gas would invest Rs 35,000 crore in capital projects to support the energy transition, the net zero aim, and energy security.
7. Youth power
The PM Kaushal Vikas Yojana 4.0 will be introduced in order to train thousands of young people. The initiative will include courses in a new age.
You May Like