Exclusive Interview with Servotech Founder Raman Bhatia. Know How his Focus on Innovation and Quality let to Company Growth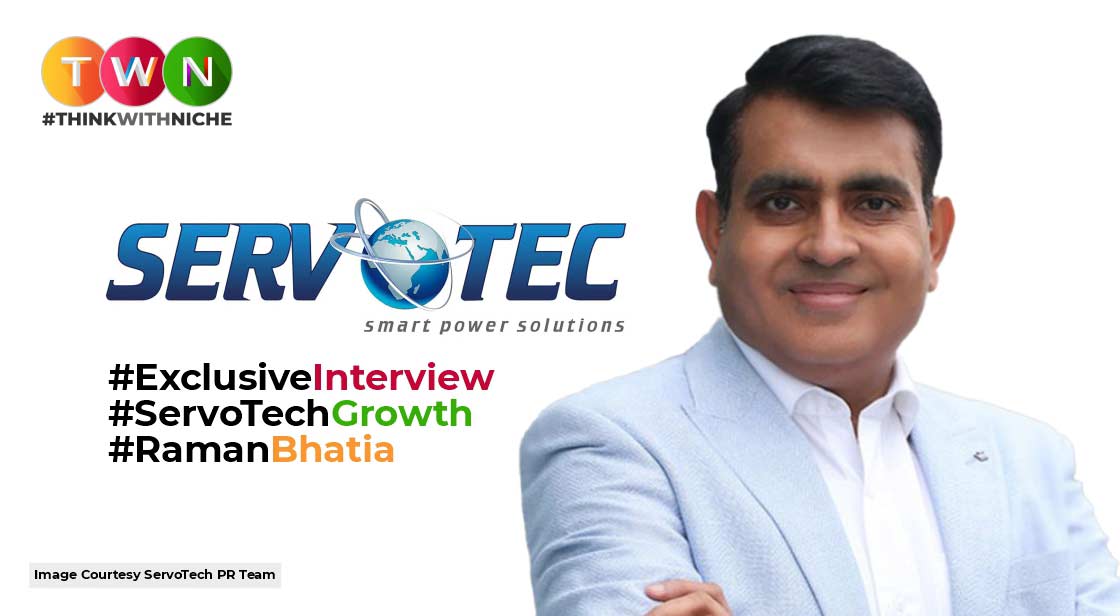 Servotech Power Systems continues its best practices in product development and business expansion, with its amicable proven excellence in the manufacturing sector in #India. The organisation under the #Leadership of Mr. Raman Bhatia (Founder & MD, Servotech) is #enriching and #enhancing its capabilities towards serving new geographies and target groups #TG.
With the forward-thinking mindset of its key stakeholders, #Servotech has developed an innovative product portfolio and built scalable partnerships with global market players for continual growth.
Servotech's capacity and capabity business practices are a strong foundation for its future operations. The #ThinkWithNiche Editorial Team had the pleasure of interviewing Mr. Bhatia.
His perspective on the industry and Servotech's #GrowthPath were very insightful and impressive. With this Blog Post, #TWN intends to share the #Servotech Success Story and its future plans towards becoming a leading industry player in its respective areas of excellence.
#Solar #ComPort
#EVchargingStations #EVchargingDevices
#GreenEnergySolutions #Servotech
#ClimateChange #ElectricRevolution
#IndusryBestPractices #GreenToLiveGreen
#ThinkWithNiche #TWN
#BusinessBestPractices
#ExclusiveInterview
Continue Reading..
Servotech Power Systems Ltd. (NSE-Listed) has surfaced as a forerunner in evolving out-of-the-box innovative product offerings by incorporating international partnership, technology research, and innovation in process management.
The company produces, procures, and distributes a wide range of high-end, yet innovative solar products and medical equipment as well as energy-efficient lighting products. The company has just released High-Tech Electric Vehicle Charging Stations/ Devices and plans to quickly establish EV Charging Tech Infrastructure across India. Servotech has also been a key contributor to India's transition to the "Electric Revolution."
Servotech has a remarkable history of more than two decades of manufacturing experience in Medical Equipment, Solar-Powered Infrastructure, and Assembling Large-Scale Infrastructure Projects across India. Servotech is a trusted solution provider in the green energy sector and has been a national juggernaut. #Servotech is committed to providing clients with critical advice and introducing solutions that not only meet but exceed their expectations. Servotech is rapidly growing and too with a high client satisfaction index. The main focus of the company is on quality products and exceptional service.
According to the Press Release dated May 21, 2022 and May 20, 2022, Servotech, announced its annual financial results for the fiscal year ending March 31, 2022 @ NSE. Servotech Power Systems Ltd. reported an annual revenue of Rs. 14,425 Lacs. as opposed to Rs. 8,790 Lacs. in the same period last fiscal year. The annualized revenue growth of 64% in the same period as last fiscal year (approx.). The company also earned Rs. 559 Lacs. even during the Fiscal Year 2021-22, the amount was Rs. 115 Lacs. in the preceding Fiscal Year 2020-21, representing a 386% Growth in YoY Gains.
Their Solar Segment was their standout product category, accounting for almost 60% of total revenue.
Servotech saw a significant increase in their Latest Project & EV Chargers. This brought in an encouraging Rs. 536 Lacs. during the same period.
Servotech Power Systems recently developed a first-of-its-kind Solar Performance Monitoring & Controlling Device with the German Development Agency Deutsche Gesellschaftfur Internationale Zusammenarbeit GmbH (GIZ. The ComPort (portable solar system PV Port), device has been successfully tested at the EUREF Campus in Berlin, Germany. ComPort is a revolutionary innovation in its class. It can be integrated into any domestic off-grid/ hybrid solar system to make it a smart system. A portable solar system (PV Port) have been also installed on the same campus.
The device can monitor and control input/output voltage, charge/discharge, and solar energy generation. The app also allows you to compare previous results for comparisons and data analytics in energy efficiency vs. cost. This device can be installed in any domestic solar system and is DIY-compatible. It can also be used by O&M Companies as a data interface to allow them to analyse data.
Servotech's Founder & MD Mr. Bhatia was present at the testing. He said, "We are proud to develop ComPort which is a first-of-its-kind universally applicable instrument that can be integrated with any off-grid and hybrid inverter and empower users who have applied solar solutions to get the most out of these systems. Features such as DIY-friendly installation, remote power scheduling, and minimised energy costs, make this device the perfect solution leading to optimized solar system performance. Further, we have also filed multiple patents for the device."
This encouraging progress has encouraged the company to continue innovation. It focuses on scaling and proven manufacturing. It is also increasing its commitment to better serve existing and new customers. This gives clear evidence that the company is capable of maintaining this momentum over the next few years.
This Virtual Exclusive Interview featuring Mr. Bhatia (Founder and Managing Director of Servotech) is to discuss and know how the company will grow and what the future plans are for the company.
Also Read:
Servotech Power Systems Ltd. Reports FY22 Results, with Revenue Increasing by 64% over FY21
The Exclusive Interview with Mr. Raman Bhatia with TWN Editorial Team Begins Here:
QUESTION 1
Servotech's FY21-22 results have been remarkable. Highlight the major takeaways from your performance, as well as the strategy that helped you accomplish these impressive results.
ANSWER
The 64 percent increase in revenue is the most positive and illustrative indicator of our excellent fundamentals, resilience, and strategy execution. Furthermore, our diversified portfolio enabled us to accelerate growth and produce revenues even during disruptive and trying periods, resulting in an average 43 percent rise in gains. Our commitment to our vision of "Produce Green to Live Green" has been backed up by our collaborative efforts in team building, market expansion, cost-of-ownership optimization, and, most importantly, research and innovation to prepare us for any future market adjustments.
​​QUESTION 2
Based on your strong product-by-product revenue statistics, which product category do you predict to generate the most money in the coming year?
ANSWER
With renewable energy sources making waves in both home and industrial circuits, and given how effectively the government is pushing for them, it's reasonable to predict that our solar items will be our standouts for the coming year. The fact that our solar line contributed 60% of all our product sales in the previous fiscal year gives you an idea of how valuable that is. But, to add to the mix, towards the end of next year, our EV-charger segment range might be a differentiator as well. EV chargers will soon take over the market as India moves to e-mobility and EVs become the norm, therefore there are some exciting opportunities here as well.
QUESTION 3
Inform our readers about the business strategy Servotech is considering in order to extend its operational footprint in India?
ANSWER
With strong momentum across all of our strategy pillars, we made considerable progress toward our aim of making tech-enabled solutions affordable and accessible to the general population in the previous fiscal year. Thanks to calibrated pricing and a focus on cost optimization measures and efficiencies, consistent gross margins and EBITDA were attained. Our focus on expanding our partner network programme, which has already helped us spread our solar solutions throughout 21 Indian states, will only intensify in the future. Furthermore, we will be able to successfully establish a competitive edge by launching our EV-charger area, which will be supported by our ongoing R&D and innovation projects.
QUESTION 4
Based on your current financials, what are your forecasts covering the next 2-3 years till 2025?
ANSWER
This growing trend is expected to continue in FY 2023 and beyond. Our R&D team will develop a variety of new and specialized customer-focused solutions in the next years, resulting in a robust and diverse business-generating pipeline. Our recently announced high-precision solar and electric vehicle charging technologies will not only lead consumers away from traditional energy and mobility solutions and toward modern ones, but will also produce significant revenue for all of our stakeholders. Our goal for the next five years is to maintain a double-digit growth rate, which will be fueled by our focus on highly consumer-centric solutions.
Also Read:
https://www.thinkwithniche.com/blogs/news/servotech-tests-solar-energy-performance-monitoring-device-in-germany
QUESTION 5
How does Servotech's recent entry into the electric vehicle charging market appear from a business pivot?
ANSWER
Electric vehicles are much greater than a prospective area; they perfectly align into our value fabric. With a pressing need to reduce our carbon footprint, we've changed our attention to research and development in order to give the general people with smart, climate-friendly, and low-cost tech-driven solutions. We're now leveraging our existing footprint to help fuel stations prepare for future autos and, as a result, any e-mobility advances. With our solar services, we have already assisted in the modernization of gas pumps and fuel facilities across India. To that end, we've already started assembling the best automotive talent to help us navigate our ship in the right path.
QUESTION 6
What are some of the government's important measures or schemes, in your opinion, that could change the landscape of India's EV ecosystem?
ANSWER
Indian Government is already developing clear rules, collaborating with key stakeholders, and encouraging states to invest in electric car infrastructure. To back to my previous point, all of this is being done well before the e-mobility industry hits its peak, and once it does, this infrastructure will support current adoption while also driving new growth. My policy recommendations would be to look into ways to make this technology more cost-effective, such as establishing how incentivized Lithium battery manufacturing might be established to reduce external dependence and how duties could be reduced to encourage more companies to enter the segment.
QUESTION 7
Building indigenous batteries for electric vehicles is one of India's most pressing concerns and goals, as you mentioned. How, in your opinion, can India become self-sufficient in this area?
ANSWER
Lithium-ion batteries are the most significant component in electric vehicles, accounting for more than half of the total cost. While the government is taking initiatives to promote lithium-ion batteries, private sector firms should be encouraged to develop and strengthen lithium-ion supply in the country. As economies of scale are achieved, costs will eventually reduce. India also enjoys a competitive advantage in the sector of lithium-ion batteries. With lower assembly costs, India leads the globe in both assembly and battery management system (BMS) technology. BMS is completely software-driven and relies on computer technology, an area in which India has a lot of promise. Due to its exceptional software capabilities, India will have a significant competitive edge over other nations whenever lithium-ion cell manufacturing begins in the country.
Also Read:
https://www.thinkwithniche.com/blogs/news/servotech-power-systems-ltd-declared-its-results-for-fy22-revenue-increases-64-from-fy21
QUESTION 8
Servotech recently erected India's first portable solar rooftop system at the Swaminarayan Akshardham temple complex in Gandhinagar, Gujarat. What are your thoughts on this achievement?
ANSWER
This was a significant project for Servotech because it not only changes people's conceptions of solar energy, but it also matches with our Prime Minister's vision of 'One Solar City per State,' and plays a crucial role in transforming Gandhinagar into India's first solar city. To get here, it required four years of iterative development with GIZ, during which teams looked for methods to make the technology more inexpensive and scalable. We were able to make the device four times more cost-effective while concurrently adding new functions by the end of it. We'll take an omnichannel approach in the future to make it more widely and easily adopted, and we'll market it as a flexible gadget rather than a stand-alone system. On the public front, we are already working on additional projects, such as Gandhinagar, around the country's heritage sites and significant attractions to encourage future participation.
QUESTION 9
Please explain what Servotech's expansion ambitions are and what we may expect from the company in the next five years.
ANSWER
We expect to generate a 15x increase in revenue over the next five years by leveraging and complementing our present industry leadership position, abilities, and experience. This will be accomplished through a number of efforts that are already in the works, such as expanding our client base, accessing new networks, expanding our distributor footprint, and anticipating any disruptions that may create a demand shift. Positive outcomes are already being seen in all of these areas, which is assisting us in defining and directing our future actions. For example, our channel outreach activities have already increased awareness of Servotech's services, which will be empowered and performed by close to 10,000 channel partners by the end of this year, which I am elated to announce.
The Exclusive Interview with Mr. Raman Bhatia with TWN Editorial Team Ends Here
#ServotechGrowthStory #RamanBhatia #LeadershipThatCounts #NSE
#ThinkWithNiche #TWNspecialCoverage
#Business #GlobalPartnerships
You can Explore Business Blog Posts & News on Servotech by Clicking on the Links Below:
https://www.thinkwithniche.com/blogs/details/servotech-appoints-deepak-kumar-as-the-vp
Read this Article in Hindi by Clicking on the Links Below
https://www.thinkwithniche.in/blogs/details/continuous-development-of-servotech-power-systems-will-be-possible-with-innovative-efforts-raman-bhatia-founder-md
For more information on Servotech Power Systems Ltd., visit https://www.servotech.in
Follow Servotech Social Handles:
Facebook
LinkedIn
Twitter
YouTube
Instagram
You May Like