Creating Smart Cities To Make A Promising Future For India Decoded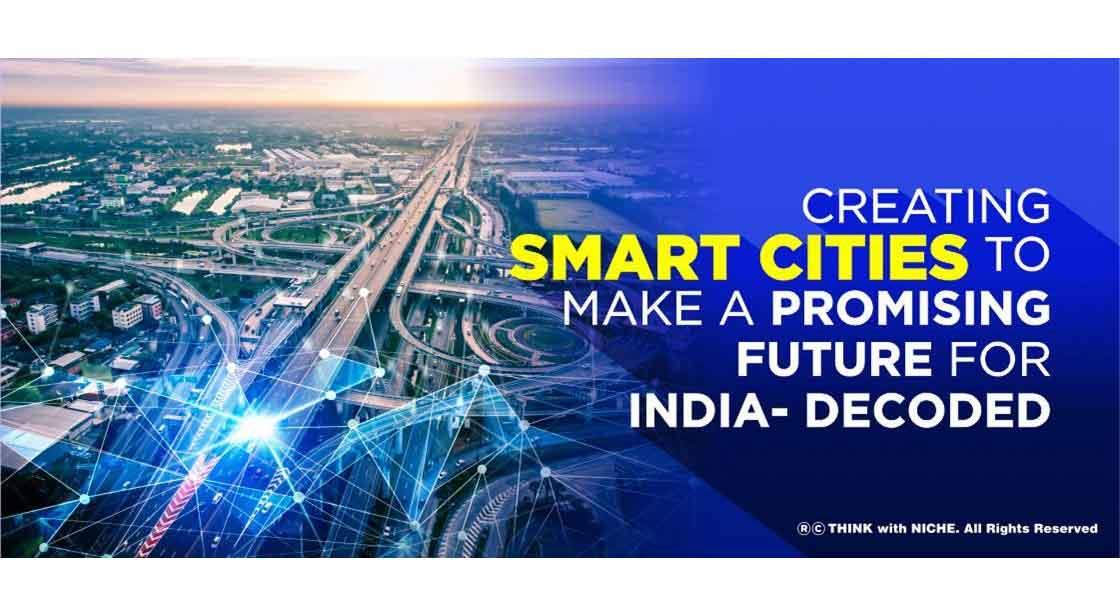 Nobody imagined technology a few decades ago, and now we have a variety of modern technologies at our fingers. Why not make India a better place to live by putting a clever idea into the initiative? #ThinkWithNiche
Continue Reading..
Smart City gained its importance from the advent of the 21st century. Different information and technologies holding communication are introduced and developed by industries at a high scale for a whole new urban way of living. Vivid planning of cities and working for their development has become a forte.
According to UN project reports, by 2050, the world's population would be living in urban areas at a rate of up to 68 percent. There is a warning for a change in temperature, as well as various tie-ups with different cities, due to the rapid pace of development. Mobs and residents all over the world prefer to use data-driven technologies. Cities must become smarter in order to balance urban growth with public health development. To bring intelligent decisions to life, a strategy must be devised.
Mentioning The Aspects That Might Help India To Grow
Cities might have to take care of 60% of the whole population based in India. This will also give birth to new jobs up to 70%.

Each city of India is going through different stages when it comes to development in respect to modern, traditional, cultural, and even post-modern. Thus a proper strategy needs to be implemented for 3 levels of growth.

Cities in India contribute 63 percent of the country's GDP. This contributes to the high-level rebirth of the Indian economy. As a result, by 2050, it is expected that the economy will have grown by up to 70%.

Powerful committees have estimated the amount of money to be invested in urban infrastructure. It will cost up to $40 billion every year for the next 20 years.

Infrastructures holding the National Infrastructure Pipeline will spend $1,500 billion over the next five years.

In the last five years, a total of $30 billion has been invested in various missions and numerous infrastructure projects.
There are more than 4000 local and urban bodies along with towns holding uncountable opportunities. They are from different dimensions such as Health and Education, Smart roads and lighting of streets, smart water facilities, command in integration, and control center. There should be the availability of surveillance systems as well.
More investments in the urban infrastructure consist of buses, rails, electric vehicles, metros, telecommunication, mechanical systems, signaling, rolling stock, etc.
The program for smart city ventures includes designs that promote equity. Smart development of cities holds great potential when it comes to places like Chennai, Bengaluru, Ahmedabad, Pune, Dharmsala, Bihar Sharif, Namchi, etc. models need to be created for the greenfield and redevelopment.
The nation's life has been evolving, and progress has been seen on a large scale. There is an increase in the number of ambitious upcoming urban projects that take care of the city's ecosystem while utilizing cutting-edge technology.
Conclusion
The purpose of developing smart cities in India is to provide a reliable and sustainable lifestyle surrounded by greenery. Infrastructure will not only produce a smart India, but also a safe India, making the world a better place in the process.
You May Like
Technology Advancement and Wellness

Technology Advancement and Wellness

Technology Advancement and Wellness

Technology Advancement and Wellness