Bollywood Celebrities who own Lavish Restaurants in Mumbai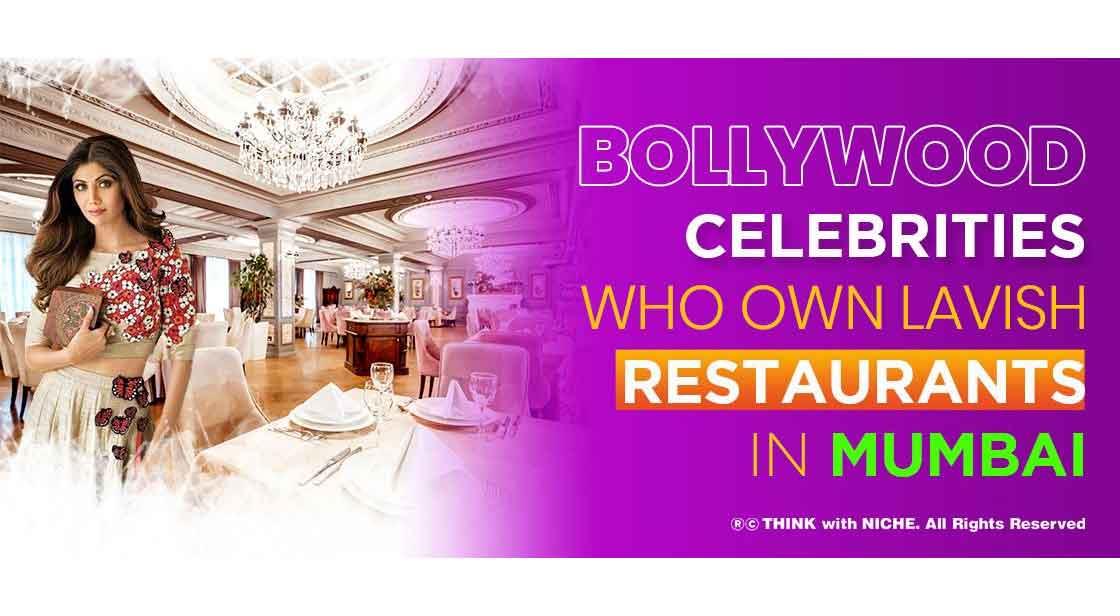 From Shilpa Shetty's glamorous eatery Bandra joint Bastian to Dino Morea's restaurant, here are the restaurants in Mumbai owned by Bollywood celebrities you must visit. #ThinkWithNiche
Continue Reading..
You've come to the right place if you're looking for a decent place to dine with a little glitz and a great ambiance. We're all aware of Bollywood actors' opulent lifestyles. From their high-profile lifestyles to the delectable cuisine they consume. Isn't it true that superstars' every move inspires us all? It's time to eat at a well-known B-wood haunt; these celebrities not only frequent but also own the establishments. Here's the entire list!
SHILPA SHETTY- BASTIAN- Actress Shilpa Shetty is known for her wonderful moves and tumkas, she has proven time and time again, her years of hard work towards body positivity and fitness goals are to melt for. Most often, one must have encountered numerous celebrities getting papped in Bandra's well-known Bastian. Bastian, a celebrity hangout famed for its twist on Western delicious meals and sumptuous Sunday brunches, has become a cult hero when it first opened in the year 2016. Highlights include Butter-Poached Lobster, Mud Crabs, Vegan Bagels, and a pastry selection devoted to cheesecakes, all with a lighthearted ambiance.
CLUB ROYALTY- Shilpa Shetty, have another restaurant in her kitty, there's no doubt that the starlet is recognized for her passion for eating healthy. The actress just opened a high-end club. This restaurant is captivating due to its aesthetic appearance, from the ambient to the décor to the cuisine! This club, which is a mash-up of European Revival style and Indian grandeur, has created quite a stir among Mumbai residents.
PERIZAAD ZORABIAN- GONDOLA- Former performer Perizaad Zorabian runs this popular eatery joint. She was best seen as a host at comedy shows and won the hearts of many with her witty humor. Gondola is a famous Bandra staple that has been offering comfortable Asian and Western cuisine with a dash of fish and a string of seafood over decades. The menu is extensive, featuring popular items like sizzlers. It is conveniently located in the heart of Pali Market.
AYESHA TAKIA- KOYLA & CAFE BASILICO- Ayesha Takia and her husband Abu Farhan Azmi have spent years developing their culinary talents through various F&B enterprises. The most well-known establishments are Koyla and Café Basilico, both of which have been open for some years. Classic flavors punctuate this informal venue offering South Indian and fusion food.
SUNIEL SHETTY- H20- The energetic actor Suniel Shetty opened this basic yet traditional restaurant a decade ago in Hotel Royal Inn, Khar, Mumbai. Wonderful cuisine and live music are all popular at this eatery joint.
CHUNKY PANDEY-THE ELBO ROOM- The traditional British pub serves delectable drinks and mocktails, as well as a magnificent variety of dishes. The restaurant, which is located in Khar West, Mumbai, was founded by actor Chunky Pandey. To liven up the nights, the restaurant presents some incredible live music performances.
SARAH JANE DIAS-BUTTERFLY BAKERY- Butterfly provides some of the finest cupcakes in the city and is co-owned by beauty queen and actor Sarah Jane Dias. Butterfly makes the most delectable and difficult-to-resist cupcakes decorated with fluttering monikers, using flavored batters and sparkling icing.
BOBBY DEOL-SOMEPLACE ELSE- This Chinese restaurant's lavish decor and feisty vibe will wow you. With his eatery in Mumbai, the star has kept no room for doubt in expressing his love for fine cuisine and grandeur.
You May Like