World Literacy Day: Spread Literacy; Raise The Future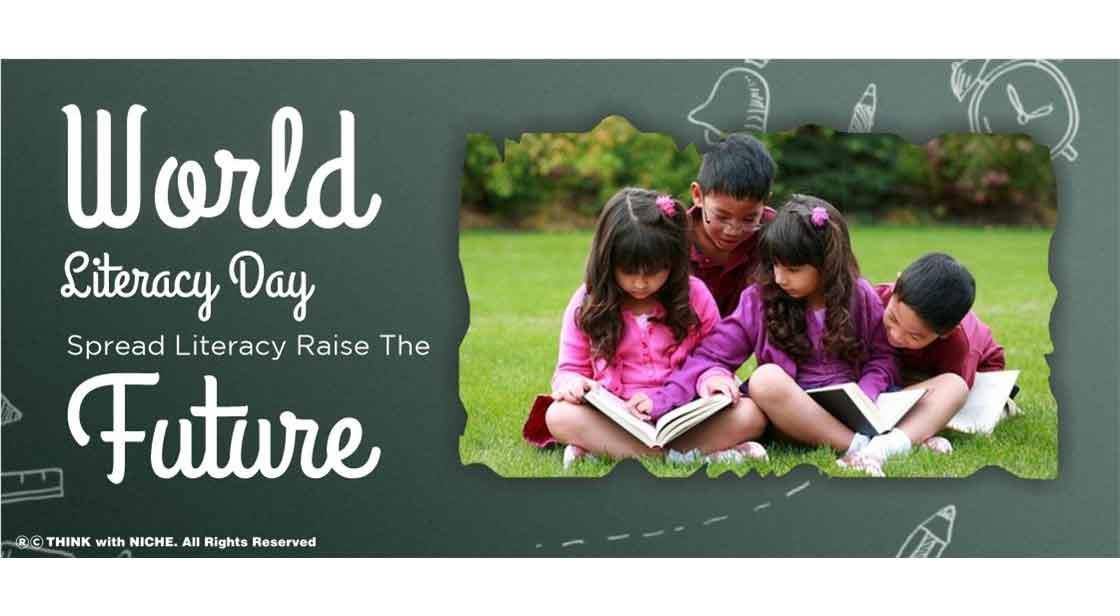 International Literacy Day has been observed every year on September 8, to remind people of the importance of literacy as a matter of dignity and human rights, as well as to promote the literacy agenda. By following a few key measures, businesspeople and entrepreneurs may help to improve global literacy. Let's see how we can all contribute our best efforts to make today a success. #ThinkwithNiche.    
Continue Reading..
Make a profit by promoting literacy and making the day more meaningful and successful.
Currently, 750 million people worldwide are illiterate, with 250 million of them being young people. Illiteracy not only puts people at risk of losing their jobs and limiting their prospects for success, but it can also harm such a society's overall GDP. That's why Kofi Annan rightly said – 'Literacy Is a Bridge from Misery to Hope'.
Every year on 8th September, UNESCO celebrates International Literacy Day to combat illiteracy. International Literacy Day aims to raise public awareness of literacy as an issue of dignity and human rights. By celebrating and helping to raise awareness of International Literacy Day, you and your business will do something good in the world.
Here are six effective ways you and your business can celebrate World Literacy Day.
1. Book Donation Ceremony
There is no doubt that introduction to books has a huge impact on literacy and intellectual development. There is growing evidence that children with more access to books can achieve higher literacy than children with pointedly fewer books.
On this day of world literacy, we at least can take the initiative to help our local children and students to develop their literacy power. Businessmen and entrepreneurs can organize a book donation camp to celebrate this day. You can help to fill the bookshelves of many students by organizing a book donation ceremony. This will bring happiness to kids and add a little to their growth.
2. Build A Library At Your Workplace
If you are looking for a way to become more literacy-focused in your own life, starting a book library at your workplace will be a fantastic way to enrich your work experience and personal development. The advantages of reading books have mystical power. Reading can reduce stress, improve brain function, and increase overall happiness and life satisfaction. I believe we can all agree on this.
Make International Literacy Day the perfect excuse to start a book library at your workplace! Allow access to all your employees so that they can all take advantage of the opportunity to read books when they are tired at work. Choose books that are approachable and beneficial to all employees, as well as being a great stress reliever.
3. Fund Donation For Child Literacy
The pupils who require the most additional literacy assistance are frequently those who have the least access to it. For families who are already struggling financially, the cost of literacy tutoring can be a big burden. Consider making a financial contribution if you can help and believe that a child's capacity to develop good literacy skills should not be determined by his or her family's financial situation. A student needs a lot of financial strength to get a proper education. In the end, every amount helps. Use this literacy day to assist such students and to commemorate World Literacy Day in a meaningful way.
4. Spread Girls' Literacy Awareness
Literacy is a privilege, not a right. If you feel that education has the potential to alter people's lives, then use your voice and written words to promote awareness on International Literacy Day and beyond. As a result, we must devote greater resources to women's literacy and educational programs. Education has the potential to transform their lives and provide them joy. For women's empowerment, women's literacy is imperative. It is essential to comprehend the current state of our country's nonformal education system, which leaves many adults, particularly women, unable to read or write. In our Indian society and tradition, women are expected to take care of their families, hence basic education is overlooked. This is the most serious problem and the primary cause of India's rising female illiteracy rate. Illiteracy exacerbates societal issues, social divides, and social divisions. A tiny issue can evolve into a large and major social problem, eroding society's value and disrupting the entire chain of social life, culture, and economic growth; thus, social awareness is a crucial issue for women's empowerment in India. However, due to a lack of education, this is not possible. As a result, your company can host a Girls' Literacy Awareness Campaign on World Literacy Day.
5. Create Digital Literacy
Technology has revolutionized the way people communicate, engage, and work, but that's not all. The way children learn has also changed as a result of technological advancements. Digital literacy, also known as virtual learning or e-learning, has the potential to help people learn for the rest of their lives. It is simple to create and share a digital campaign. Using the creative elements, you currently have can go a long way toward increasing literacy awareness. We can progress from finding, analyzing, and consuming digital content to generating it, which includes writing in digital formats as well as developing other types of media such as e-banking, e-commerce, and so on. Again, digital literacy is critical in the twenty-first century. Your company can organize a digital literacy campaign for all students and senior individuals who are unfamiliar with the internet. The most effective approach to commemorate World Literacy Day will undoubtedly be through this campaign.
6. Organize An Author Reading Program
Authors' readings are held in almost every country. This type of incident is really significant. Author studies necessitate a significant amount of reading, providing children with numerous opportunities to develop their reading fluency. Children frequently form bonds with authors, making reading a more personal and gratifying experience. Through shared reading experiences, author studies enable classrooms, and even entire schools, to create tighter bonds. Many children, like adults, like certain types of books, such as nonfiction, series fiction, fantasy, and so on. To convince children to spread out, an author study can be used.
The use of print and internet resources to research an author's life and work is an important part of author studies. Teachers can use this research to teach information literacy skills, such as how to discover information sources and judge whether they are reputable. As a result, we can see how an Authors' reading program can help us improve our literacy. Your company can organize an author reading event in honor of World Literacy Day, which will benefit both youngsters and adults.
CONCLUSION
The purpose of International Literacy Day is to promote awareness about the importance of literacy. You've already contributed by informing your community or audience about the holiday and the challenges that surround it. Participating in charitable projects such as this one can help you establish an authentic brand identity and build trust with your clients, hence improving their lifetime value. It's simple to accomplish and maybe as enjoyable as you make it.
Let us commemorate World Literacy Day by raising awareness and making the world a better place.
You May Like