Top 12 Industries With The Most Billionaires In 2021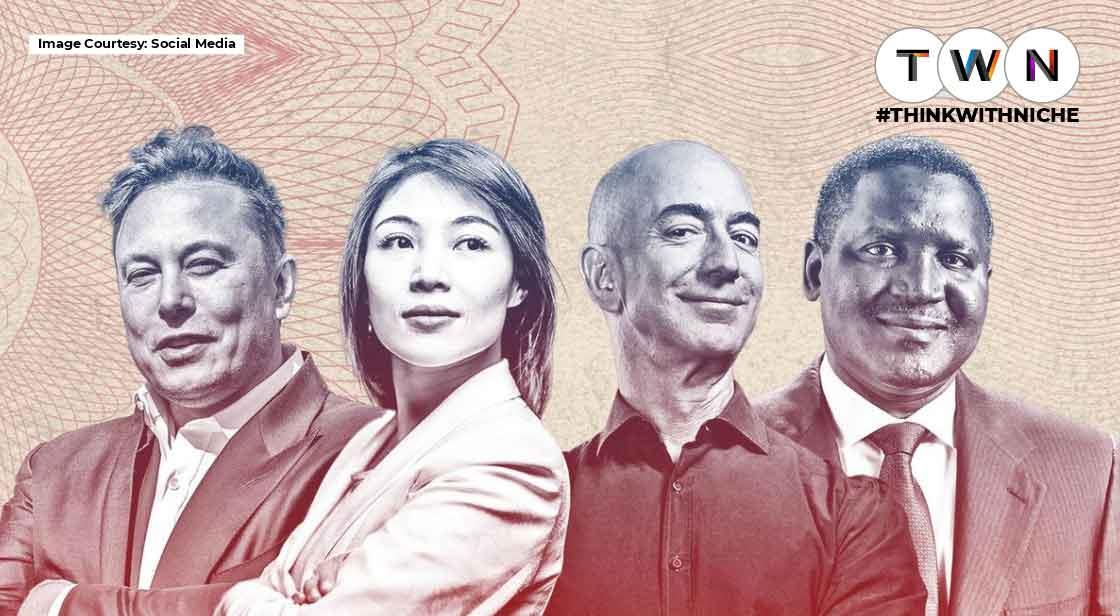 Many major industry segments in India are doing extremely well, producing billionaires. Several industry segments are outperforming the others in terms of positively impacting the Indian economy by catering to the needs of both the domestic market and exports. The top twelve industry segments in the country that have produced the most billionaires are as follows.
Many industries in India are performing well and producing billionaires. Several industrial categories outperform the others in terms of positively impacting the Indian economy by meeting both domestic and export demand. The top twelve industry sectors in the country that have created the most billionaires are as follows.
Continue Reading..
There are more than 2775 Billionaires in the world, with a combined net worth of $13.1 trillion. The United States of America leads the list of countries with the most billionaires. The number of billionaires may appear small in a world of billions, but these few have created businesses that have made them who they are today; it has also changed the outlook of all industries from which they came. These individuals turned their ideas into profitable businesses and are now worth billions of dollars. All of these are difficult to achieve; one must be the best in their field.
There are billionaires in almost every industry, but some have given the world a larger number of billionaires who are ruling it. What's fascinating is that, even during the pandemic, billionaires' wealth increased by an average of 27% in many industries.
In this article, we will discuss the industries that have produced the greatest number of billionaires in the world. So let's get the journey started.
1- Technology
In this regard, the technology industry has taken the lead. According to some data, the technology industry accounts for 70% of the top ten richest people. Because of obvious reasons, it is ranked first. Technology provides us with solutions to almost any problem and has taken on the responsibility of making our lives easier. The tech industry, with new innovations every day, will undoubtedly provide the world with more billionaires in the future.
Top billionaires in the technology sector
Jeff Bezos (Amazon)

Elon Musk (Tesla, Space X)

Bill Gates (Microsoft)

Mark Zuckerberg (Facebook)
2- Healthcare
The pandemic provided a significant boost to the healthcare sector and benefited many healthcare companies. Vaccine and diagnostic test manufacturers experienced phenomenal growth. Since 2020, the healthcare industry has been growing at a breakneck pace that appears unlikely to slow down.
The Covid-19 strike demonstrates how important health is in human lives, and how without it, everything becomes a façade. By 2022, the global healthcare industry is expected to exceed $10 trillion.
Top Healthcare Industry Billionaires
Jiang Rensheng & family (Chongqing Zhifei Biological Products)

Li Xiting (Mindray Bio-Medical Electronics)

Zhong Huijuan (Hansoh Pharmaceutical)

Xu Hang (Mindray Medical)
3- Finance & Investing
According to some reports, the finance and investment sectors have produced the greatest number of billionaires in modern times. In recent years, the money business has been quite successful. Financial institutions manage the money made by ordinary people, including billionaires. Because people use financial institutions whenever they transact money, it is very likely that this sector will be among the top ten.
Financial institutions are critical to the global economy. Fintech startups are taking the world by storm, and as the foundation of the economy, these industries will seize the opportunity to create more billionaires in the future.
Top Finance Industry Billionaires-
Warren Buffet (Berkshire Hathaway)

Joseph Safra (Banco Safra)

Jim Simons (Renaissance Technologies)

Ray Dalio (Bridgewater Associates)
4- Manufacturing
One of the most important sectors is the manufacture of goods using machines, tools, and labour from raw materials, as almost every creation is dependent on it. It is said to be the driving force since the beginning of time. The manufacturing sector is crucial to a country's growth. Even during the Covid-19, the manufacturing sector experienced a significant increase; this sector is home to over 300 billionaires worldwide.
Top Manufacturing Industry Billionaires
5- Fashion and Retail
Another important requirement in human life is clothing. The fashion and retail industries are concerned with the production of clothing. It is a $2.5 trillion industry that deals with high-end clothing brands. Fashion startups are also making waves in this industry and are on the verge of producing an increasing number of billionaires in the future. There are 273 billionaires in this industry worldwide.
Top Fashion Industry Billionaires
Bernard Arnault (LVMH)

Amancio Ortega (Inditex)

Phil Knight (Nike)

François Pinault (Kering)
6- Food And Beverage
There are over 7 billion people on the planet, so food must be provided for all of them. The number is only going to rise in the future, so the expansion of this industry is unavoidable. Until now, this industry has successfully contributed to the list of industries that have produced the greatest number of billionaires.
All other things can wait, but food and beverages are the most important things for human survival. Over 219 billionaires from around the world work in the food and beverage industry and this number is only expected to grow in the future.
Top Food and Beverage Industry Billionaires
Zhong Shanshan (Nongfu Spring)

Giovanni Ferrero (The Ferrero Group)

Qin Yinglin & family (Muyuan Foodstuff Co.)

Jacqueline Mars (Mars Inc.)
7- Real Estate
It is said to be the oldest source of wealth creation. It is also said to be an open industry in which anyone who is interested can participate. People who are already billionaires or wealthy express an interest in investing in the real estate industry, which is regarded as one of the most profitable. This industry has over 215 billionaires.
Real estate billionaires at the top of their game
Lee Shau Kee (Henderson Land Development)

Hui Ka Yan (Evergrande Group)

Yang Huiyan & family (Country Garden Holdings)

Wu Yajun (Longfor Properties)
8- Hospitality Industry
It is another important industry that has produced a large number of wealthy people. One of the most important aspects of this industry is providing guests with home-like services. This industry includes food, comfort, entertainment, and lodging. By the end of 2021, the global hospitality market is expected to be worth $4132.5 billion.
Top Hospitality Industry Billionaires
Sheldon Adelson (Sands Hotel)

Donald Trump

William Barron Hilton (Hilton Hotels & Resorts)

Phillip Ruffin (Ruffin's hotel)
9 - Renewable Energy
Climate change is a major concern in the world right now. Saving the world has become a necessity, and thanks to this industry, some billionaires are able to make a lot of money while also becoming saviors. The energy market is slowly emerging and is poised to become one of the most important sectors in the near future. It has produced over 180 billionaires in the world.
Renewable Energy Industry Billionaires
Elon Musk

Robin Zeng (Amperex Technology)

Aloys Wobben (Enercon)

Li Zhenguo (LONGi Green Energy)
10 - Entertainment and Media
The entertainment industry contributes significantly to the global economy. Digital media technology has begun to assist people in making a fortune in this industry. There is a need for entertainment in life, and this sector helped people avoid boredom during the Covid-19 lockdown. Dramas, films, and music are all forms of entertainment. This industry has 95 billionaires and more on the way.
Top Entertainment and Media Billionaires
Donald Newhouse (Advance Publications)

Su Hua (Kuaishou)

Michael Bloomberg (Bloomberg)

David Thomson & family (Thomson Corporation)
11 - FMCG
One of India's fastest-growing industry domains is fast-moving consumer goods. Personal care and household products account for half of all sales in this segment. Easy access, lifestyle changes, and growing awareness are some of the factors driving growth in this sector. The increased digital connectivity in cities and rural areas has boosted sales in this sector via e-commerce portals. With 59 billionaires, this industry sector has produced the third most billionaires in India. Nusli Wadia & Family are the richest people in the FMCG industry, with a net worth of 42,200 crores.
12 - Pharmaceuticals
Over the last decade, India's pharmaceutical industry has grown at an unprecedented rate. In terms of output volume, it is the third largest in the world, and in terms of value, it is the fourteenth largest. Surprisingly, Indian pharmaceutical companies supply more than half of the world's requirements for various vaccines. The United States imports 40% of its generic medicine needs from India, while the United Kingdom imports 25% of its total medicine needs from Indian companies. India's pharmaceutical industry has also produced 137 billionaires. Cyrus S Poonawalla is the richest of them all, with a net worth of 88,800 crores.
You May Like