Top 10 Tourist Circuits Of India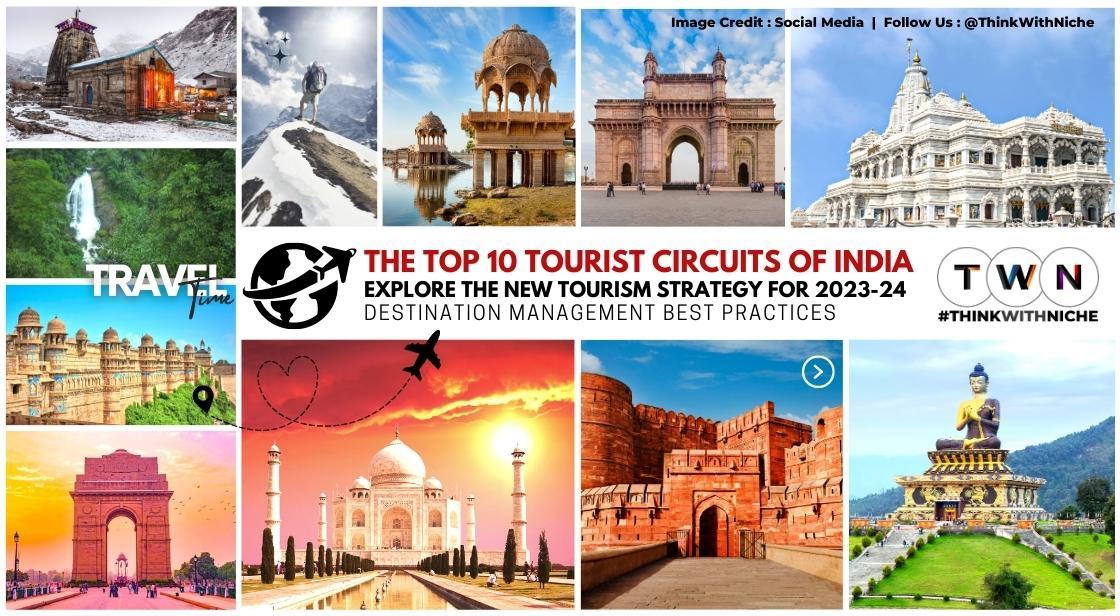 India is a nation with a rich tradition that has developed over the course of many years. India, the home of the Taj Mahal, is home to 36 UNESCO-designated world heritage sites. India's religions, landscapes, art, culture, and tourist attractions all reflect the country's richness and depth of culture.
Every state in this great nation, from Kashmir to Kanyakumari and from Gujarat to Bengal, has something special and fascinating that attracts tourists from all over the east, west, north, and south of the globe. While it is true that one cannot see the entire country in a few days or months, these well-known tourist circuits in India offer travelers a great chance to get lost in the grandeur of this country.
India has been blessed with a wealth of natural beauty, cultural diversity, and legacy, each of which has its own allure. Because of this, India's travel routes are created to be cherished in a single sitting. These tour circuits, which focus on certain themes, include yoga retreats, adventure or wildlife trips, religious tours, and heritage walks. In other words, India's tourist circuits attract visitors by highlighting the nation's unrivaled charm like nothing else.
Continue Reading..
The Union Ministry of Tourism has agreed to create 15 thematic circuits across the nation in a planned and prioritized manner under the Swadesh Darshan scheme in order to improve India's tourism industry.
India is one of those nations with an endless supply of natural splendor, historical significance, and cultural diversity. There is something for every tourist who comes to this area of Indian territory. In India, there are numerous tourist circuits that offer the amusement and delights of numerous locations. India's tourist circuits are renowned around the world for the variety of experiences they provide.
There are numerous religious tour circuits, heritage tour circuits, adventure and wildlife tour circuits, yoga and meditation tour circuits in India. Here, we've compiled a list of 10 popular Indian tour circuits.
The following is a list of India's most well-known and popular tourist destinations.
1. The Golden Triangle Circuit- (Delhi-Agra-Jaipur)
The Golden Triangle, one of the most popular attractions in North India, is the ideal place to begin your exploration of the country. The circuit, which includes UNESCO World Heritage sites, contains history, architectural wonders, and well-known cities like Delhi, Agra, and Jaipur. Also, you can preserve some of the best memories of your trip to India because of the first-rate hospitality. Delhi's attractions include the Red Fort, India Gate, Humayun's Tomb, Qutub Minar Complex, and more.
The stunning Taj Mahal draws tourists to Agra. The white-marble mausoleum actually ranks among the world's seven wonders. Also, the famous Agra Fort and deserted Fatehpur Sikri are worth exploring and draw visitors from all over the world. Last but not least, Jaipur, the capital of Rajasthan, transports you back in time to honor Rajputana-era aristocracy. See the incredible forts, palaces, temples, gardens, and other structures. Above all, the iconic cities provide incredible shopping experiences, delectable cuisine, and other priceless memories.
The circuit's highlights include:
Delhi: Red Fort, Qutub Minar, India Gate, Lotus Temple, and Chandani Chowk
Agra: Taj Mahal, Agra Fort, and Fatehpur Sikri
Jaipur: Hawa Mahal, Amer Fort, City Palace, Jantar Mantar, Jal Mahal, and Nahargarh Fort
5-7 days are required to complete the circuit.
2. The Desert Circuit- (Jodhpur-Bikaner-Jaisalmer)
The Jodhpur, Bikaner, and Jaisalmer Desert Triangle tour circuit provides an unrivalled view of the golden Thar Desert in world-class cities. This journey offers the chance to explore Rajasthan's three most appealing cities, namely Jodhpur, Jaisalmer, and Bikaner. While traveling from one city to the other, having fun by visiting some of the tourist attractions and participating in enjoyable activities in each city. The opulent palaces and forts of Jodhpur demand a specific place on the itinerary. Save your excitement for a Jaisalmer camel safari.
Discover this desert city while being overwhelmed by sand dunes. Bikaner is home to the Rajasthani culture, delectable Bikaneri Bhujia, exquisitely carved Mughal and Rajputana architecture, the revered Karni Mata Mandir, and much more.
The circuit's highlights include:
Jodhpur: Mehrangarh, Umaid Bhawan Palace, Jaswant Thada, Ghanta Ghar, and Balsamand Lake
Bikaner: Junagarh Fort, Lalgarh Palace, Bikaji Ki Tekri, Prachina Museum, and Bhandasar Jain Temple
Jaisalmer: The Great Indian Desert, Jaisalmer Fort, Patwaon-Ki-Haveli, Gadisar Lake, and Salim Singh Ki Haveli
5-7 days are required to complete the circuit.
3. The Himalayan Circuit- (Shimla-Kullu-Manali-Dalhousie-Dharamshala)
As the vacations draw near, people might be seen making plans for a Himachal tour. In fact, the trip gives you the chance to discover more about your favorite places as well as the cities and villages you pass through. The main draw is Shimla, a magnificent and outstanding hill town. There may be many compelling reasons to visit this location, and each one will lift your emotions. Similar to this, Kullu provides unparalleled experiences amidst the alluring scenery, enormous snow-covered mountain peaks, and chilly climate.
You will have the best skiing and trekking experiences in Manali. This India travel itinerary is best suited for practically everyone, including honeymooners, single travelers, and those taking a family vacation.
The circuit's highlights include:
Shimla: Jakhoo Temple, The Ridge, Mall Road, Christ Church, Himalayan Nature Park, and Chadwick Falls
Kullu & Manali: Solang Valley, Hidimba Devi Temple, Manu Temple, Great Himalayan National Park, Manali Sanctuary, Pin Valley National Park, and Jogini Falls
Dalhousie: Khajjiar Lake, Bhuri Singh Museum, Dainkund Peak, St. Francis' Church, and Chamera Lake
Dharmshala: Dal Lake, St. John in the Wilderness Church, Kareri Lake, Namgyal Monastery, Bhagsunag Waterfall, and Triund
Days required to complete the circuit: 5-7 days
4. The Wildlife Circuit- (Kanha National Park- Bandhavgarh)
One of India's most exciting tourism circuits right now is this wildlife circuit. Bandhavgarh and Kanha National Park in MP, as well as Dhuadhar Falls and Jabalpur, an old city on the banks of the Narmada River, are all included in this 5-night, 6-day tour. A exciting safari through the lush forests of Bandhavrgarh and Kanha National Park, where one can observe Bengal Tiger, White Boar, Leopards, Chinkara, etc., is the highlight of this entire circuit.
The circuit's highlights include:
Kanha National Park: Mukki Gate, Kanha Museum, Chilpi Range
Bandhavgarh: Baghel Museum, Village Tala, Mahaman Pond, Chimber's Point, Three Cave Point, and Badi Gufa.
3–4 days are required to complete the circuit.
5. The Nilgiri Circuit- (Bangalore-Mysore-Ooty)
The Nilgiri, one of India's most stunning mountain trails, entices tourists to discover the allure of the Blue Mountains of India. The route is a section of the Western Ghat mountain range, which exudes magnificent beauty. At least 24 summits rise above 2000 metres. The area is home to about 2700 varieties of flowering plants, 160 types of flora, a staggering variety of birds, and other creatures. Set out on your journey starting in Bangalore. In truth, the most exciting city in India has a wonderful atmosphere with plenty of lush flora, attractions, nightlife, and more. One of the most picturesque destinations in Karnataka is Mysore, the imperial city of the Wodeyar family.
A relaxing vacation is made up of interesting sites, lovely gardens, and a calm atmosphere. called "Queen of Hills" Ooty is a beautiful hill town tucked away in the Nilgiri Mountains. Also, the Blue Mountains' endearing beauty adds a special spectacle while riding the toy railway. The tea and coffee gardens, foggy hiking routes, lakes, etc. also enchant tourists with their unrivalled beauties.
The circuit's high points include:
Bangalore: Lal Bagh, Bannerghatta National Park, Cubbon Park, Bangalore Palace, St. Mary's Basilica, Bangalore, Devanahalli Fort
Mysore: Mysore Zoo, Jaganmohan Palace, Folk Lore Museum Mysore, Melody World Wax Museum, Mysore Palace, and St. Philomena's Cathedral
Ooty: Doddabetta, Government Rose Garden, Avalanche Lake, Emerald Lake, and St. Stephen's Church
5-7 days are required to complete the circuit.
6. The Backwaters Circuit- (Kochi-Alleppey-Kumarakom)
Have you ever witnessed an unusual ecosystem where seawater from the Arabian Sea combines with fresh water from a river? Use a Kerala Backwaters trip to find it. When you arrive in Kochi, the scent of spices will quickly fill your nostrils. Everyone who prefers classical dancing must see a Kathakali performance in this location. Alleppey, often known as the "Venice of the East," is home to backwaters, beaches, temples, and luxurious houseboats that float on the water. In this city, you can peacefully relax and enjoy some time at leisure. Everyone who like serenity and luscious greenery should visit Kumarakom.
The circuit's highlights include:
Kochi: Fort Kochi, Bolghatty & Vypeen Islands, Cherai & Vypeen beach, Marine Drive, and the backwaters
Alleppey: Marari Beach, Pathiramanal Island, Kuttanad Backwaters, Krishnapuram Palace, Alleppey Beach, and Vembanad Lake.
Kumarakom: Kumarakom Bird Sanctuary, Aruvikkuzhi Waterfall, Kumarakom Backwaters, Kottayam, Vegamon, and Pathiramanal Island
5 to 6 days are required to complete the circuit.
7. The Buddhist Tourist Circuit- (Lumbini-Bodhgaya-Sarnath-Kushinagar)
You can get a quick overview of the Buddha's life by selecting the Buddhist Circuit tour. You can visit the sacred Buddhist sites as part of the Buddhist Circuit tour. Discover the most significant locations in relation to the life of Buddha, including his birthplace, the place where he received enlightenment, the site of his first sermon, and the place where he attained Nirvana. Above all, the spiritual journey transports you to a celestial paradise of tranquilly with the phrase "Buddham Saranam Gacchami." You can visit a number of monasteries, temples, and stupas.
One must cherish this soul-soothing experience at least once in their life because it is considered to be one of the holiest excursions in India.
The circuit's highlights include:
Lumbini: Maya Devi Temple, Lumbini Monastic Site, Royal Thai Monastery, Dae Sung Shakya, Myanmar Golden Monastery, and Kundan Stupa
Bodhgaya: Mahabodhi Temple, The Great Buddha Statue, Metta Buddharam Temple, and Root Institute for Wisdom Culture
Sarnath: Dhamekh Stupa, Chaukhandi Stupa, Tibetan Temple, Sarnath Temple, Japanese Temple, and Wat Thai Sarnath Temple
Kushinagar: Matha Kuar Shrine, Parinirvana Stupa, and Chinese Temple
15–20 days are required to complete the circuit.
8. The Chota Char Dham Circuit- (Badrinath-Kedarnath-Gangotri-Yamunotri)
It is a significant Hindu pilgrimage route that includes Uttarakhand's four holiest locations. Each of these locations has a unique history that makes it sacred. Whether you identify as religious or not, you will be dumbfounded by the mysticism and peace of each spot. It's guaranteed that the trip through the perilous yet beautiful trails will provide breathtaking sights. One of India's most well-known tourist routes is this one.
The circuit's highlights include:
Badrinath: Badrinath Temple, Bheem Pul, and Vyas Gufa

Kedarnath: Kedarnath Temple

Gangotri: Gangotri Temple and Surya Kund

Yamunotri: Yamunotri Temple, Sita Ram Lakshman Hanuman mandir, Birla Ashram, Narayan Temple, and Aravind Ashram
10–12 days are required to complete the circuit.
9. Heritage Circuit
The government's Heritage Circuit provides travellers with glimpses of the lesser-known but plentifully available heritage sites against this backdrop. These include the Paigah Tombs and Hayat Bakshi Mosque in Telangana, the Nahargarh Fort, Bala Quila, Chittorgarh Fort, and Jaisalmer Fort in Rajasthan, the Bamuni Hills and Samuguru Satra in Assam, the Sholam Chaupal and Kalinjar Fort in Uttar Pradesh, the Sharmishtha Lake and Ambaji Kotha Lake in Gujarat, the Franco Tamil Village in Puducherry, the Sri Anand
A number of lesser-known locations with significant cultural and historical significance will gain visibility as a result of the development of these circuits and profit from the expansion of the tourism sector. India has long been a popular travel destination for both domestic and foreign travellers, and now it's time for these underappreciated regions to be recognised for the rich cultures they have to offer through these thematic tourism circuits.
10. Eco Circuit
The Eco Circuit includes natural and eco-friendly tourist spots in Kerala, Jharkhand, Telangana, Uttarakhand, Madhya Pradesh, and Mizoram with the goal of bridging the gap between visitors and nature.
These places include the Dalma Wildlife Sanctuary, Betla National Park, and Koel River View Point in Jharkhand, the Singotam Reservoir, and the Akka Mahadevi Caves in Telangana, the Vagamon, Idduki, and Thekkady in Kerala, the Sirain, Tehri Lake, and Chamba in Uttarakhand, the Sailani Island, Gandhisagar Dam, and Omkareshwar in Madhya Pradesh,
You May Like