Stay Home And Bloom Domestic Parents Can Also Earn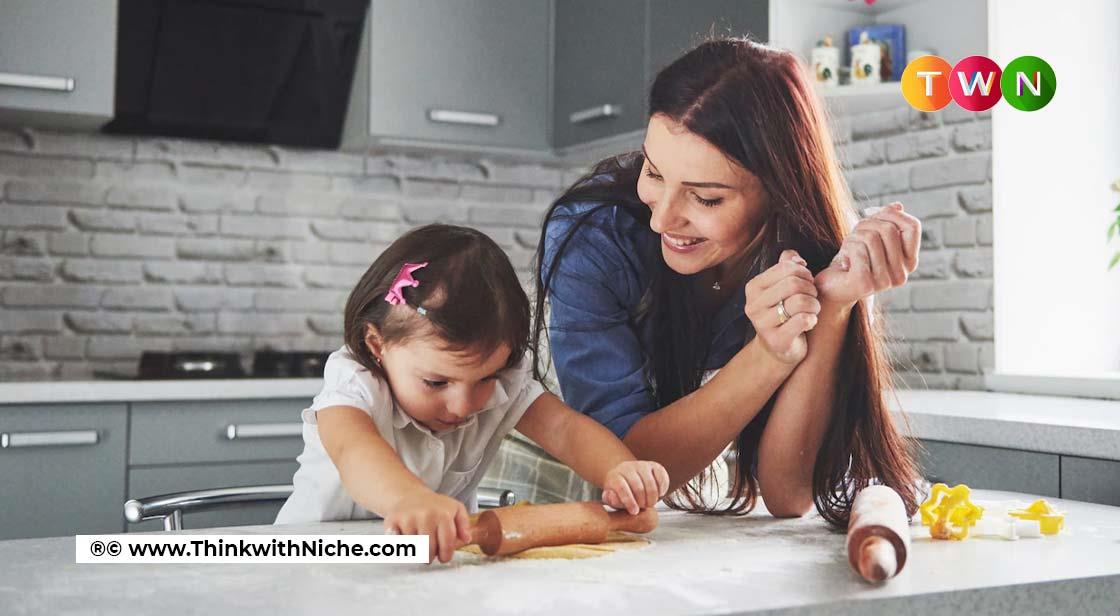 Do you always want to earn your own money? You are busy parents, but at least you have your hobby right? Then turn your hobbies into your start-up. Take care of your children and earn. How, How, How? Then read the article and get the answer.# ThinkWithNiche.
Continue Reading..
Stay-at-home doesn't mean you have to be in the kitchen, cooking for your family the whole, taking care of your children. The stay-at-home parent or being a housewife doesn't mean all your doors for earning, fulfilling your dream, is shut down. But it's the opposite. Stay-at-home is a boundless chance to make yourself flourish, it's a great opportunity for doing whatever you want.
Here are some great business ideas for stay-at-home parents.
1. Bakery and Cooking
All mothers are good cooks. And if you love cooking it can be the best business idea. Nowadays cakes and cookies have high demands. Especially in this lockdown period the cakes and homemade foods have become the trend. A bakery and food delivery business can be a very good business idea with a minimum investment. Decorate your cakes and cookies with your expert hand, cook different types of foods and you can fulfill your dream and earn money.
2. Online Tutor
You wished to be a teacher but your fate made you a housewife. You have to look after your children and your dream remains unfulfilled. If you are upset thinking these then listen carefully, you have the best chance to be a teacher just sitting at home. Online teaching will be the best idea for you. Online courses are exploding nowadays. Create your own study planner, make presentations and be the best tutor forever.
3. Youtuber and Blogger
YouTube is a platform with a huge crowd. Start your YouTube channel while staying at home. If you are a good cook, start a cooking channel, beauty and DIY channels are very popular now. Find your specialization and create a room for yourself. Blogging is another good idea to earn money. Have research online and find some trendy topics and you can create your own blog. Start a food blog or maybe a travel blog, fitness and wellness have also a trend nowadays.
4. Painter
If you are a good painter, start your painting classes. Art and paints are in huge demand. Start drawing and earn money by selling your paintings. If you are a painter, you can be a designer. Pot designing, mat designing, wall painting, these all will make you please and help you earn.
5. Music and Dance Teacher
Nowadays everyone wants to be an outstanding person. Students want to learn music, dance, and other extra-curricula. Help them. Be music or a dance teacher. While sitting at home you can practice your hobby while teaching and also can earn money.
6. Freelancer
Freelancing is a very good business idea for stay-at-home parents. If you are a good writer or editor, be a freelance writer or a proofreader. Freelance photography has a craze in today's era. There are many websites and social media sites that want freelance writers and photographers. This is really a good way of earning with zero investment.
7. Bridal Consultant
If you love wedding arrangements, a wedding planner will be a good job for you. Just sit at home, plan a nice bridal decoration, plan for dressing arrangements for the bride and groom, make a nice food menu. While sitting at home gives an amazing celebration idea with lots of uniqueness.
8. Home Décor Guide
Do you love to decorate your house, then why doing it alone? Help others also to decorate their houses. Home décor guide is a business idea that is rising day by day. You can create your website with lots of decoration ideas or can start online decoration classes. This is highly demandable now. Guide others to choose proper materials for home decoration to give ideas for decoration and lightings. Just earn without any spending.
9. DIY Making
Don't waste your time sitting idly. If you have a knack to create something new, this is the best idea for you. Start making crafts. Soaps, candles, perfumes are now having high demand. You can make other beauty products or some toys. As home decoration has a trend, you can come up with some decorating materials. Showpieces or some lightings, flower pots, baskets, these are really very helpful for you to start a small business.
10. Fitness Trainer
The wellness and fitness industry are one of the booming industries. This is also a good earning point for homely parents. People are crazily in search of fitness centers and gyms. If you are also a Fitness Frick, then without waiting start a fitness coaching class. Wellness or fitness-related videos or blogs will also be good. Start making others understand that health is wealth. Make others know how fitness is necessary.
11. Graphic Designer
If you are an expert in illustration and designing, you can be a good graphic designer. No need to go out of your house. Work while taking care of your family. Every industry needs a graphic design to promote their business online or for creating their websites. Apps development is increasing day by day and for developing apps the role of a graphic designer is very active. Don't be bored while sitting at home, start designing and be cheerful all the time.
12. Gardening
Now comes the most common hobby, gardening. If you love trees and greeneries, gardening is the best business idea for you. Why only planting only as a hobby? Turn your hobby into the key to your earning. Make your plant, start a nursery, plant colorful flowers, fruits and veggies. Sell them and start a green business. Make different kinds of seeds. You can also start a fertilizer distributing business.
13. Event Management
While being a stay-at-home parent, you can be an event manager also. Every event needs a very talented guide and planner. Every event must have to be well-planned. So, being an event manager can help you fulfill your dream and you can also become helpful for others. You can help others in arranging, fixing schedules, and other event planning. This is really an amazing job idea.
14. Career Counselor
If you are good at understanding children and students' psychology you can be a career counselor. Most of the students become confused about their future, it becomes tough for them to choose proper subjects, proper career. You can guide your children along with other children. Start online career counseling classes. Use your talent and earn money.
15. Boutique
If you are good at sewing and tailoring, don't waste your talent, start your own boutique. Boutique, embroidery has become very trendy these days. If you have good fashion ideas, you can be a fashion designer and while designing dresses start making new clothing. Start selling those online. Your future will surely shine.
16. Beautician
Like fitness and wellness, beauty has become another craze, especially among women and youths. There are lots of beauty channels. Beauty has many routes to earn. Either you can start beauty YouTube channels and blogs or you can start your online beauty classes. You can also open a home-based beauty parlor.
17. Online Media Management
If you are a social person, you can be a social media manager. You can be active in social media while working at home. There are a lot of social media. You can be a promoter on social media. Being a communicator is also a good idea. SEO is highly demandable recently. You can create a crowd on social media.
Conclusion
Don't think you are useless as you are just a stay-at-home parent. Don't ever think that you can't do anything. You are just staying at home but your job opportunity is 100% the same as office goers. Including these 17 ideas, there are a lot more ideas. You can be a bookkeeper, a babysitter, pet care. You can be a medical consultant, an author, a personal trainer. Just think that the dream is yours and surely can make it come true at any cost.
You May Like