Start Your Food Business From Home With Lowest Investment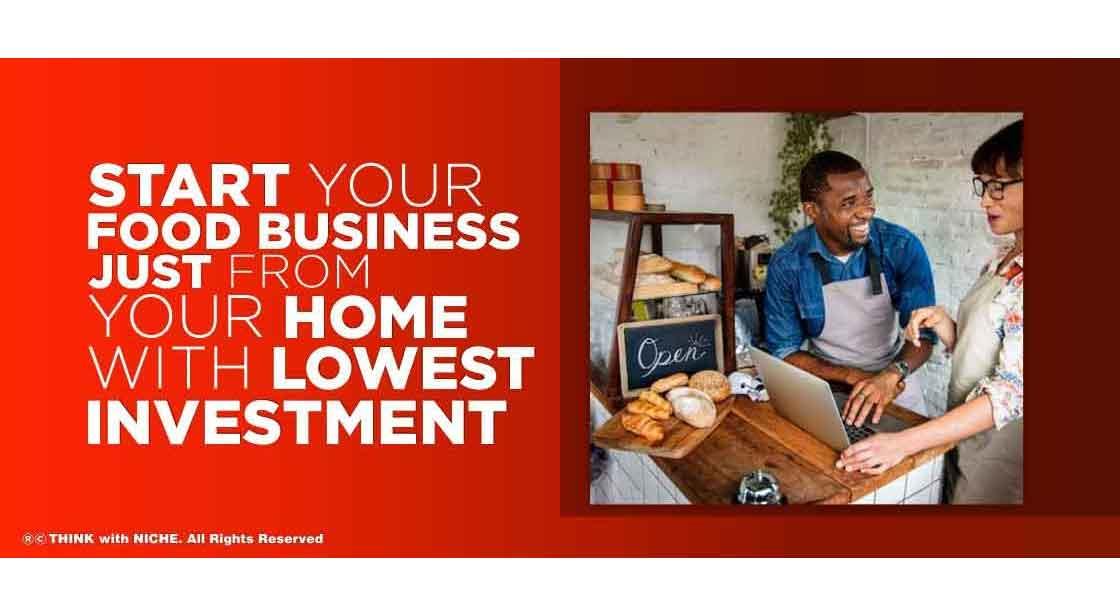 Everyone needs to eat, so the food industry never goes out of style. Because of this, starting a business in the food industry may be incredibly rewarding. Even during times of economic crisis, there is a continuous and significant demand for food among consumers. However, competition in each of these industry segments is high, especially in big cities. Always keep in mind that in order to succeed in the food industry, you must have a distinctive business model and be willing to turn your passion for cooking into a successful venture. If you enjoy cooking, you might want to think about beginning a home-based food business. You may mix your interest and your work by starting a food business from home and making decent money on the side. Let's look at how to Start Your Food Business From Home With Lowest Investment
Continue Reading..
For someone who knows and enjoys cooking, learning how to start a food business from home is a fantastic way to combine a hobby with a career. To get started, a home-based food business, like any other business, takes much research and planning. You'll need to obtain additional permissions, inspections, and marketing strategies in place before you can sell. Here are some considerations to make before starting a home-based food business.
Select a Niche
Decide what type of food you'll sell and how you'll sell it. Catering, meal delivery services, and baked goods are just a few examples of food-related businesses. You can target certain niche markets like celebration catering, meal delivery, or bakery items sold in local coffee shops or supermarkets.
Conduct Thorough Research
Market research is necessary to determine the level of competition in the industry. Food enterprises have exploded in popularity in India in recent years. Several food franchises have emerged, and food-delivery services have grown in popularity. You should try to interact with other food business owners to gain a better understanding of the various issues that may arise. Talk to your pals about how you can plan your business and seek their feedback.
Make a Budget
The most important stage in getting things started is to plan the budget and investment. A basic idea can be beautifully created by following a precise plan that will assist you in starting your business at a reasonable cost. Get a clear image of how you want to get things back on track so you can make a certain amount of money. Set personal deadlines and goals for yourself so that you can work on them over time. Because you'll be working from home, you'll need to figure out how much room you'll need to work on demand. You can take the help of an experienced one to assist you with the financial side of your business strategy.
Plan a Business Strategy
A business, aside from finances, necessitates extensive preparation, including equipment, time, and space planning, among other things. Before you start a business, make a comprehensive planning chart.
Licenses and Other Permits
Every location has its own set of rules and regulations that each new firm must follow. You should be well-versed in these rules and take the required steps to comply with them. Obtaining a business license might assist you in contacting wholesale sellers to obtain tax-free ingredients. You must also adhere to the safety and health requirements set forth by your state's food and health associations. You must ensure that your professional kitchen is segregated from your home kitchen and that you are not using your professional kitchen utensils for personal usage.
Also Read: Street Food vs Restaurant - Which is Better for Your Business?
Assemble the Necessary Equipment
For your commercial kitchen, you should purchase modern equipment and utensils. Purchase high-quality equipment to ensure a higher-quality product that can be created in less time. For your ingredients and food, you should have good storage devices. You should have high-quality packaging material for wrapping and packing food.
Advertising and Marketing
One of the most crucial measures in acquiring consumers is to promote your business in India. To build a customer base, tap into your network of friends, coworkers, and neighbors. You might also hold a little celebration to commemorate the start of your home-based cooking business. Food samples can also be distributed for people to try. Distribute menu pamphlets with prices and special deals to entice more people. For promotions, you should occasionally make special deals and provide additional services. This will assist you in gaining more consumers and increasing your exposure.
Make Use of Social Media
For better advertising, use social media networks. In India, Instagram and Facebook are fantastic outlets for fresh business ideas. Make a page for yourself and come up with a catchy username. You can share new recipes and upload films on how to prepare specific foods. To gain more followers, share your posts regularly. You can also engage with your audience through live chats and social media comments.
Obtain Feedback from Customers
After you've built up a customer base, you'll need to gather feedback from them. Always assure the safety and contentment of your clients, no matter how many you have. If they've expressed any dissatisfaction with your food or delivery, you should address it right away. You should be able to take constructive criticism of your work in stride. Good feedback should be embraced with humility as well. As a good business, you should continually strive to improve your job and meet the needs of your devoted clients.
Here is a list of the top 5 low-investment food business ideas. These suggestions are inexpensive and simple to execute. Before launching a food business, you should educate yourself on food handling and safety issues that are relevant to your business.
Top 5 Low-Investment Food Business Ideas
1. Fast food restaurant
Fast food is served at a restaurant with little table service. Here, the menu is typically set, the food is prepared in large quantities, and the cooking procedures are always clearly stated. Due to their standardised recipes, ingredients, and cooking methods, fast food restaurants typically offer a consistent experience. The majority of fast-food franchise locations operate similarly to produce successful results.
There is a franchisor and a franchisee in a franchise operation. The franchisee is permitted to utilise the name, trademark, and business model to duplicate the success of the original business because the franchisor is actually the original business with a proven business strategy. The fast-food franchise business is one of the top food business ideas with low investment.
2. Cafes
A café is a place where drinks, coffee, and other refreshments are offered. If you open a café, you will mostly serve locals, college students, and businesspeople. In a nice café, a single item usually costs between Rs. 200 and 400.
The whole cost of opening a café will run you between 10 and 15 lakhs; the exact figure will depend on the location, the kitchen set-up, the type of décor, the level of the staff, and other factors.
You should investigate several types of cafés to learn more because these days, outdoor seating and rooftop restaurants are very popular.
3. Food Truck
This is one of the most cost-effective food business concepts in the food sector because it does not require a significant initial investment, complicated seating plans, or high rental fees.
To start your own food truck, you undoubtedly need to obtain all necessary permits and legal documentation. You must put aside a significant portion of your investment for the food truck's marketing and promotions because they are what will establish the brand. This comprises a website and an app, platforms for online orders, a contact and affiliate builder, as well as online and offline promotions.
You need a well-decorated truck, a unique menu, and top-notch food to attract a large audience if you want to be successful.
4. Local Delivery Network
If you want to be engaged in cooking but are looking for some of the top food business ideas with low investment, consider establishing your company as a food delivery network. It would then be your responsibility to introduce those looking for catering and tiffin services to the restaurant.
If you have a strong network of caterers and consumers of food, you may easily launch and expand your business.
Try collaborating with PG managers, grocery store staff, and other regular offline customer touchpoints to guarantee your success. Additionally, you can join pertinent social networks and post your adverts there as well.
Additionally, you can join pertinent social networks and post your adverts there as well.
5. Home Tiffin Service
Starting a home-based Tiffin business is one of the simplest, least expensive, and overall best food business ideas with low investment in for many people housewives who have a knack for cooking. You may run this business from home and earn a respectable income with just a few loyal customers who enjoy your meals.
Get the necessary licence and register your business before starting your home Tiffin service. You can advertise your company in your housing society, on neighbourhood Facebook pages, and by word of mouth in your region.
Conclusion
Cooking is one of the top home-based business ideas around the world because food is our necessity. You can quickly get your business noticed and start making money if you follow the instructions above. To gain the best results from your start-up, you should concentrate on meeting the needs of your customers.
You May Like