Revitalize The Oceans On World Ocean Day 2022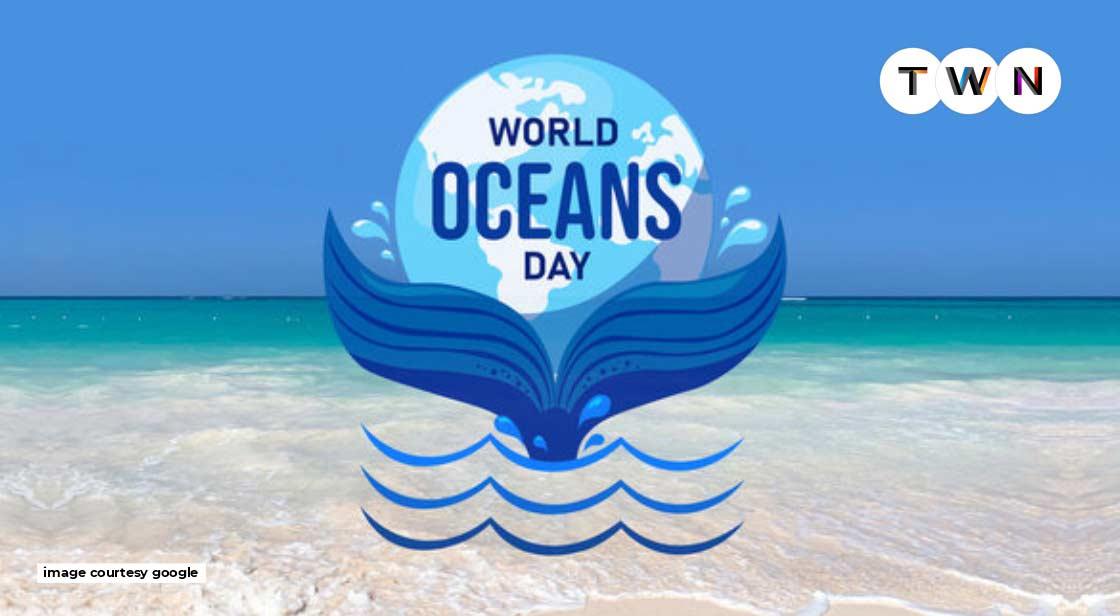 World Oceans Day 2022 is an opportunity to shine a light on the issue of ocean plastic waste. Water bodies are under severe threat today caused by pollution and the issue of plastic waste. We, as a part of this planet, need to understand the fact that plastics are not something that needs to be dumped in our beautiful oceans. If we want our future generations to flourish and see our earth thriving, we need to manage plastic waste and keep the lungs of our planet healthy and working. Let's know about World Oceans Day 2022 and the theme associated with it. #TWN
Continue Reading..
We all know that our earth has 71% covered by the ocean, thanks to our geography classes that made us remember this fact by heart. Being such a big part of the earth, oceans do have a very important role to play in the survival of the planet. 71% area is covered by oceans, and it holds 97% of the water on the entire planet. Our oceans are so big that they have mammoth size duties like regulating temperature and weather. They are vital to the food supply of both humans and other living organisms. Oceans are home to a wide variety of fauna and flora and help a high level of biodiversity.
June 8 is observed annually as World Oceans Day in an effort to preserve the water body through combined efforts and save it from the potential dangers of human activities. The day is observed to highlight the importance of oceans in supporting life on the planet and to inspire conservation action.
Let's know more about everything, from the theme to the significance of World Ocean Day 2022.
Revitalization: Collective Action for the Ocean
That is the theme of World Ocean Day this year. It aims to encourage collective action for ocean preservation because the oceans are a vital network that links us all. On World Oceans Day, it is critical to ensure that the ocean is not negatively impacted but rather revitalized. Oceans are like vital organs. Without them, our survival is not possible. You will not hurt your vital organs, right? Then why will you ever think of hurting oceans?
World Oceans Day 2022 motivates elected governments to take various steps to protect vast bodies of water. Oceans provide food for billions of people while also trying to regulate the climate and generate more than half of the planet's oxygen through the creatures that live in them.
World Oceans Day and the History Behind It
The concept was first proposed in 1992 at the Earth Summit – United Nations Conference on Environment and Development (UNCED) in Rio de Janeiro, Brazil, by the Ocean Institute of Canada (OIC) and Canada's International Centre for Ocean Development (ICOD). The United Nations officially recognized "World Oceans Day" in 2008. The international day promotes the implementation of the global Sustainable Development Goals (SDGs) and raises public awareness about ocean conservation and resource management.
World Oceans Day and Significance
Oceans provide food for billions of people while also controlling climate and generating more than half of the planet's oxygen through the organisms that live in them. Human activities such as overfishing, oil spills, and plastic pollution, on the other hand, have taken their toll on the large body of water and the aquatic life that it supports. World Oceans Day encourages people to increase their efforts to protect the oceans from any further damage, even while taking steps to restore their glory.
World Oceans Day: Plastic Creating Nuisance for Our Waterbodies
World Oceans Day 2022 is an opportunity to shine a light on the issue of ocean plastic waste. Water bodies are under severe threat today caused by pollution and the issue of plastic waste.
Even though ocean water is not suitable for consumption, it is still a valuable resource for humans; however, the plastic issue is causing it to deteriorate. Plastics can take many years to decompose naturally, and single-use plastic is perhaps the most concerning of all plastics.
Oceans seem to have become a dumpsite for plastic waste, which degrades water quality. We, as a part of this planet, need to understand the fact that plastics are not something that needs to be dumped in our beautiful oceans. If we want our future generations to flourish and see our earth thriving, we need to manage plastic waste and keep the lungs of our planet healthy and working.
Some Facts About Our Oceans on World Oceans Day
Some of these facts are known to many, but won't it be amazing if more people knew them?
So, let's see some quick facts about our oceans:
Oceans are responsible for bringing life to the planet by producing at least half of the Earth's oxygen.

The oceans absorb the sun's heat, and humans produce 30% of carbon dioxide. As heat is absorbed, it is transferred to the environment and distributed globally by the oceans.

More than 80% of the ocean is unmapped and unvisited, making it an intriguing part of the planet.

Climate change has not spared the oceans. The year 2020 was indeed the warmest on record for the ocean.

The oceans contain approximately 1.34 billion cubic kilometers or 321 million cubic miles of water, accounting for approximately 97 percent of the Earth's water supply.
Ways To Celebrate World Oceans Day: Activities To Do
A day will be wasted if we don't do anything for our oceans. You cannot go big and change the condition of our largest water bodies. Start small and let others join you. Remember, only you have the power to change the conditions in the long run.
Let's look at some of the ways in which you can celebrate World Ocean Day.
Give up eating seafood
Avoid eating seafood today to give the ocean a break. While there are many well-managed and sustainable fishing grounds (which can truly support healthy oceans), there is no doubt that many fisheries are horribly mismanaged, and humans place tremendous pressure on ocean ecosystems through resource extraction. According to the FAO, 89.5 percent of global fish stocks are either wholly fished (58.1%) or overfished (31.4%). Meat consumption is also thought to contribute significantly to climate change, so start by going vegan for the day.
Watch a film that features ocean
Staying informed about ocean ecosystems and biodiversity and sharing your knowledge with friends and family are important steps toward becoming a more vocal advocate for marine conservation. Watching one of the many outstanding documentary films about ocean wildlife and conservation issues is an easy way to learn and share information. Some of the films to watch are
Mission Blue

Our planet: Coastal Seas or High Seas,

My Octopus Teacher,

Disneynature: Oceans,

The Blue Planet,

Sharkwater,

A Plastic Ocean
Join an event or activity that happens on ocean day
Hundreds of events are planned around the world to commemorate World Oceans Day. There will be talks, fun activities, movie screenings, beach cleanups, and other activities. Find a World Oceans Day group near you and join your fellow ocean aficionados to be inspired!
Refrain from using single-use plastics
Plastic in the ocean is one of the most serious threats to global ocean health. Avoiding single-use plastic is one of the simplest ways you can help minimize ocean plastic pollution. Avoid single-use plastic items such as disposable bottles of water, straws, lids and cups, utensils, and bags to help support cleaner oceans.
Appreciate the giant ocean! Sit on the beach and breathe deep
Take some time today to reflect on your connection to the ocean and the various advantages that a wholesome ocean provides. One of our deeper relationships to the ocean is via the air we breathe. Marine plants produce well over half of the oxygen in the Earth's atmosphere. So, take a deep breath, recognize your connection to the ocean, and be inspired to keep working for healthier oceans.
Conclusion
World Oceans Day 2022 must be celebrated with immense joy and aim to make our oceans plastic-free so that marine life can thrive easily. Make sure you put in a little effort and make this day a successful one. We don't like watching turtles with straws up their nose or dolphins tangled in fishing nets. We need clean oceans, and only we have the power to do that.
You May Like