Rebranding Your Company 4 Questions To Ask Before You Get Started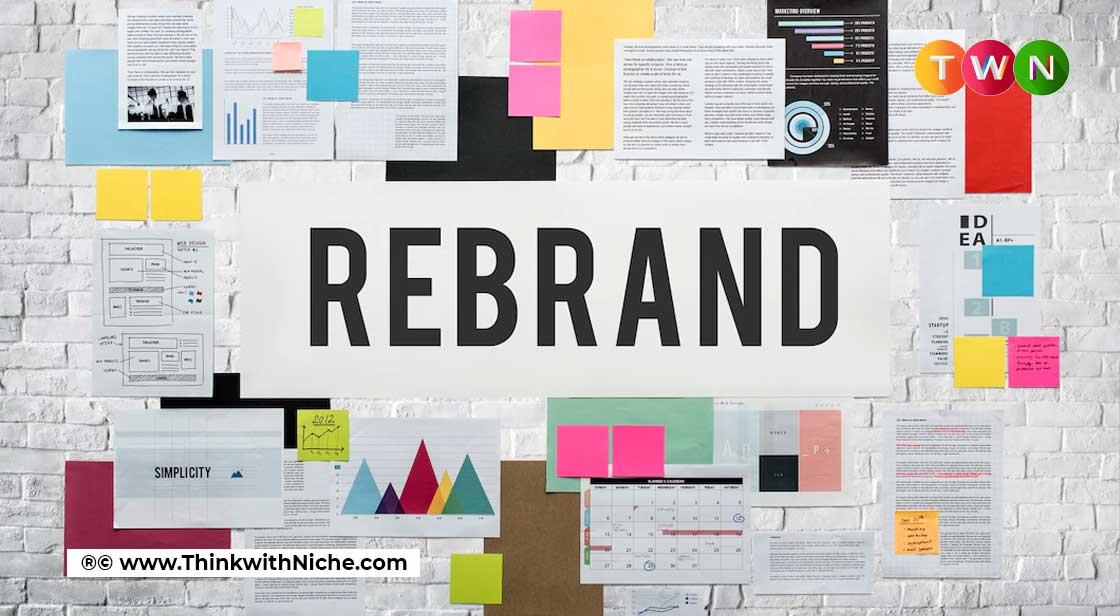 If any of the following apply to your company, a rebranding may be required: You have no clue how to package your product or service, nor do you know who your target market is. What to do with the brand portfolios you've obtained from a newly acquired business. #ThinkWithNiche
Continue Reading..
Your company's brand may have been established for a long time, but it now seems old and obsolete, or it does not match your company's goal. Before beginning a rebranding process, the plan should be properly sketched out. Determine why you want to rename your business. It will be shown what the present brand expresses and if it is by your aims. This isn't as simple as switching to a new colour scheme or a new corporate logo. To establish a successful marketing plan for your business, you must first understand who you are and how you want to be recognised among your competitors and your community.
1. What Is The Backstory Behind Your Birth
When rebranding, many people focus solely on the logo and colour scheme, but the storey you want to tell about your company may be more important. Before deciding on a rebrand, consider the following: And when was it established? Who or what was the source of the inspiration? Is there a specific problem you're trying to solve? Is your company's mission statement available? Find out if your company follows it in all they do, and if not, why not? In what ways, and how, does the product or service you provide address the problems that your customers are now experiencing? How has this altered over time? What aspects of your company make your employees the proudest? That's an excellent question. Ask them if you're bold enough. Is there a value proposition available to you? Is there anything about your company that distinguishes it from the competition? This will benefit your company in a variety of ways. Before rebranding, consider the following questions. Working together will ensure that you and your employees are on the same page with each other and with the needs of your customers. As a consequence, you'll be able to pick how to visually express the current tone of your brand. As a result, your website, brochures, and other marketing materials will include the appropriate messaging to attract new customers.
2. Who Is Your Ideal Client
How many clients did you anticipate when you first started your business? How large is your consumer base today? Create a buyer persona and respond to the following questions. When designing this persona, rely on research rather than your assumptions. Interview some of your long-standing customers and perform a customer survey to gain a better understanding of the people who do business with your company. You'll be able to recreate your brand in a way that makes sense for your customers as you learn more about them. As a starting point, use HubSpot's free tool for developing buyer personas.
3. What Are Your Competitors Up To Now
Regardless of how long you've been in the company, you've undoubtedly encountered a few competitors that have motivated you to go better. Do you have a preference for any of these brands? What are their advantages and disadvantages? You may notice their logos or colour schemes, as well as their messaging and distinctive qualities if you look at their websites or marketing materials. Perform a side-by-side comparison of all your competitors to see whether they have something in common that your brand does not.
4. Is Your Brand Content Easily Accessible To Those Who Are Interested
In addition to building a brand that resonates with your audience, your brand content should be simply accessible to them. Is it difficult to see your chosen colours against certain backdrops? Why did you select such an illegible font? The accessibility of your brand is critical not just for the experience of your customers with your brand, but also for your company's capacity to avoid accessibility-related litigation. Here are some pointers: Make sure there is adequate colour contrast so that those with vision problems can read and interpret your content. Monsido, for example, is one of several online free WCAG colour contrast testers. It is critical to offer alt text and meta descriptions on your website for visually impaired visitors. Choose legible fonts in colours that complement the backdrop, and don't lower your text size below 16 pixels online.
While rebranding your company, you need to establish a branding guide.
Remember the most important stage in rebranding your company: understanding how to create and use a branding guide. They provide your team with information on logo layouts, colour palettes, appropriate typefaces, and other aspects that consumers should consider when presenting the brand.
A branding guide can be created with the assistance of an in-house marketing department or creative team. Alternatives that are free or low-cost include:
If you don't already have one on staff, you may find freelance graphic artists through online marketplaces such as Fiverr.

Online graphic design and web design tools are available for free. User-friendly technologies include Canva, Snappa, Squarespace, and Mailchimp.

This Colors tool can assist you in selecting complementary colours for your branding.

Websites like Pixabay and Unsplash offer free, high-quality pictures that you may use in your marketing materials.

Do you require assistance with your messaging? If you have the budget, you may also work with StoryBrand's message planning team.

Facebook, Twitter, and Instagram are three of the most underutilised platforms for building an online presence for your company. If you want your brand to be noticed on social media platforms like Instagram, Google+, Linked In, and Twitter, make sure your brand has Facebook, Instagram, and LinkedIn profiles.
A rebranding effort does not have to be expensive or include a lot of design work. With the help of these ideas, approaches, and tools, you can create a timeless and strong brand even if you have a limited budget or creative talents.
You May Like