McDonald's: The Behind Success Story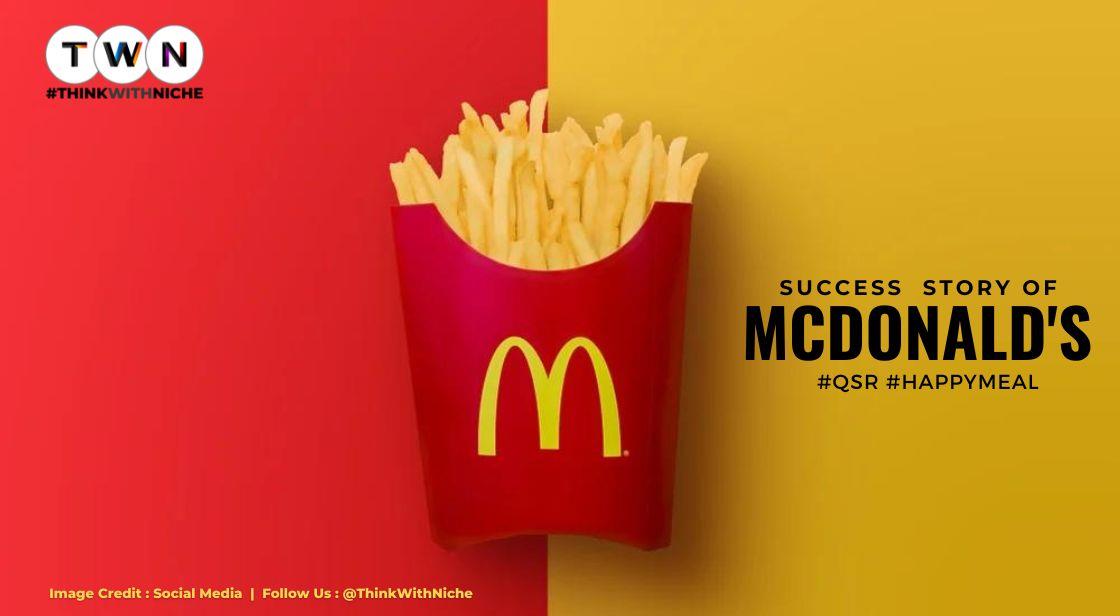 Friends, today we will discuss McDonald's, the second-largest fast food chain in the world, with locations in over 119 different nations. Every day, the company sells approximately 10 million burgers, and 70 lakh people go there.
You would be surprised to learn that such a huge company began with a tiny restaurant in California, which was founded by Richard and Maurice McDonald in 1940, yet the success of McDonald's has been spectacular in modern times. The sole credit for this achievement belongs to Ray Kroc, who joined this company in 1955 and helped it reach its pinnacle.
Although McDonald's was not the first brand, it is an example of a business concept with roots in Southern California. Let's now examine how McDonald's has achieved such success. How did the chain develop from a single restaurant into an expensive business? You will definitely enjoy and learn from this success story of McDonald's​​​​​.
Continue Reading..
Richard and Maurice McDonald founded the first McDonald's in San Bernardino, California, at 1398 North E Street and West 14th Street in 1940; it was not the McDonald's you are likely to be familiar with today. Ray Kroc upgraded and adjusted the siblings' business.
In 1940, Richard and Maurice McDonald opened a café in San Bernardino, California, the forerunner to today's McDonald's Corporation. A restaurant in Phoenix, Arizona, where the Golden Arches logo was first used, changed its name to a burger stand before becoming an enterprise.
Businessman Ray Kroc joined the group in 1955 as an experienced operator and continued to purchase the chain from the McDonald's siblings.
Did you, like millions of others, order your favorite burger at McDonald's? Did you know that McDonald's serves more than 100 million burgers every day? Do you know how McDonald's grew to be such a global brand? McDonald's may be the most well-known restaurant in the world today, but it wasn't always that way.
History of McDonald's
Despite its success, McDonald's took an unusually long period to become one of the world's most well-known restaurant chains. McDonald's was founded in 1940 by brothers Maurice and Richard McDonald, who converted their drive-through barbecue business into a burger and milkshake joint. The restaurant, which opened in San Bernardino, California, was the brothers' second foray into the food sector. Their first business together was a hot dog stand near the Santa Anita racetrack.
McDonald's began by focusing on its burgers, fries, and shakes, which are sold for half the price and in half the time of competing eateries. The McDonald brothers erected a self-service counter rather than depending on waiters and waitresses. Ray Kroc, a kitchen equipment salesman, was impressed by the brothers' business strategy and purchased the rights to begin franchising McDonald's restaurants nationwide, even though the brothers had already licensed a small number of franchise locations in Arizona and California. In 1955, Kroc founded the McDonald's Corporation, and in Des Plaines, Illinois, he launched his first franchised restaurant.
In 1961, the company applied for a trademark, representing itself as a "drive-through restaurant," and introduced its mascot, Ronald McDonald. Ray Kroc turned the little company into a corporation and swiftly bought up the shares, expanding the company to nine restaurants in the late 1950s and quickly becoming a top franchise. Before expanding worldwide, the business first grew across the United States, overwhelming the market for fast food that had been developed by White Castle several years before. McDonald's has more than 34,000 locations worldwide, providing anything from Breakfast McMuffins to unique cuisines. McDonald's is one of the world's global enterprises, with stores as far away as Indonesia and Egypt, where the company offers a unique halal menu. Regardless of the company's ethics, its success as a global franchise is obvious, and it is one of the greatest accomplishments of the twentieth century. McDonald's is a superb example of an inventive success, from corporate culture to ultra-efficient food production.
As a result, franchised businessman Ray Kroc is credited with starting the current corporation. McDonald's was demolished and rebuilt in 1984. It was the ninth McDonald's to open in the United States. Kroc purchased the company from the McDonald brothers in 1961, escorting in the company's global expansion. According to Kroc's autobiography, he and the McDonald brothers clashed for the control of the company. McDonald's has become a symbol of globalization and the extension of the American way of life as it has expanded into many overseas countries.
Business Model And Marketing Plan of McDonald's
Over 120 countries and 37,000 locations make up McDonald's business and revenue strategy. In terms of revenue, McDonald's is currently the largest restaurant chain in the world.
The concept of a Drive-In Hamburger Bar was first introduced in 1940 by the McDonald Brothers, Richard James (Dick) and Maurice James (Mac) McDonald. The McDonald Brothers launched the establishment of McDonald's burgers with the introduction of the Speedee Service System, which featured shakes, fries, and burgers that could have 15 cents.
Ray Kroc became the McDonald Brothers' restaurant manager in 1954. The first McDonald's restaurant in the United States was launched by Kroc in 1955 in Des Plaines, Illinois. For a sizable sum of $2.7 million, McDonald's acquired the rights to the Kin's eating facility in 1961.
You might be surprised to learn that when the first McDonald's store opened, customers did not eat their McD french fries with ketchup. The fastest-expanding food business in the world, McDonald's, has a unique revenue strategy.
McDonald's Target
McDonald's efforts are tremendously hard to become the "most liked venue and attitude to eating" for its customers. McDonald's approach is centered on the revolutionary tactic "Plan To Win," which is applied to requests made all over the world.
The mission is "Quality, Cleanliness, service, and Value," and the organization has clung to each of these traits. The choice of five principles is—people, products, place, price, and promotion to have a better customer experience.
McDonald's also aspires to serve every country with acclaimed food at genuinely cheap rates. McDonald's discounts are weaved through a strong offers channel, which provides client loyalty at all times.
Amazing Vision of McDonald
With more than 1000 locations in the United States alone, Ray Kroc had a vision for the company when he first launched the first McDonald's in Illinois. In keeping with its goal, McDonald's expanded its global reach by operating outlets outside of the US as early as 1967.
The first overseas stores were founded in Canada and Puerto Rico. By January 2018, McDonald's had 37200 cafés spread over 120 countries, employing 1.9 million workers. Every day, it served more than 69 million individuals. McDonald's used to open a new restaurant every 14.5 hours at one point.
McDonald's strategy for substantial growth
McDonald's has a realistic growth plan to serve customers and grow. The company's growth was boosted by the "Speed Growth Plan" presentation in March 2017.
McDonald's development plan places a strong emphasis on retaining, recovering, and converting customers. McDonald's strives to keep its present clients, regain their trust, and convert mellow clients into loyal ones.
adopted three accelerating agents: digital, food delivery, and experience of things, in order to manage its enormous expansion. It continues to transform client collaboration and enhance consumer experience and loyalty via innovation and human efforts.
Also Read: Best Ice Cream Brands In The World
Good Variety
Compared to other organizations, McDonald's has had a bigger financial impact on the world. McDonald's follows the concept that "Decent variety is inclusion" and makes use of every opportunity to make each individual feel valued in every network.
McDonald's way of life is founded on three pillars: dedication to leadership, improved teamwork, and customer obsession. Due to these elements paired with its confidence, the fast food chain has surpassed expectations in the areas of business enterprise and showcasing.
Future growth strategy for McDonald's
It is planned to reuse visitor bundling in all restaurants by 2025, source all visitor bundling from unique, recycled, or guaranteed sources, and address structural problems.
McDonald's became the first restaurant chain in the world to establish an emission reduction goal based on supported scientific research. Additionally, it joined the organization "We Are Still In Leader's Circle," which encourages action to lessen environmental change.
As the only café company in the world, McDonald's USA has now been serving MSC-certified fish for five years in every part of the country. The NextGen Cup Challenge and Consortium, which aspires to establish a global system of compostable and recyclable cups, was developed in collaboration with Closed Loop Partners. The first Global Climate Action Summit (GCAS) saw government leaders promoting environmental initiatives and proposing solutions.
Conclusion
McDonald's is the world's most profitable restaurant company, with over 70 million customers served daily in more than 100 countries. McDonald's is most known for their Burgers, and French fries, but they also provide chicken, breakfast, drinks & shakes, desserts, etc. The company has introduced salads, smoothies, and fruit to its menu in response to shifting consumer tastes and negative criticism over the bad health of its meals. Rent, royalties, and fees paid by franchisees, as well as sales in company-operated restaurants, provide revenue to the McDonald's Corporation. McDonald's has the ninth-highest global brand valuation of over 155 billion US dollars in 2021, up 20% from 2020.
You May Like