McDonald's: The Behind Success Story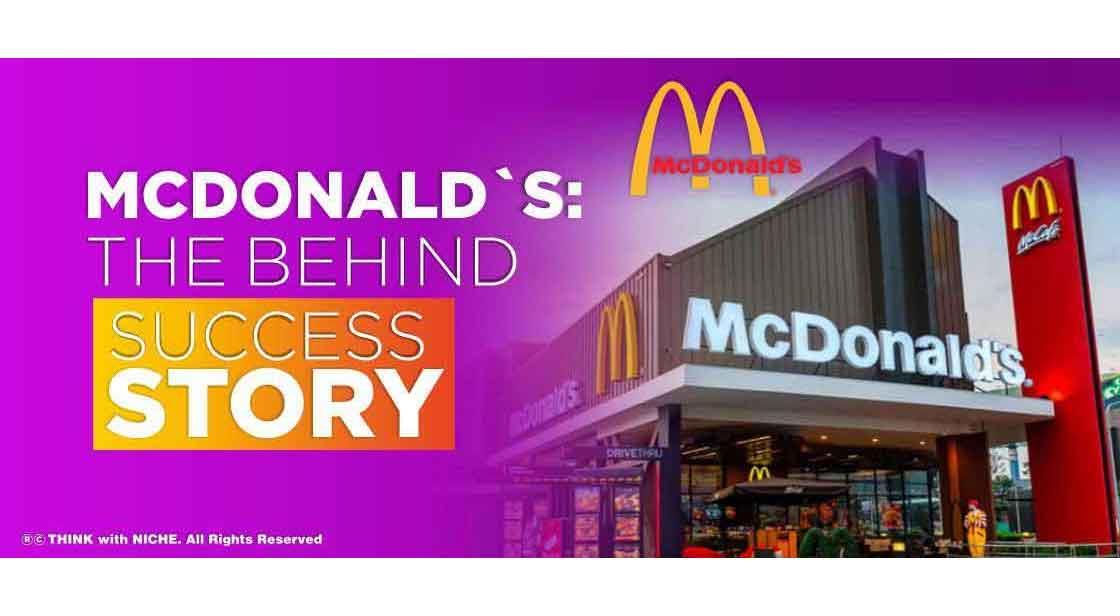 McDonald's is one of the world's most American brands. McDonald's is undoubtedly the most successful restaurant in the world, with over 34,000 locations in over 100 countries. It all began with a hot dog vendor. McDonald's is loved by people all over the world, but do you know how it got its start? Here's how it goes. #ThinkWithNiche
Continue Reading..
Did you, like millions of others, order your favorite burger at McDonald's? Did you know that McDonald's serves more than 100 million hamburgers every day? Do you know how McDonald's grew to be such a global brand? McDonald's may be the most well-known restaurant in the world today, but it wasn't always that way.
Journey Begins Here
Despite its success, McDonald's took an unusually long period to become one of the world's most well-known restaurant chains. McDonald's was founded in 1940 by brothers Maurice and Richard McDonald, who converted their drive-through barbecue business into a burger and milkshake joint. The restaurant, which opened in San Bernardino, California, was the brothers' second foray into the food sector. Their first business together was a hot dog stand near the Santa Anita racetrack.
McDonald's began by focusing on its burgers, fries, and shakes, which are sold for half the price and in half the time of competing eateries. The McDonald brothers erected a self-service counter rather than depending on waiters and waitresses. Ray Kroc, a kitchen equipment salesman, was impressed by the brothers' business strategy and purchased the rights to begin franchising McDonald's restaurants nationwide, even though the brothers had already licensed a small number of franchise locations in Arizona and California. In 1955, Kroc founded the McDonald's Corporation, and in Des Plaines, Illinois, he launched his first franchised restaurant.
In 1961, the company applied for a trademark, representing itself as a "drive-through restaurant," and introduced its mascot, Ronald McDonald. Ray Kroc turned the little company into a corporation and swiftly bought up the shares, expanding the company to nine restaurants in the late 1950s and quickly becoming a top franchise. Before expanding worldwide, the business first grew across the United States, overwhelming the market for fast food that had been developed by White Castle several years before. McDonald's has more than 34,000 locations worldwide, providing anything from Breakfast McMuffins to unique cuisines. McDonald's is one of the world's global enterprises, with stores as far away as Indonesia and Egypt, where the company offers a unique halal menu. Regardless of the company's ethics, its success as a global franchise is obvious, and it is one of the greatest accomplishments of the twentieth century. McDonald's is a superb example of an inventive success, from corporate culture to ultra-efficient food production.
As a result, franchised businessman Ray Kroc is credited with starting the current corporation. McDonald's was demolished and rebuilt in 1984. It was the ninth McDonald's to open in the United States. Kroc purchased the company from the McDonald brothers in 1961, escorting in the company's global expansion. According to Kroc's autobiography, he and the McDonald brothers clashed for the control of the company. McDonald's has become a symbol of globalization and the extension of the American way of life as it has expanded into many overseas countries.
Final Story
McDonald's is the world's most profitable restaurant company, with over 70 million customers served daily in more than 100 countries. McDonald's is most known for their Burgers, and French fries, but they also provide chicken, breakfast, drinks & shakes, desserts, etc. The company has introduced salads, smoothies, and fruit to its menu in response to shifting consumer tastes and negative criticism over the bad health of their meals. Rent, royalties, and fees paid by franchisees, as well as sales in company-operated restaurants, provide revenue to the McDonald's Corporation. McDonald's has the ninth-highest global brand valuation of over 155 billion US dollars in 2021, up 20% from 2020.
You May Like