Leadership Skills Every Employer Looks For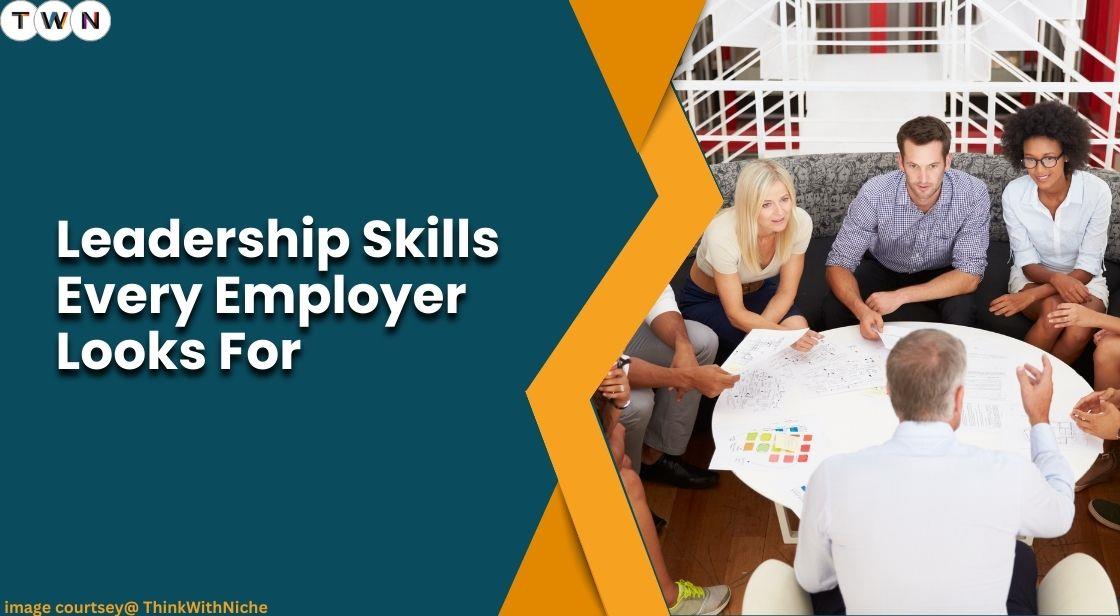 According to Ben Horowitz, the author of The Hard Thing About Hard Things, leadership presupposes the ability to build things from the ground up and starts long before you get a managerial position. Henry Ford, who built a multi-billion business empire, was already a leader when he tried to make a steam-engine car in his farm workshop as a teenager. Leadership skills are essential at any stage of your career and at any age.
In this article, we'll discuss how leadership is viewed today and what skills of true leaders are most valued by employers.
Continue Reading..
Leadership skills are the qualities and strengths that individuals display in order to monitor procedures, direct projects, and steer their workforce toward goal attainment.
Leadership abilities are critical in preparing CEOs to make meaningful judgments about their organization's mission and goals, as well as correctly allocating resources to achieve those objectives. The capacity to delegate, motivate, and communicate effectively are all valuable leadership characteristics. Additional qualities of a leader are honesty, confidence, devotion, and inventiveness.
Years ago, everything was simple: a leader was considered a person who gave orders. Others complied.
Now, things get different. Encyclopedia Britannica defines leadership as the ability to lead others. But what makes others follow you? According to Simon Sinek, the author of Leaders Eat Last, "if your actions inspire others to dream more, learn more, do more, and become more, you are a leader."
Yet, that's not all Brene Brown, the author of Dare to Lead, says: "I define a leader as anyone who takes responsibility for finding the potential in people and processes and who dares to develop that potential." Tony Dungy, the author of The Mentor Leader, says the leader's main task is to "engage, educate, equip, encourage, empower, energize, and elevate."
So, leaders are those who keep things running and people motivated. But how to achieve this? Leadership requires a whole set of skills, like empathy, decision-making, critical thinking, effective communication, and more. Let's review some of them.
Empathy
Empathy means building an emotionally sound organization in which every person feels valued.
Although often overlooked, empathy is, in fact, an essential feature of building solid teams. Think of this: workplace toxicity, employee dissatisfaction, and emotional burnout bring high turnover. Financial losses follow.
A leader who can avoid misunderstandings and incorrect judgments and keep the teams responding to work demands without upsetting people will provide an even and sustainable business scaling.
Critical thinking
This skill presupposes making proper decisions and judgments based on thorough fact analysis. Not everyone excels at thinking critically, though practice makes everything achievable. We may break critical thinking into a range of components like:
Questioning assumptions

Analyzing data and drawing conclusions

Testing hypotheses

Checking evidence
Yet, the most essential trait of a critical thinker is the ability to spot the flaws in the existing system and come up with a timely improvement.
For example, Jason Fried, the author of It Doesn't Have to Be Crazy at Work, says one day, they simply decided to stop campaigning on Facebook, Google, and Twitter as they spotted that the benefits were low in the middle of the campaign. By ditching social media activity, they freed more time and money on other directions and won. Not every company can follow their way, and not every time. But critical thinking allows leaders to make a profitable decision at a given timespan. That's how it works.
Decision making
This skill refers to a talent for taking responsibility in critical situations. Yet, there is a trick here: people praise you for the decision-making only if your decisions bring profit. So, when speaking about this skill, we must include a success factor.
To make decisions successfully, you need to have the following:
Courage to act fast

Knowledge of your domain of specialization

Ability to analyze trends

View different perspectives
At the same time, you have to learn how to avoid different decision-making gaps, like the "spotlight effect" described by Chip Heath. In his book Decisive: How to Make Better Choices in Life and Work, Heath warns us from making decisions based only on the information presented before us while ignoring the facts offstage.
Imagine you manage a team of dedicated software developers. You spot a decline in production. The first decision is to find a weak link and eliminate it. That's a spotlight. Yet, offstage information may open other facts, like feedback delays on the client side. Only by taking into account all the factors can you make proper decisions.\
Communication
The importance of this skill is immense, as failures in communication bring disastrous results. When people don't understand what you are saying, you lose essential details on the way or things you say to get to an escalation; you may break the whole business workflow.
To avoid this, you have to learn to:
Be an active listener

Make group discussions run smoothly

Be clear and consistent in what you are saying

Understand non-verbal signals from other communicators
Delegation
Perhaps, the ability to delegate tasks effectively is the first sign of a successful reader. Yet, delegating is not simply telling someone, "Hey, do this!" It is about respecting a person's workflow, skills, and schedule.
So, the ability to delegate tasks properly presupposes:
Explanation of tasks

Quality assurance upon the task completion

Knowledge of the team's bandwidth

Ability to assist with advice
This brings us back to Brene Brown's Dare to Lead, suggesting that every leader should first learn the subordinates' potential. In complex projects like mobile app development, for example (to learn more, follow: https://mlsdev.com/services/mobile-app-development), a skillful leader must evaluate the speed of task performance, tech stack specifics and even measure the morals of the team to see how to delegate the tasks properly.
Networking
True leaders know that the power of business development lies in the people they work with. This refers to everyone: business partners, suppliers, upper management, bosses, etc. Keith Ferrazzi, the author of the bestseller Never Eat Alone, suggests that success is about the ability to work in line with other people, not against them. Yet, this talent requires training as well.
Networking also presupposes an ability to find the right people to get support in a critical situation and a talent to inspire your team members to build relations with others.
Real-world examples of leaders
While considering outstanding business leaders, several names may come to mind: Steve Jobs, Tim Cook, and Bill Gates, and one may question how they achieved success. While most individuals are not born leaders, they may learn how to become one.
The following are instances of renowned leaders and their leadership styles from real life:
Microsoft co-founder Bill Gates
Bill Gates is a business magnate, software developer, investor, and Microsoft co-founder. He thinks that success doesn't arrive overnight and embraces the principle of working hard. His programming passion and vision led to the birth of the BASIC programming language, MS-DOS for IBM, and ultimately the founding of Microsoft. He is a transformative leader who is always growing and inspires his subordinates to be creative as well. His long-term success vision is always driven by his programming enthusiasm.
Tim Cook CEO of Apple Inc.
Tim Cook is the CEO of Apple and a business executive, leader, and engineer. He employs a democratic leadership style that allows everyone on the team to contribute to the organization's success. The key to his success is open communication, transparency, and sharing, which has caused Apple shares to skyrocket under his leadership.
Mary Barra, General Motors chairman and CEO
Mary Barra is a successful businesswoman who was selected chair and CEO of General Motors in 2014, making her the first female head of a major automaker in the United States. Barra's leadership style empowers her people and offers credit where credit is deserved. Her ability to manoeuvre through many problems and crises, such as the Switchgate incident (an ignition switch malfunction in GM automobiles that cost more than 100 lives), is one of her exceptional leadership characteristics.
Conclusion
Leadership skills are essential at any stage of your career, even in you have just started your path as a trainee. Being able to listen, speak, motivate and act timely will help you steer your career in any direction you want and become quickly noticed as a talented employee.
Author's bio: Anastasiia Lastovetska is a technology writer at MLSDev, a software development company that builds web & mobile app solutions from scratch. She researches the area of technology to create great content about app development, UX/UI design, tech & business consulting.
You May Like