Know Everything About Vivi Bubble Tea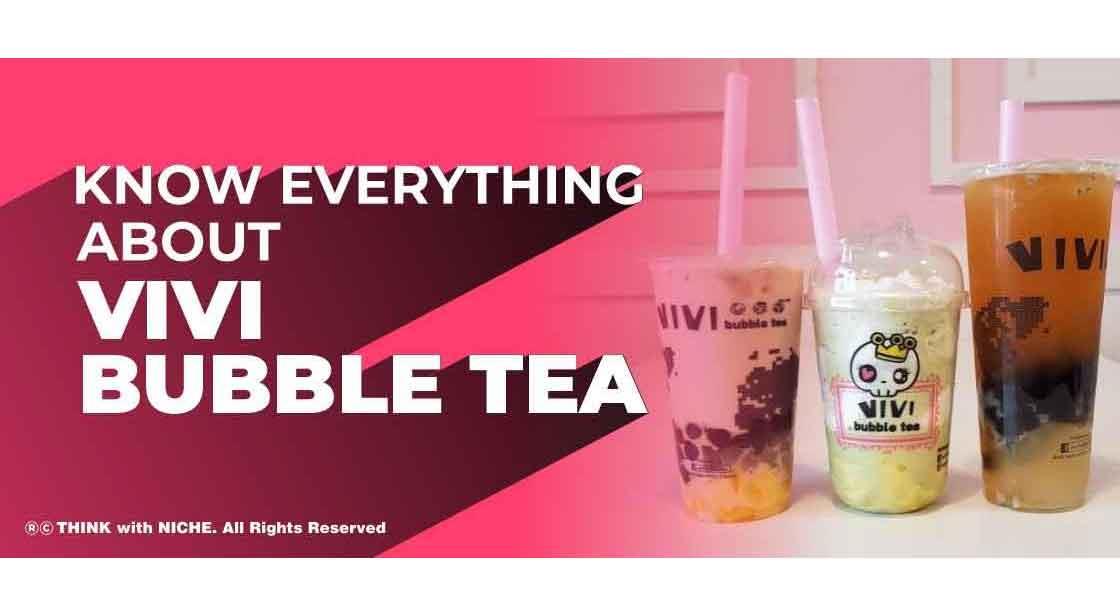 When you think of tea, the flavor that you have tasted, seen or heard, or read about somewhere first comes to your mind. Today we will tell you about a unique business, whose name is funny as well as taste -Vivi bubble tea, by the way, if we talk about bubble tea in general, it is basically a Taiwanese tea drink. Vivi Bubble Tea established itself in the business of tea production in America and popularized Taiwanese bubble tea.
Vivi first opened its doors in New York City in 2007, and it now has over 70 locations throughout the United States. As a Taiwan company, all their ingredients are sourced directly from their homeland, ensuring that you are drinking authentic bubble tea. They offer high-quality customer service at a low cost. If you enjoy their bubble tea and intend to drink it frequently, you'll be glad to know that they offer a stamp card for loyal returning customers in which your tenth bubble tea is free. let's Know Everything About Vivi Bubble Tea.
Continue Reading..
With its cutting-edge tea production technology, Vivi Bubble Tea launched the Taiwanese bubble tea business in America in 2007. The first store in New York has grown into a chain of over 70 branches thanks to the creation of the Vivi Bubble Tea trademark and our ongoing extensive customer support. The company's goal is to provide traditional Taiwanese bubble tea to people all over the country. They guarantee the highest quality and service to their customers, using only ingredients shipped directly from Taiwan, all of which are FDA-approved, to brew the fresh and authentic Taiwanese taste in every sip. Vivi offers seasonal drinks to keep up with the times, and they are constantly experimenting with new flavors. They offer high-quality customer service at a low cost.
What is bubble tea, how did it get started, and where did it come from?
Even though it seems like a recent trend, bubble tea has been a favorite drink in Asian nations since the 1980s. This strange concoction, which falls somewhere between a premium drink and a snack, appears to have captured the interest of the typical young teen due to its range of colors, flavours, and textures. With a focus on the teenage market, the beverage has grown immensely popular throughout Australia, the United States, and Europe. There are now new Bubble businesses opening up on every street corner in every country, and this trend is really only expected to continue.
This usually colorful drink is based on a Taiwanese method that calls for blending a hot or cold tea base with the customer's choice of milk, fruit, and fruit juices before adding the "bubbles," which are actually soft, chewy tapioca pearls that float to the bottom. Tapioca is a gluten-free, quite bland-tasting starch that is taken from the cassava root and has a wonderful texture.
With a fat straw and clear cups, tapioca balls, also known as "pearls" or "boba," are drawn up and chewed as the tea is being drunk in bubble tea. The tapioca balls and the numerous bubbles produced by the strong shaking used in the blending process are both referred to as "bubble" in the name.
According to rumors, iced tea was first served at Chun Shui Tang, a teahouse in Taichung, Taiwan. Ms. Lin Hsiu Hui, the company's product development manager, made the decision to blend her Taiwanese delicacy, fen yuan (a sweetened tapioca pudding), into her Assam iced tea and consume it during a staff meeting since she was bored. It was so wonderful that they decided to put it on the menu, and it quickly became the best-selling item for the business. As soon as tea shops all across Taiwan started putting tapioca pearls and various fruit flavours in their iced teas as a result of this beverage's success at one particular teahouse, bubble tea as we know it today was born!
Though Vivi Bubble Tea was founded in 2007, the concept of bubble tea is not new. The first known bubble tea drink was a concoction of hot Taiwanese black tea, tapioca pearls, or honey. Bubble tea is now commonly served cold. The tapioca pearls that distinguish bubble tea were originally made from the starch of cassava, a tropical shrub known for its starchy roots that were introduced to Taiwan from South America during Japanese colonial rule. These were quickly replaced by larger pearls. Since the Dutch colonization of Taiwan in 1624–1662, milk and sugar have been added to tea in Taiwan.
For the discovery of bubble tea, there are two competing stories. Bubble tea, according to the Hanlin Tea Room in Tainan, was invented in 1986 when teahouse owner Tu Tsong-he was inspired by white tapioca balls he saw in the local market of Ah-bo-lieu. He later brewed tea from these traditional Taiwanese snacks. As a result, pearl tea was born.
The Chun Shui Tang tea room in Taichung also claims to have invented bubble tea. Liu Han-Chieh, the company's founder, began serving Chinese tea cold after noticing coffee being served cold in Japan during a visit in the 1980s. His business grew as a result of the new way of serving tea, and several tea chains sprang up. Lin Hsiu Hui, the company's product development manager, claims she invented bubble tea in 1988 when she poured tapioca balls into her tea and encouraged others to drink it during a staff meeting.
Bubble tea's ever-increasing popularity spread throughout East and Southeast Asia in the 1990s. The bubble tea trend spread quickly among young people in places like Hong Kong, Mainland China, Japan, Vietnam, and Singapore.
Now let's talk about its flavors and menu because its menu is full of fun and delicious tea recipes, which will make your mouth water-
Menu decorated with special juices of Vivi bubble tea
Vivi special signature includes:
1. ViVi Signature Fruit Tea
2. Blue Galaxy
3. Passion Fruit QQ
4. 3Q Milk Tea
5. Coffee Jelly Bubble Milk Tea
6..Grape Cream Float
7. Strawberry Cream Float
8. Taro Crème Brûlée (Milk/Milk Tea)
9. Oreo Crème Brûlée (Milk/Milk Tea)
10.Flaming Brown Sugar Milk w/ Tapioca
Yakult Drink contains -
1, Mango Yakult
2. Strawberry Yakult
3. Passion Fruit Yakult
Earl Gray Milk contains -
1. Jasmine Milk
2. Roast Oolong Fresh Milk
3. Japanese Matcha Fresh Milk
Apart from this, they have three more special beverage series - organic milk series, slush series, cream float series, milk tea, fresh fruit series, and flavored tea, So tell me, is your mouth not watering after reading this? You can visit its official website for all other flavors and order online - Vivi bubble tea is NO sugar, 30% sugar, 50% sugar, or 70%.
Whatever happens, do taste this bubble tea once. If you are interested in Vivi bubble tea from the point of view of business and want to open its branch or join it, then they have given all the facilities to join them on their website.
Final Words Again With Vivi Bubble Tea
Vivi Bubble Tea takes you on a bubble tea world with a diverse menu of flavored teas, milk teas, slush drinks, ice jelly teas, and Yakult drinks. From kumquat lemon to green apple, there are flavored teas to choose from. Coconut milk tea, Japanese matcha, chocolate milk tea, and other milk teas are examples. Teas topped with fruit pulp jelly are known as ice jelly teas. Yakult drinks are fermented milk drinks that contain a probiotic that has been shown to boost the immune system. Most Vivi Bubble Tea drinks are served with signature boba or flavor orbs.
Vivi Bubble Tea is a perfect spot for hanging out with friends or studying while enjoying a hot or cold beverage and a sweet treat. The pink bubble lettering and princess skull face attached to the counter give the store an adorable vibe. The popular tea shop offers comfortable modern seating to the customers while they sip and chew their freshly made bubble tea through giant straws.
You May Like