Jewelry: Start Your Business at Home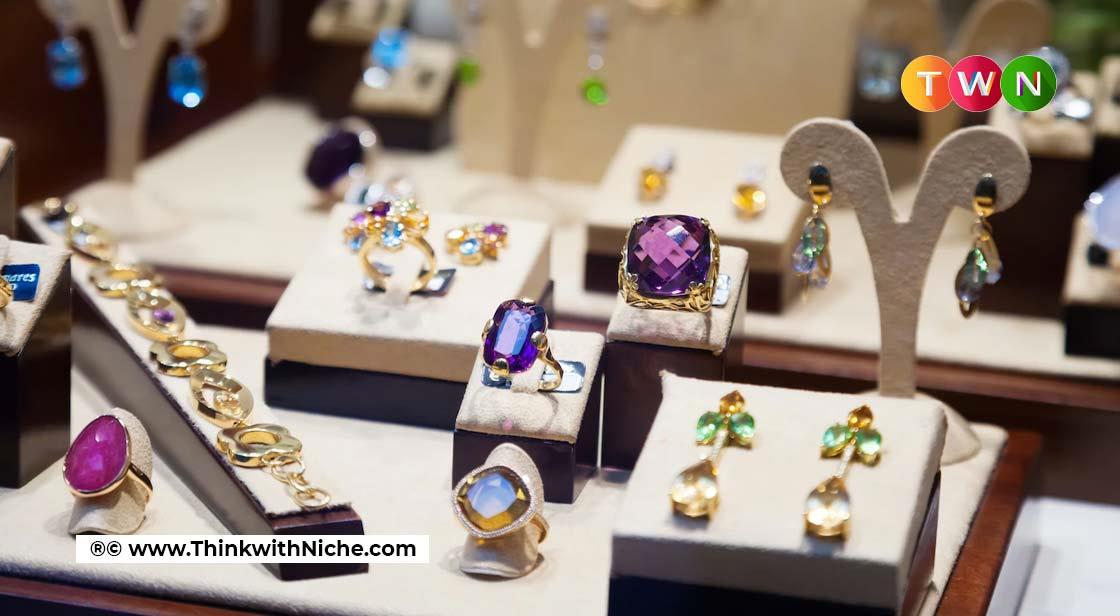 Are you well aware of the fashion and trend? Then know something trendy business idea that you can easily start at home. Yes, I am Talking about the Jewellery business. Do you know how to start, what materials do you need for that, the below article can help you in detail. #ThinkWithNiche.
Continue Reading..
Tips And Tricks to Start Your Own Jewellery Business Just from Home
DIY (Do It Yourself) business is one of the trendy businesses, which is giving chance to everyone for the start-ups. And when it comes to Jewellery, it needs no explanation about its demand. Jewellery is such an item that is a matter of sentiment and emotion. The jewellery business is the hot business nowadays, it may be a small-scale industry but its demand makes win over many multinational companies. The best place to start your jewellery business is your home.
But before jumping to this field let's have a quick look at what can be the products that are going to bring you luck!
Wire or Strings
Strings and wires are very important materials to make different hooks and pins. Most of the jewellery like necklaces, earrings, bracelets need hooks, wires and strings are the perfect material for makings those items.
Beads And Stones
The bracelets are most often made up of colorful beads. Girls like to wear hairpins, that makes their head look like colorful flowers, these hairpins look gorgeous with beads. Beads and stones are an important material for making jewellery, it may be necklaces or maybe earrings, colorful beads can be used everywhere. Stones are often used in making rings.
Braided Threads
Like colorful beads, the use of colorful threads is everywhere. Braided bracelets and necklaces look very nice. Nowadays there is a craze of wearing anklets. The use of braided threads can a very popular idea for home-based jewellery start-ups.
Oxidize
Another trendy material, that has large popularity among every woman is none other than oxidizing. It's so popular that the use of gold and silver has become small. With oxidize, you can make any jewellery you want, necklaces, bracelets, hairpins, bangles, anklets, earrings, nose pins, rings, pendants, and everything.
Conch Shell And Coral
Conch shell or Sankha is popular for a very long time. In India, there is a ritual to wear 'Sankha' bangles for every married woman. But the use of conch shells has become broader nowadays. Pendant and rings are more often can be to make by a conch shell and coral necklace and bangles have its huge popularity.
Wooden
Here comes another trendy material for jewelleries. Wood. Wood also has its popularity since the days of history but now again it gains another level of popularity. Specially Rajasthani women like to wear wooden jewelleries. Wooden bangles and necklaces have another fan base.
Clay
Clay has universal use. Besides making various showpieces, home decor materials, and toys, clay can be used in making different pieces of jewellery also. Clay necklaces and bangles are very popular among women. Set of earrings with necklaces look very charming, trendy, and weighty.
Jute And Cotton
Fibers are also not left behind in the competition of the jewellery market. Jute and cotton can be used in making bracelets, braided necklaces, hairbands, etc. Colorful braided cotton earrings are very common. The use of jute in every fashion field is quite a unique but trendy idea.
Crystal
Crystal or glass jewellery is a glamorous item for every woman. The shine and color make the jewellery look very high-fight and luxurious. Crystal bangles, earrings, necklaces, even bracelets, rings, and hairpins are also very stunning. Crystal beads are often seen to use in making stylish ornaments.
Now as we know about the materials and what kind of ornaments you can make with them, let's see how to start the business.
1. Choose a Perfect Brand Name
If you are going to start your own business, there must be an appropriate brand name. Make sure that it matches the type of jewellery you are making. But, always keep it simple and attractive. Your brand name will be your identity.
2. Registered License
You have to register your business first. For that, you need to get a license. Contact a lawyer or the local government in your area for your trade registration. There are various rules and regulations for different types of business. Thus, you need to contact the authority for your patent right and trademark.
3. Proper Business Planning
For every business, it may be small or big, proper planning is a 'must'. Every entrepreneur must have an aim before starting a business. The home-based jewellery business is also not an exclusion to it. What type of jewellery are you going to make, what can be the design, who is your target audience, what kind of age limit are they belong to, and all!
4. Build a Separate Workspace
There must be an appropriate workspace for your business. It may be a home-based start-up but a proper workspace is very important to create a working atmosphere. It can be a room at your home or any other location. Make sure the place must have passable space to put up all your jewellery accessories.
5. Sales And Marketing
Jewellery products can be sold in both offline and online mediums, but it will be more preferable to start your selling online. Start your mobile and digital marketing. This will be very much cost-effective for you. The online platform will always help you sell your products at a high range and also will help you at any time any place.
6. Be Social
Making jewellery is not enough to earn. First, you have to build your popularity. Home-based products don't always have large advertisements. For this type of product, you can start promotion via various online social media.
You May Like