International Tourism Day: Tour The World's Astonishing Place Ever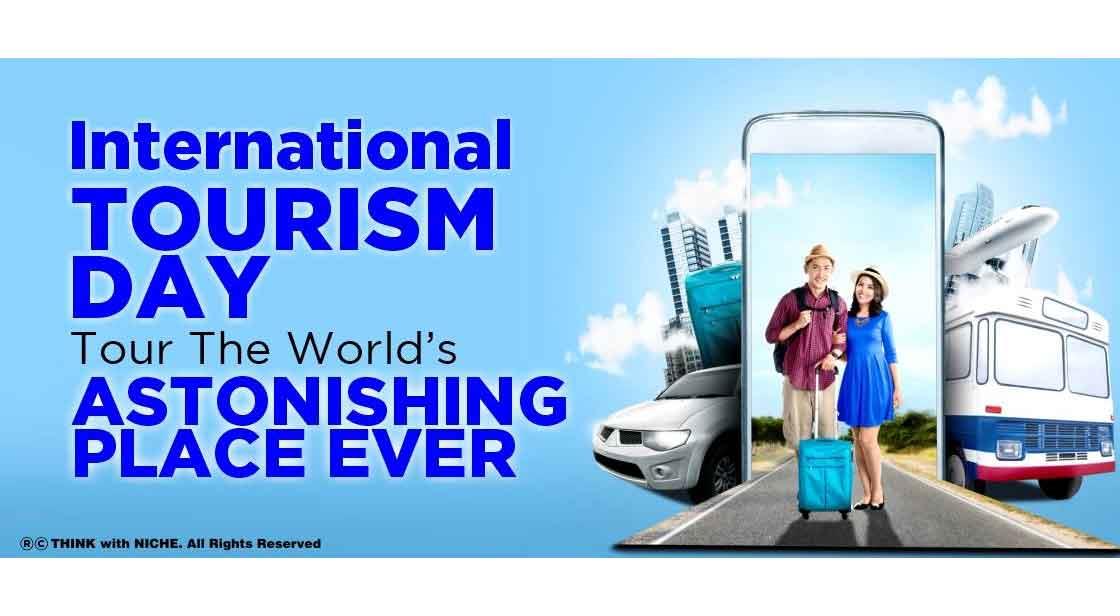 The United Nations World Tourism Organization has observed September 27 as World Tourism Day since 1980. Even though Covid 19 has imprisoned us, make a plan to visit some spectacular locations across the world whenever things return to normal. Let's find out what they are. #ThinkwithNiche.
Continue Reading..
16 Strange Places All Around The World, You May Or May Not Heard Of
Annually, on the 27th of September, the world commemorates World Tourism Day to raise awareness of the importance of tourism to society on all levels, including economics, culture, politics, and society.
The COVID-19 epidemic has had far-reaching social and economic consequences. There has been damage to the economy of both the developed and developing world. Reviving tourism will aid in the rehabilitation and growth process. It's critical that the advantages this brings be felt widely and equally.
But now that things are returning to normal, it's time to start planning your next tour. It's impossible to make a definitive list of the top travel locations since the globe is so full of them. The easiest approach to find hidden gems is to ask around and go exploring on your own.
Here are some travel wish lists for you on this International Tourism Day. You may have rarely heard of these amazing destinations.
1. Ladakh, India
It's no secret that Ladakh is India's most famous tourist destination, yet it's still relatively unexplored. This 160-kilometer saltwater lake has the world's greatest concentration of saltwater.
Another must-see destination in Ladakh is Magnetic Hill. Magnetic Hill in Ladakh, India, is renowned as one of the strangest sites in the world to witness a genuinely remarkable wonder. There's a location in Ladakh that seems to attract automobiles if you travel there. This is a very short section of the road atop a hill on the Srinagar-Leh route. It's a wonder why if you park your car here and switch off the ignition, your automobile will start driving on its own.
2. Salar De Uyuni, Bolivia
The world's largest salt pan, at 10,582 square kilometers, is located between Potos and Oruro areas in southern Bolivia. It is regarded as one of the weirdest sites in the world. When a small layer of water forms on the surface, the entire world's greatest natural mirror is created. The center of Incahuasi Island offers the greatest view of this area. When a prehistoric lake dried up, it left the Salar De Uyuni in Bolivia, which is now covered with dazzling white salt, layered rock formations, and cactus islands. Flamingos come to this area, and you may observe them grazing in the water in great numbers. The months of July and October are ideal for visiting because of the warm weather.
3. Easter Islands Head, Polynesia
There are many carved effigies of enormous heads scattered around the shore that date back to the first century AD when this region wasn't even known as Easter Island. The Para Nui people sculpted them using primitive tools from the island's black granite rocks, then chiseled and chipped them to perfection. These Easter Island heads are among the oldest instances of prehistoric art, many others being cave paintings and the like, and they show great masonry and inventiveness at that period. One of the world's greatest snorkeling locations, this lengthy natural coral reef is teeming with tropical fish of every color. The aquarium is surrounded by healthy coral from a depth of one meter to four meters.
4. Spooky Forest, Xochimilco, Mexico
This area is also referred to as Dolls Island. When it comes to traveling to the strangest places in the world, Mexico's this strange Dolls' Island tops the list. The trees on Mexico's deserted island of Xochimilco are adorned with ridiculous and battered dolls. This is something out of a horror movie, with dolls strung up in the middle of nowhere. Dolls began floating up on the coast when a girl drowned in one of the area's canals, according to folklore. After that, for unexplainable reasons, one of the lone residents hanged them from the trees.
5. Spotted Lake, Canada
The world's most mineralized lake, Spotted Lake Khiluk, may be found there. Another odd location that makes the list of strangest locations on the planet. When the lake's water evaporates in the summer, it leaves behind tiny mineral pools, each one a distinct shade of blue or green. Visitors are urged not to trespass on tribal territory when visiting the lake, which can be seen from Highway 3 northwest of the small town of Osoyoos. There are 365 distinct pools dotted throughout the lake, organized in an odd mosaic-like manner. Each of these locations is claimed to contain a separate and highly concentrated chemical composition that can treat a particular ailment. This is one of the world's nicest weirdest locations, no doubt.
6. The Hand In The Desert, Chile
It was created by Chilean sculptor Mario Irarrázabal, 46 miles south of Antofagasta, in Chile's Atacama Desert, and it's very strange. The result was unveiled in March 1992: four outstretched concrete fingers and a thumb on an iron frame. Irarrázabal is well-known for his depictions of human suffering, and this massive unsettling sculpture evokes a sense of loneliness made worse by its remote and bleak setting. Some of the artwork you'll find here won't require you to travel far if you're a creative sort.
7. Chocolate Hills Of Bohol Island, Philippines
The Chocolate Hills are a collection of oddly formed hills in the Philippines' Bohol region. Bohol's 1700+ conical hills dot the Philippines' central island. They vary in height, but their shape is so uniform that they might pass for man-made. How the Chocolate Hills came to be still shrouded in secrecy. Legend has it that two giants once fought for days with dirt and stones hurled at them until they were weary, friends once more, and into each other's arms. UNESCO, on the other hand, says they're the consequence of rainfall erosion lifting coral deposits into the air. During the dry season, the hills become "chocolate" as the lush green vegetation turns brown.
8. Red Beach, China
Sueda seaweed, which turns bright red in the fall, blankets the shoreline of this beach. These tidal wetlands, located 30 kilometers southwest of Panjin, are an important stopover point for migrating birds. Red Beach is a must-see because of its crimson sand. It's a well-known tourist destination for a reason. Every year, tens of thousands of tourists visit the area. Suaeda salsa, a red-flowered plant that does well in saline water, blooms every year in the autumn on Tianjin's Red Beach. Only a tiny part of the beach is accessible to the public, but a wooden boardwalk that runs out to sea allows visitors to see more. Red Beach may be China's best-kept hidden beach secret. The entire beach becomes bright crimson, and all that's left of it is a little sliver of sea.
9. Goblin Valley State Park, USA
Salt Lake City, Utah lies 216 miles south of this valley. Wind and water have worn soft sandstone overtime to produce odd pinnacles or hoodoos that resemble goblins, according to some. The strange terrain is barely a mile broad and two miles long, but it's definitely worth exploring the designated pathways to get up close to the unusual formations. The Valley of Goblins also has superb canyoneering, which is a little-known fact.
10. The Catacombs, Paris, France
The eerie catacombs are a maze of abandoned quarry tunnels beneath Paris and the final resting place for about six million Parisians. Because the Catacombs are such a popular tourist destination, purchasing your tickets in advance is the best way to avoid waiting in line. Many of the bones and skulls found in the city's congested cemeteries date back to the 18th and 19th centuries. It wasn't until the government realized the bones could be a tourist attraction that they were arranged in the horrific fashion they are now. As far as locations go, it's up there with the weirdest. The catacombs are open Tuesday through Saturday from 10 a.m. to 8.30 p.m.
11. Cat Island, Japan
The Japanese Cat Island has to be one of the oddest places on the planet. Just 100 people are living on this island, but there are also thousands of cats, making it one of the strangest locations on Earth. Ehime Prefecture, where Cat Island is located, is a small, isolated area of Japan. On fishing boats, people learned how to battle rats, but they stayed on the island. As a result of their procreation, the human population grew and thrived. Mice are natural predators of silkworms, therefore the cats were first welcomed since the island produced them. There's even a cat temple on the island, where travelers may stay in cottages designed like cats. But strangely, dogs are not permitted here.
12. Lake Natron, Tanzania
It's also known as The Scariest Lake. Animals that drown in this African lake and calcify become sculptures. In fact, this lake can convert aquatic life into brittle stone. PH values as high as 10.5 are found in this lake's water, indicating it is very alkaline. As a result, any animal that ventures into the water will have its skin burned off. Massive amounts of sodium bicarbonate ensure that they transform into mummies. The lake in Tanzania appears crimson in hue during the summer due to the high alkaline collection. This is the cause for the lake's other moniker, 'Petrifying Lake.' Despite the harsh circumstances, it serves as a grazing habitat for Lesser Flamingos. Do you want to go swimming here? Do not even consider it. Investigate the Tanzanian Lake Natron from a distance.
13. Die Rakotzbrück, Germany
It's also called the Mysterious Devil's Bridge. One of the strangest sites in the world is the Die Rakotzbrück Bridge. Designed in the late 1800s, this bridge is renowned for the precision with which it was built. From every angle, the bridge and its reflection appear to form a seamless stone circle. It's one of the strangest locations on the planet, no doubt about it. This explains the bridge's eponymous signature, the 'Devil's Bridge.' The designers of the bridge appear to have placed more emphasis on the structure's beauty than its practicality. Thin rock spires have been placed on either end of the Rakotzbrücke to give the structure the appearance of natural basalt columns seen across Germany.
14. Christ Of The Abyss, Italy
It's a Christ statue in bronze. The strangest thing about this 2.50-meter-tall bronze Christ figure is that it's underwater. Deep-sea divers love it, and it's one of the strangest spots on the planet to be found underwater. A submerged bronze figure of Jesus Christ by Guido Galletti is one of Italy's most thrilling tourist attractions. San Fruttuoso, between Camogli and Portofino, is where the original replica of the same may be found in the Mediterranean Sea.
15. The River Of 5 Colors, Colombia
The River of Five Colors is Costa Rica's most stunning natural marvel. The river, which is in the Serrana de la Macarena mountain range, is mesmerizing because of its vibrant hues: vibrant yellow, green, blue, and black hues tremble from the bottom up. The river is known as the "River of Five Colors" or the "Liquid Rainbow." The riverbed becomes crimson due to the presence of a rare type of plant that grows only in this location. One of nature's most unusual occurrences, the red plant Macarenia clavigera, is responsible for the Liquid Rainbow. Black rocks, green algae, blue water, and yellow sand all contribute to the overall iridescent look. Even more spectacular are the waterfalls, pools, and tunnels that dot the river's landscape. Because there are no fish or other aquatic life in Cao Cristales, tourists can bathe without interruption.
16. Pink Sands Beach, The Bahamas
Pink beach is a world-famous tourist destination. There are just a handful of beaches in the world with pink sand. This beach's sand appears pink because of the minerals and plankton that live there. The new study suggests that the pink color derives from foraminifera, a tiny creature with a reddish-pink shell. Calcium carbonate, coral, and shells all mix in the sand.
You May Like