International Sign Language Day Be Silent And Converse With The World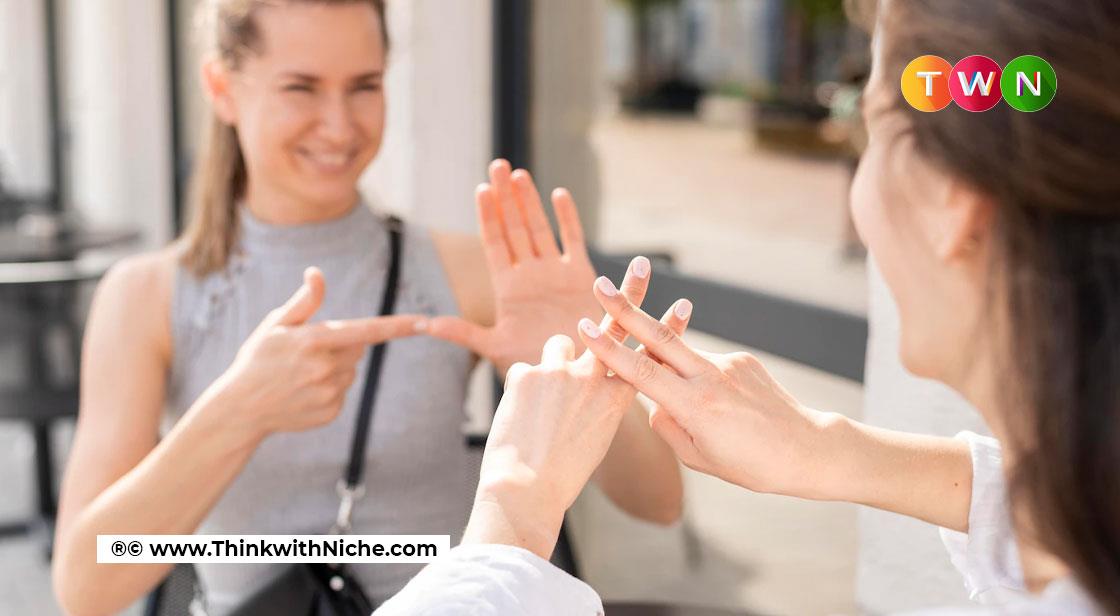 The International Day of Sign Languages provides an exclusive chance to support and safeguard the linguistic uniqueness and cultural variety of all deaf and other sign language users. Let's read the article and celebrate Sign Language Day with the world. #ThinkwithNiche.
Continue Reading..
Although sign languages differ fundamentally from spoken ones, they are nevertheless considered full-fledged natural languages in all their variations. International sign language is used for official meetings and informal travel and socialising on a worldwide scale. Hand gestures and body movement are used in sign language to communicate meaning visually. There are several examples of individuals communicating using visual gestures before there was formal sign language.
Over 70 million individuals worldwide are deaf, according to the World Federation of the Deaf. More than 80% of them are residing in nations that are still in the process of developing. Their combined sign languages number in the hundreds.
There is a fundamental difference between sign languages and spoken languages. Deaf individuals travel and socialise informally using an International Sign Language, also utilised in international gatherings. Because of its simplicity and confined vocabulary, it's sometimes referred to as a pidgin version of sign language.
The Convention on the Rights of Persons with Disabilities acknowledges the necessities and supports sign languages. Furthermore, it establishes that sign languages are on an equal footing with spoken languages and obliges states to make learning sign language easier and promote the deaf community's unique linguistic identity. As a result, on December 19, 2017, the World Federation of the Deaf initially proposed this holiday. Furthermore, the United Nations General Assembly declared the International Day of Sign Languages on September 23 to raise awareness about the relevance of sign language in fulfilling the human rights of persons who are deaf.
Detailed History
As I previously stated, the World Federation of the Deaf, a federation of 135 national organisations of deaf people, proposed the Day, which represents the human rights of about 70 million deaf people worldwide. As a result, the resolution A/RES/72/161 was presented by the Permanent Mission of Antigua and Barbuda to the United Nations, co-sponsored by 97 Member States of the United Nations, and adopted by consensus on 19 December 2017.
The date 23 September was chosen to honour the founding year of the World Federation of the Deaf, 1951. An advocacy group dedicated to preserving sign languages and deaf culture as prerequisites to the realisation of deaf people's human rights was born today.
The inaugural International Week of the Deaf in 2018 included a day dedicated to Sign Languages, which is now an annual observance. As a result, in September 1958, the first International Deaf Awareness Week was held, and since then, it has grown into an international movement of deaf solidarity and concentrated lobbying to increase public awareness of the challenges faced by deaf people every day.
Theme Of 2021
Sign language users and other deaf people may use the International Day of Sign Languages as an annual event to support and safeguard their linguistic identity and cultural uniqueness. Global deaf and hearing people may work together to acknowledge our right to use sign languages in all sectors of life by focusing on the 2021 theme, "We Sign For Human Rights," which was announced by the World Federation of the Deaf.
The resolution establishing the day recognises the importance of early access to sign language and services in sign language, especially excellent education provided in sign language, for the growth and development of deaf people and the fulfilment of globally agreed development objectives. It acknowledges the significance of sign languages as a means of communication and as a source of linguistic and cultural variety. Dealing with deaf populations, the day promotes the idea of "nothing about us without us."
To summarise, there is no doubt that the importance of this day cannot be emphasised. So, without saying a single word, let us utilise signals to communicate with the entire globe.
You May Like