Hyundai Kona EV 2021 – Hello Future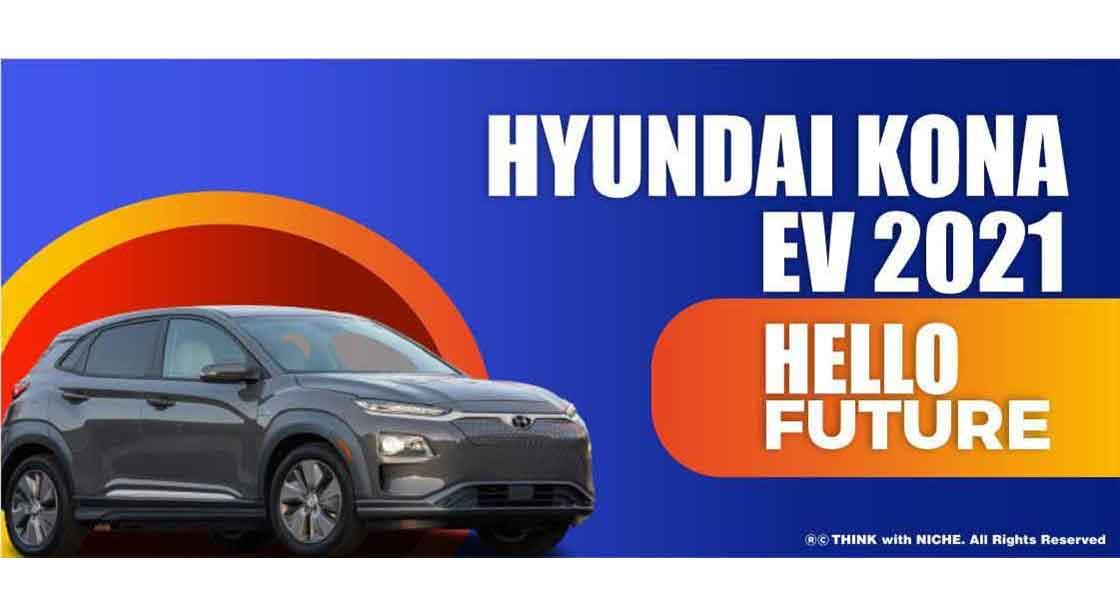 Plugin the charger, put on some music, have a cup of coffee, and your Kona will be ready to take you around. New EV in town! Read on to know and book it when it comes. #ThinkWithNiche
Continue Reading..
The era of electric vehicles has already begun, and all the automotive companies are ready to have their piece of opportunities. With advancements in technology and increasing competition, all automotive companies have invested a lot in making their products eco-friendly and sustainable. Everyone wants to reduce their carbon footprints, and the best way to do it is, turn towards electricity. Hyundai has set its foot in the EV car market and is ready to compete with some tough cars out there. In this blog, I'm going to give you an overview of one of the finest products of the automobile giant, Hyundai. Read till the very end for this article might get you your new EV for the family.
History of Hyundai Kona (2017)
In 2017, Hyundai launched Kona in South Korea. It was a fuel version of the car. This car was launched as a crossover, and it did create some buzz around during the debut. Kona was launched in the B-segment (subcompact crossover) to compete with Nissan Juke. Juke had achieved a milestone, and Hyundai wanted the same for Kona. Other rivals of Kona are Citroen C3 Aircross, Seat Arona, Volkswagen T-Roc, and many more in the same segments.
In 2018, Hyundai debuted the electric version of Kona in South Korea, and soon this version was up for sale worldwide. Since then, many alterations and facelifts have been done and are available in the markets.
In 2021, a new version of Kona was released, and it is said that Hyundai will upgrade the car in 2022 also.
The name, Kona – Its Origin
Hyundai named this car after the island of Hawaii, specifically the western district of the island. The company states that the name Kona signifies to the modern customers and their lifestyle that is in line with the progressive design this car adopts. Just like Kona, Hyundai sells the same car in Portugal that goes by the name of Kauai. Kauai is also a place on the island of Hawaii. Kauai means lady in the Hawaiian language. In China, Hyundai Kona goes by the name of Hyundai Encino.
Hyundai has a reputation for naming its cars after the famous and world-renowned places, such as Santa Fe, Creta, Veracruz, and Tucson.
Kona EV – Beauty with Beasty Power.
Looking at it for the first time, Kona sure is a head-turner and looks sleeker than the 2017 version. The EV version comes with two battery packs, and the largest battery pack is 65kWh. To counter the heating, the battery pack of Kona EV comes with an active cooling system. It is to ensure the longevity of the battery systems. The main motive of this system is to be in with the system installed in Chevy Bolt. Kona has not used the passive system of cooling as seen in the LEAF (Nissan).
The battery estimates to run for about 292 miles per charge (470 km). It gave tough competition to LEAF 2019, Tesla Model 3, and Chevy Bolt EV.
Specifications of Kona EV
To begin with, you already know how good the battery pack is. Kona can be a really good car to own and a perfect getaway car for your family to serene locations.
Let's talk about the motor used in it. 2021 Hyundai Kona EV comes with a short-range electric motor. The motor falls under the category of Permanent Magnet Synchronous motors that produce the maximum power of 99kW/135 PS. This power is coupled with 395 Nm of maximum torque, making Kona a good car to ride into. Being an electrical car, Kona offers a maximum speed of 104 mph, which is pretty good for a crossover. The onboard charger has a maximum capacity of 7.2 kWh. The charging time on this charger is estimated to be 6 hours and 10 min on a standard AC circuit. On a quick charging dc charger, it only takes 54 minutes to charge up to 80% state of the charge.
Such a powerful motor with a massive battery gives a beast performance to Kona. It can reach from 0-60 in 9.3 seconds.
The variant with a long-range motor also comes as PMSM tech produces the same amount of torque (395 Nm), but there is an increase in power. This motor produces a maximum power of 150kW/205 PS. It helps Kona to reach from 0 to 60mph in 7.6 seconds.
The braking system in Kona comes with industry-level standard features which include, ABS, EPB, ESC, and FCA. These features will come in handy on different environmental factors.
Kona is rated five stars in safety tests. It is another reason why you should buy this beautiful future car.
As good as it is with the mechanics, Kona also has a luxurious interior that promises to enhance your comfort experience. All the qualities of a future car are incorporated and delivered with excellence to provide you with a lifetime experience and help you to be a part of a company aiming to reduce its carbon footprint in the years to come.
You May Like
Innovation and Communication

Innovation and Communication

Innovation and Communication

Innovation and Communication