Halloween Significance And Celebration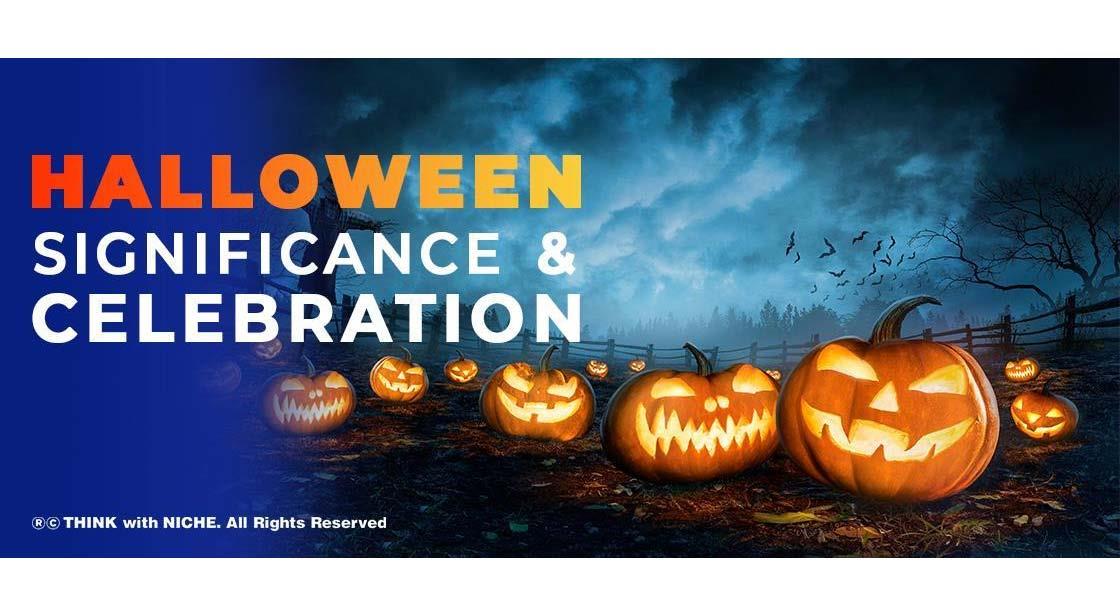 Halloween Day is celebrated on the 31st October every year. It is a very interesting festival celebrated all around the world. It is celebrated on the night of the Celtic New Year. Let us know about its significance and some unique ideas to celebrate it. #ThinkWithNiche
Continue Reading..
Halloween! The minute we utter this word, figures of witches, goblins, and ghosts flash before our eyes! It is the time for pranks and tricks. It is the occasion to use your creativity and be naughty. Halloween is celebrated by Christians and seculars alike. What is Halloween? Many people may be wondering about the mystery behind it! Halloween, if you think the mere name brings jitters in your body. Why is it celebrated? What is the story behind it? Wait a minute! I can feel goosebumps. Someone is standing behind me, I think, but I cannot see him. O', it was my nephew! HaHa! It is the effect of this fantastic festival!
Significance of Halloween
'Halloween' is influenced by the Celtic culture. The Celtics, as we know, are the collection of tribes that originated in Central Europe. The six nations form the Celtic land. Ireland, Scotland, Wales, Brittany, the Isle of Man, and Cornwall are the countries involved. On the 31st of October and the 1st of November, people used to celebrate the festival of 'Samhain.' It is the end of the harvest season and the beginning of the new year for them. Many countries only start celebrating 'Samhain' on the eve of the New Year, October 31st. They believe it to be the conclusion of summer and harvest season, with the New Year beginning on November 1st. People refer to New Year's Eve as "All Hallows Eve" or "Halloween." They celebrate by dressing up as gothic creatures such as witches, skeletons, and playing pranks on each other.
Halloween, the word originated from all Hallows eve' meaning 'Sacred or Holy Evening. This day comes just before the 'All Saints' Day' and 'All Soul's Day. It is a day of remembering the dead people, including the saints and martyrs. It is a general belief that the boundary line between the living and the dead becomes blurred on Halloween Day. The dead are said to roam around on the earth on this day. This occasion is celebrated with immense enthusiasm and joy.
Celebration of Halloween
Halloween is celebrated everywhere. It is very popular in the USA, Europe, and Canada. People indulge in a variety of fun-filled activities to enjoy this day It is said that in the sixteenth century, children carried a box around the house and asked the owners "Trick or Treat," and the homeowners filled the box with candies.
Use of Pumpkins
This tradition has become a way to have fun. People use Pumpkins and design them as a symbol for Halloween. They give it a shape of a devil. Hundreds of years ago, the Irish people thought that evil spirits came on their farms on this day. So they gave Pumpkins the shape of a devil to prevent the evil spirits from entering their farms. This tradition of using Pumpkins has continued since then. Even now people shape Pumpkins like a scarecrow and use them as a lantern. It looks very scary at night.
Spooky Costumes
There are many ways of celebrating Halloween. The best way, however, is getting disguised in Halloween as a mystical character. The popular characters are Witches and ghosts. The role of Pirates of the Caribbean is also very famous. Any larger-than-life character like Superman, Batman, or Spiderman is also a great choice! Who can forget the Harry Potter series, which is filled with mystical characters?
Halloween in this Pandemic?
Yes, this situation is indeed disturbing at festival time. Halloween is all about a gathering of family and friends! It is a big party, but life goes on, and we have to overcome the pandemic situation. We can never let gloom set in! We have to remember that we cannot be careless at this time. We can celebrate Halloween from the comforts of our home also. We can use our computers to connect with each other -
We can organize a pumpkin decoration competition online.
We can organize an Online Halloween Costume Competition also.
We can connect online and celebrate Halloween night.
So there are many ways to celebrate Halloween even during a Pandemic crisis and rejoice to the fullest! Take out your thinking hats!
Halloween enthusiasts anticipate this day with bated breath. They can band together with their friends to wreak havoc on the town! As a result, get ready for the day. Leave the pandemic's tragedy behind and share this joyous moment with your children. Assist them in having fun and expressing their creativity. It will also assist them in opening up and overcoming their fears. Best of luck! Ooh! Who is it that is banging on the door? Haw! Is it a monkey's paw?
You May Like