The 5 Best Email Providers in terms of Privacy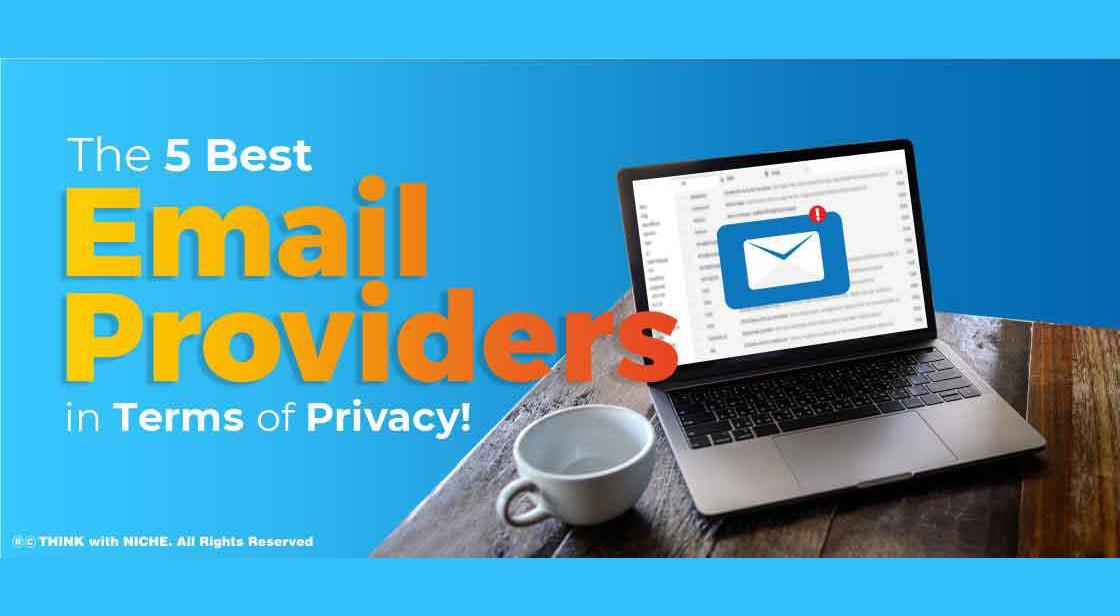 There was a time when sending a message was extremely difficult, but now it has become a matter of a few minutes with an email. The email providers have made it very convenient for us. But where there are benefits, there is harm too! It has put our privacy at stake. However, some Email Providers are concerned about your privacy and take all necessary steps for your safety! Let us learn about them! #ThinkWithNiche
Continue Reading..
How often have you had sleepless nights thinking that the confidential file you sent with the email is safe or not? And you rush to your office the next day to see whether all is well! Your concern is not at all wrong. Today, email fraud is at its peak. We must be a bit aware and alert while working on the net. One of my friends became very happy to earn a job at a top telecommunications companies in London. He got the appointment by email, and without inquiring about it, he sent them a hefty sum they had asked as a processing fee. The poor soul waited eagerly for a response, and a few days ago, we came to know that no such company existed in London!
The Internet is indeed one of the most wonderful inventions of our times. The advanced technique not only increases effectiveness and efficiency but also makes it more convenient. It certainly does, but not only for us! It has given the same power to the bad guys also. They have learned new and foolproof techniques of cheating and stealing. One can do nothing but become more alert and careful and try to work in a web of safety. Indeed, we cannot give up using computers and the Internet. It is not a 'Voldemort' that we must fear. However, we need to be aware of some security issues like:
Malicious Attacks and Social Attacks

Phishing and Social Engineering

Personal Data Exposure

Errors in Configuration

Spam Messages
Email is one thing that we all receive and send regularly, and this is where we need to strengthen our safety web. When we send an email, it not only reaches the receiver, but many other computers also capture it! They store it in their database to send you promotional emails to increase their business. Even when you delete an email, it would be stored in another location, so one has to be very careful while selecting an email provider.
Prominent email providers like Google and Yahoo do not provide end-to-end encryption. They can read it to send you attractive advertisements. But fortunately, there are still some Email Providers who care about your privacy and give you comprehensive security. Here are the best five Email Providers in this category:
Protonmail
Protonmail is an email service that provides end-to-end encryption. It was founded by a team of CERN scientists, developers, and engineers in Geneva, Switzerland. It boasts of providing:
Free and Secure Email Account

- Protonmail provides a free-to-use email account. They are of the view that email service must be available to all. You can always get an upgrade to a paid account.

Compatible with other Email Providers

– The Users can use this service easily without any problem. They can normally send and receive emails to non-Protonmail users like Gmail etc.

End-to-End Encryption

– This means that no one can read your emails, not even the Protonmail employees or Third Parties! The users can send encrypted messages even to those who do not use Protonmails.

Swiss Privacy

- Protonmail is based in Switzerland, and all its servers are located there deep under the ground. It means that all your data is safely protected very strictly by Swiss Privacy laws.

Anonymous Email

– Protonmail does not require your personal information for the creation of your email account. They also do not keep the information of your IP addresses to keep your data strictly confidential.
Tutanota
Tutanota is another secure emailing service that provides end-to-end encryption to more than 2 million users. It was founded in 2011 in Hanover, Germany. Its motto is "einfach-sicher-mailen," which means "Easy secure messaging." The word "Tutanota" comes from the Latin words "Tuta" and "Nota," which means "Secure Message." It provides:
Built-in Encryption

– It provides end-to-end encryption for your emails. It has a Built-in Encryption that enables you to become the master of your inbox, and no one can read or share your emails. Here everything is encrypted from Email to Contacts to Calendars.

Open Source Email Service –

It is an Open Source Email service, so security experts can read the code and provide you with ample protection.

Compatible with all Devices –

You can work with Tutanota anywhere in the world. It is compatible with desktop, iOS, and Android. Their fast web client makes sure it is a good experience for you.

No Ads, Just Pure Emails

– This is just amazing because it becomes irritable when you see a relay of Advertisements in your inbox. But at Tutanota, it is not so! Here you get only emails and no Advertisements, making it simple and easy.

Anonymous Email and much more

–

Tutanota does not require your personal information to create an email account. It is free of charge for Basic Email Service.
Zohomail
Zohomail is the creation of the Indian company by the name of Zoho Corporation, which was created in 1996 in Chennai.
Data Privacy & Security

– Zohomail provides you with complete data security, making you the boss of your data. They employ the best security practices to maintain the confidentiality of your data.

Email and Calendar Migration

– It gives you the privilege to migrate your email as well as your calendar using the

Zohomail

migration tools. It is a hassle-free and fast process that makes it very easy for you to migrate from one provider to another.

CRM inside your Inbox and much more

- It enables you to streamline your business. You can see your business contacts along with the email interaction and other notes associated with them. If you do not get the info, you can add them to your CRM list.

No Advertisements

– Zohomail also keeps away all Advertisements from your inbox and lets you work with only your emails. It belongs to you.
Thexyz
It is an email-providing service founded in 2007 by Thexyz Inc based in Toronto, Ontario, Canada. They provide this service in 12 languages all over the world. They strongly feel for the Privacy of its users and online abuse. As of March 20118, they claim to have earned 40 thousand users.
Built-In Privacy

– This feature helps you to create unlimited identities and prevents tracking pixels, and personalizes your filters. So your data remains private and prevents anybody from accessing it.

Synchronizes Data Quickly

- It helps in synchronizing your data like contacts, emails, files, and calendars very quickly with the help of the Mobile Sync

Cloud Drive

service. This way, you have no problem finding a contact or email.

Enhanced Security

- It provides you with enhanced security for your organization. With the help of website security services. Wherever you are, you can be sure of your safety with the end-to-end encryption service.

Spam and Virus Protection

– Keep your email safe and secure with Spam filtering features. It blocks all types of viruses and blocks illegal emails and IP addresses.

Configure Firewall and much more –

It enables configured firewalls to keep your email safe and sound and free from any malware attack. It helps you focus on other tasks and take your business on the path to success.
Startmail
It is an email-providing service that was founded by the Startpage founder Beens in 2014. It is headquartered at Hague in the Netherlands. Your data and email activity is safeguarded by the state of the art security techniques.
Never Reads your Emails

– You can send your email free of any worries because nobody reads your emails. We perfectly understand the importance of privacy for you, so we take care to see that your emails are solely between you and your client.

Password Encrypted Emails –

You can send password encrypted emails to recipients even if they do not use encryption. With just one click and you can be safe as far as your emails are concerned.

Unlimited Identities

– Startmail gives you the privilege to use as many identities as like so if you wish to make a temporary identity, you can do it anytime. Your inbox is always free of Spam. You can do this and much more with Startmail.
Conclusion
So these are the five best Email Providers that give you total security and enable you to carry out your work without any inhibitions and worries. They give you unlimited features, and most importantly, end-to-end encryption for your emails, whether personal or professional! Your privacy carries utmost importance for us, and we go all out to eliminate your security concerns. These emails providers do not share your data with any third party and also streamline your business! At the same time, they also keep you aloof of Advertisements and Spam messages. What's more, you can switch to these email providers without any problems and get all your contacts and calendars right there in your new inbox! So pick one, and safeguard your privacy!
You May Like