Will E-commerce firm Warpli Be the Ultimate Competitor Against Amazon, Nykaa & Blinkit?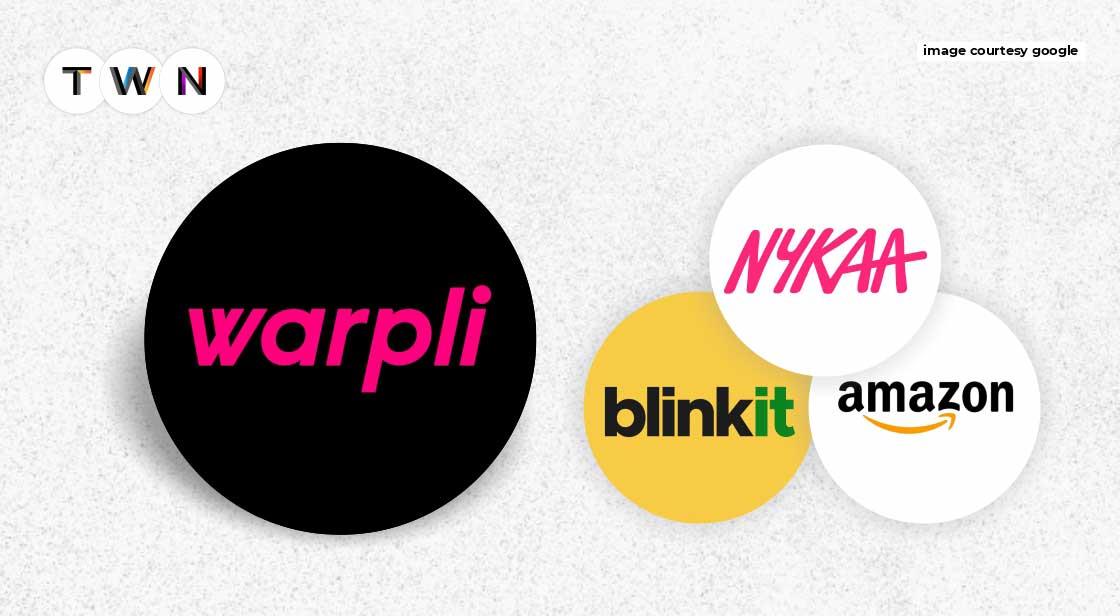 Who can compete with E-commerce giants like Amazon, Nykaa, and Flipkart? This challenge was accepted by Mr. Santosh Kumar, the founder of Grofers (now Blinkit). A 30-minute delivery model on any product. That's right! You will get your dress in 30 minutes, just like you get your groceries the same day. Know more about this new e-commerce firm, Warpli! #TWN
Continue Reading..
A cupboard full of clothes but nothing to wear that matches your burgundy sandals? Won't it be amazing to order a burgundy dress and get it right before the big night? That's right! You will get your dress in 30 minutes, just like you get your groceries the same day. How? Let's know about it from the Ex- Grofers founder Mr. Saurabh Kumar who launched a new e-commerce firm, Warpli.
Warpli – A Brand New E-commerce Platform in Town
Kumar, the co-founder of express-grocery firm Blinkit (earlier known as Grofers) who left the firm last year, did a soft opening of his lateral quick-commerce firm Warpli a few weeks ago. Warpli, which is betting on speed to compete with the e-commerce giants, promises to deliver everything from clothing and shoes to coffee mugs to moisturizers at warp speed (hence the name). However, with signs of excessive heat in the quick-commerce section, will the newcomer be able to carve out a niche in the USD60 billion lateral e-commerce market, which is currently well served by Amazon and Flipkart?
This is the central question in determining how this startup will differentiate itself.
Kumar confirmed his plans to introduce a new e-commerce firm last year, following his abrupt departure from Blinkit. He left just as the online grocery-delivery startup, Blinkit raised funding from food-tech firm Zomato and transitioned to horizontal quick-commerce under the name of Blinkit (earlier Grofers).
Warpli, which has a team of about 15-20 people, has begun with categories that are important for existing firms like electronics, apparel, and cosmetics.
Electronics account for 60-65 percent of Flipkart and Amazon's gross merchandise value (GMV), with fashion and cosmetic products accounting for around 15 percent of the GMV. Over 10 million people use Falguni Nayar's Nykaa, which had a successful public listing the year before. It raised USD700 million in an IPO at a USD13 billion valuation.
The general consensus in the e-commerce industry is that these products are not urgent, and thus buyers are ready to wait for them to be delivered. Furthermore, their company is organized in a multi-layered hub-and-spoke framework. The vendors, or sellers, send their products to be stored in central warehouses, from which the company ships them to the closest stores or spokes closer to consumers.
The products must then be delivered to the customers by a last-mile service provider. On average, the process would take two to four days.
Now, Warpli wants to be done with this whole cycle, and for that, it is focusing on two models.
It gives brands and retailers the option of storing inventory at their locations or at the company's dark stores, which are located close to consumers. It has also made the product return process much easier. Buyers are asked to return any unwanted products to the delivery man at the door. In the next 30 minutes, the item will be returned to its original location, which is the retail outlet. Mr. Kumar says that it is a plus for sellers because their stock is not trapped for days or months in the return process, as is currently the case in the e-commerce domain. It comes back and is immediately ready for sale again.
Talking about the pricing, it is heard that Warpli will charge retailers a flat INR50 for up to four kilometers of delivery and INR10 per km beyond that. It will also charge merchants a rent of INR2 per cubic foot per day for storing their goods in the dark stores. The company has also assured sellers that payments will be settled within 24 hours and that no additional commission will be charged. Amazon or Flipkart take 7 to fifteen days to settle payments and commissions, which can easily reach 30 percent to 35 percent of the product's cost.
Warpli has partnered with Zypp Electric for delivery and is in discussions with other hyperlocal logistics companies. It has no proposals to lower the prices of its products in order to attract buyers, but it will continue to alert merchants to the competitive rates in the market in order to increase sales. In comparison to other express e-commerce firms that deliver groceries, such as Blinkit, Swiggy Instamart, and Zepto, which hold around 2,000-3,000 stock-keeping units (SKUs) in a provided dark store, Warpli plans to list millions of SKUs because it will rely heavily on local stores for inventory.
The defined customer base of renowned e-tailers in sections such as electronics, fashion, and beauty products is a reason for Warpli to target these segments rather than a challenge. According to Mr. Kumar, he wants to change the buying experience rather than change the buying habits of the buyers.
Blinkit Vs. Warpli – Partner E-commerce Firms that Turned Rivals
While Warpli's website makes no mention of groceries, it is heard that company has notified some last-mile delivery associates that it will deliver grocery items as well.
Warpli's horizontal quick-commerce, which will eventually include groceries, is like Blinkit. Kumar's previous startup is trying to expand much further than groceries to deliver a variety of general merchandise, and it currently displays a variety of items ranging from personal-care products to office supplies. Blinkit and Warpli will now be competitors in a variety of categories. That is a rare occurrence in the Indian startup world: a co-founder who left a unicorn has established an enterprise that will contend with his former company.
Given their schemes and motives, Blinkit and Warpli's merchandise may eventually overlap, assuming both companies stay in business long enough without changing direction further. Warpli had opened a dark store in Gurugram earlier this month and planned to open more as it continues to expand to Delhi as well as other metropolitan cities.
30 Minutes Delivery – Can Warpli Deliver?
This shipping business will only make money if the shipping price is minimal and the order density is high in a small geographic area. For context, Blinkit has been delivering 1.6 million shipments per week from 445 dark stores across the country.
Warpli's challenging task will be to gain traction among buyers and sellers, especially as it enters the clothing category, which has a higher brand return rate of 25%-30%. The other task will be to create a viable proposal for cost-conscious vendors to pay a delivery fee of 5% to 10% of the item price. Unlike startups, merchants do not have venture capital funding and cannot operate businesses with critical unit economics.
However, this model didn't work out. The reasons are:
It was not cost-efficient.

It was difficult for standalone stores to manage inventory in real-time.
Warpli may be able to keep track of inventory with the dark store model, but doing so through third-party channels will remain difficult.
Heading For the Future
Kumar refused to respond on his stake in Blinkit, his departure from the firm, and the existence of a no-compete clause. Even as their businesses diverge, Kumar and his ex-partner Dhindsa share one trait: a belief in the expediency of commerce.
In terms of instant gratification, offline stores easily outperform e-commerce. Warpli intends to construct on top of this fact. By empowering e-commerce through primarily offline inventories and agents, there is a chance to generate supply chain efficiencies. We want to create a quick-commerce stack that will allow brands and sellers to capitalize on this opportunity.
However, developing a workforce, technological infrastructure, a dark store supply chain, and delivery logistics will be a costly endeavor. Kumar remains tight-lipped about his fundraising plans. He says that Warpli does not have a set launch or expansion timeline. He will keep learning and iterating in order to broaden the offerings and reach a larger audience.
You May Like