Dress Ideas for Diwali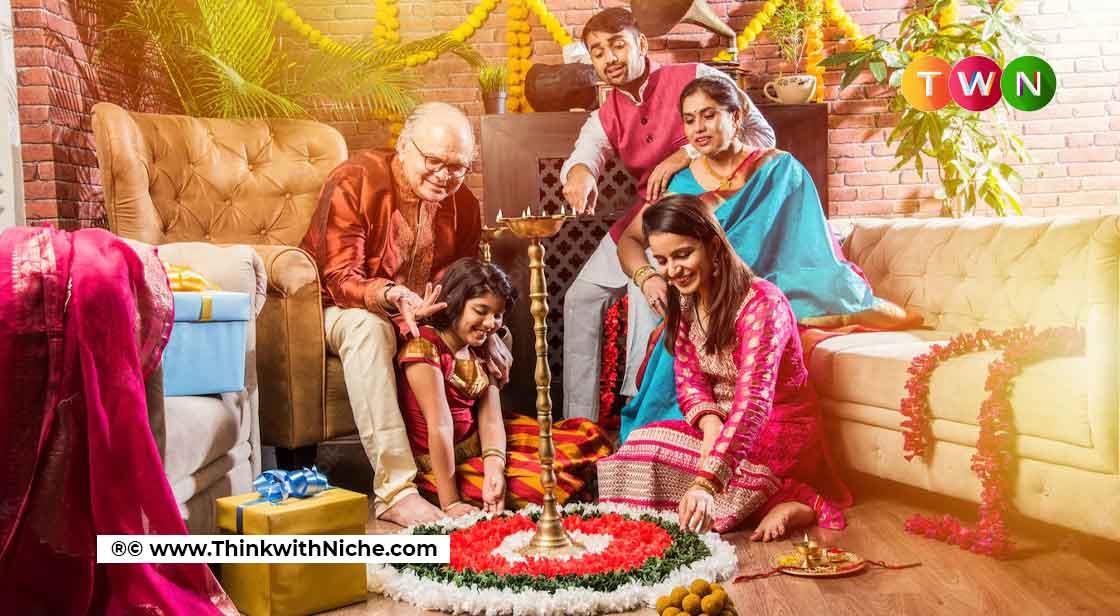 Diwali is one of the most popular festivals. People eagerly look forward to it. The Diwali dress is the one thing that is always a cause of concern. So we bring for you some outfit ideas that you can wear this Diwali and become the queen of the party. #ThinkWithNiche
Continue Reading..
Diwali is the festival of lights. It brings happiness, cheer, and love. The people eagerly wait for it. They begin the preparations long before the actual occasion. The cleaning of the home, Diwali decorations, delicacies, and gifts are planned to make the occasion as happy as it can be! But the one thing that gives you the most headaches is your outfit! This is the big question, what are you wearing for Diwali? Have you brought your dress for Diwali? And you just keep thinking! The end result is sometimes good and sometimes you feel, what is this? But no need to worry now! Here are some outfit ideas that you can see and choose the best one for you –
Chic Crop Tops
Crop Tops are so amazing and comfortable. They give you a break from the traditional tops and enhance your appearance. Combine it with printed Palazzos and you are on for Diwali celebrations. If you wish, you can use a long ethnic jacket as an add-on and set the party on fire! Do not forget to wear tasseled earrings to complete your look. Indo-western is a great advertisement for Diwali!
Anarkali Kurtis with Palazzos
Yes, undoubtedly ethnic is the best choice at a festive time. And when it comes to Indian wear, who can forget the graceful Anarkalis! They are never out of date. They have found a new friend in Palazzos. So pastel-colored Anarkalis with vibrant Palazzos can bring you the moment of glory. Pick a matching set of jewelry and see heads turn in the party.
PleatedSkirt
Are you thinking of wearing a western dress to a Diwali Party? Do not be in doubt! It is a good choice. Try wearing a Bardot top with a pleated skirt. It is both comfortable and stylish. Plus, you don't have to worry about how you'll carry this dress. For a party, a simple blouse with a sparkling skirt would be ideal.
MaxiDresses
In times of celebration, Maxi Dresses are very popular. Maxi dresses suit women of all sizes. They are fashionable and have an ethnic glow. Traditionally printed dresses in vibrant hues are ideal for the occasion. Combine it with a pair of jhumkas and your smile for a party that will amaze you!
Sarees
Ah! Who can forget the graceful and elegant piece of love! Sarees are never out of fashion. Any woman looks like a princess wearing a Saree. You look sizzling in this outfit! But this time focus on your blouse as well. It is the blouse that adds to the elegance rendered by a saree. So choose the correct blouse with your saree. The fashion icon Sonam Kapoor experiments around with blouses a lot. You can learn something from her. In addition, the process of wearing a saree is important. A saree worn incorrectly might detract from your overall appearance. So get used to wearing and carrying it! also.
So these are some ideas that would help you to select your outfit for Diwali. The only thing to remember is not to go overboard with your looks. Simple is the mantra of today. The one thing that is even more important is how well you carry a dress. You must choose a dress that you can carry. Diwali is the time of the homecoming of Lord Ram with his wife Sita. It is time to stay positive. So wear positivity and you would look great in any dress you wear! Do wear a smile as an add-on! Happy Diwali!
You May Like