Budget 2023: Budgetary Allocations To Major Social Schemes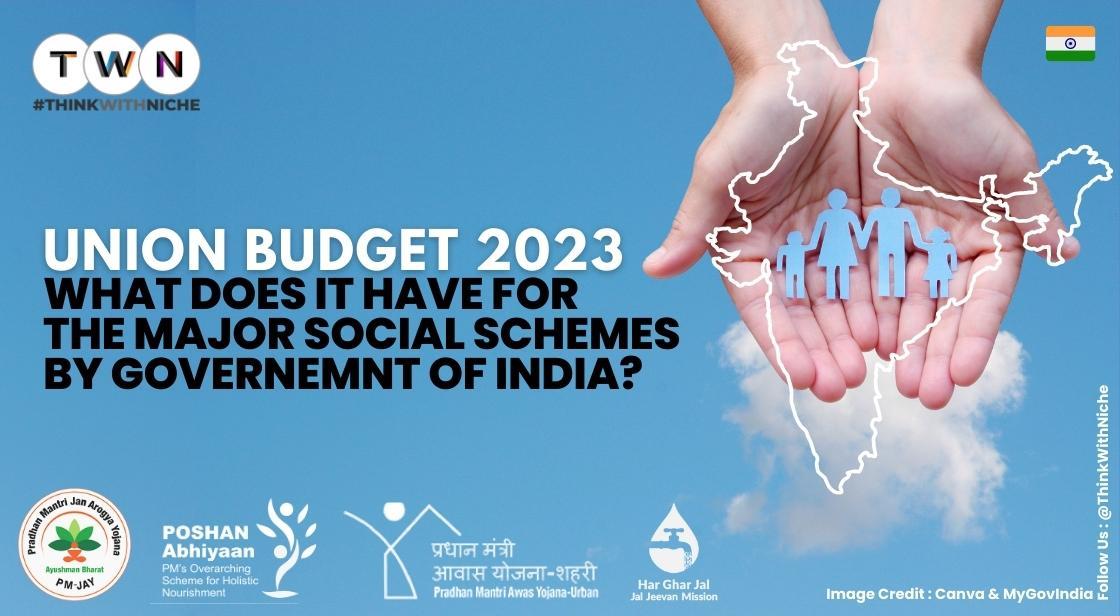 India has experienced a pandemic and a significant social transition in the past 15 years. Since 2008, the Accountability Initiative, Centre for Policy Research has tracked the distribution of social services and entitlements in line with the development of the nation throughout this time. As we celebrate our 75th anniversary in 2023, it is time for us to pause and take stock. But this insight is significant in another manner in addition to our tradition of sharing knowledge that is supported by evidence. India will choose a new government in 2024. Understanding future priorities and development pathways require first taking a serious look at welfare spending and outcomes.
This Special Brief will examine the funding allotments for major social schemes in the Union Budget 2023–24 in comparison to the Union Budgets of the previous financial years.
Continue Reading..
On February 1, Finance Minister Nirmala Sitharaman presented the last comprehensive budget of the Narendra Modi government prior to the 2024 general elections. The Minister unveiled a number of new initiatives, updated income tax brackets and customs duty rates, as well as exemptions for agriculture and the transition to green energy.
The new funding for key welfare schemes that support socioeconomic growth was also highlighted in the Union Budget 2023–24 document. Here is a summary of how some of the major schemes' budgetary allotments have changed:
1. MGNREGS:
Compared to the 89,400 revised estimate for the Mahatma Gandhi National Rural Employment Guarantee Scheme (MGNREGS) in the current year, the government drastically reduced the budget for the scheme.
In order to improve the livelihood security of households in rural areas, the Mahatma Gandhi National Rural Employment Guarantee Act (MGNREGA) was passed in 2005. According to them, the MGNREGS is a demand-driven scheme that covers all districts in the nation with the exception of those with a 100% urban population and ensures 100 days of unskilled labor per year for any rural household that seeks it.
2. Food Subsidies:
National Food Security Act (NFSA): A little more than 2 lakh crore has been set aside by the Centre for the National Food Security Act (NFSA) for food subsidy, which comprises money for the Food Corporation of India, funds for state agencies to procure grains on a decentralized basis, and funds for other logistical expenses. The 81.35 crores NFSA beneficiaries will start receiving 5 kg of free foodgrains per month starting on January 2023, instead of the usual subsidized rates of $3 for a kilogram of rice, $2 for a kilogram of wheat, and $1 for a kilogram of coarse cereal.
3. Pradhan Mantri Garib Kalyan Anna Yojana (PMGKAY)
The Pradhan Mantri Garib Kalyan Anna Yojana (PMGKAY), which offered an extra 5 kg of free grains each month to NFSA beneficiaries after being started as an emergency measure in response to the COVID-19 pandemic in April 2020 and receiving numerous extensions since was terminated, it was announced in December. Similar to the recently stated allocation, the Center's food subsidy bill for the NFSA in a typical year would be close to 2 lakh crore; however, the PMGKAY had practically doubled that amount for the past two years.
4. Jal Jeevan Mission:
From the current year's revised estimates of 50,000, the Government increased its financial allocation for the Jal Jeevan Mission (JJM), also known as the National Rural Drinking Water Mission, by around 27% to 70,000 crores. All rural Indian households are expected to have access to safe and sufficient drinking water by 2024 due to the Jal Jeevan Mission.
Last Monday week, the Jal Shakti Ministry announced that the JJM scheme had permitted the government to connect tap water to 11 crore rural households. It appears that 56% of the targeted 19.3 crore households have been reached, according to data from the Ministry's dashboard.
The scheme has a total financial outlay of about 3.60 lakh crore, with the Center funding 50% of the cost with States and Union Territories. Union Territories without a legislature, however, receive full funding from the Center, as do northeastern and Himalayan States and Union Territories with legislatures, which receive 90% of the funding for the scheme.
5. Ayushman Bharat-PMJAY:
An insurance scheme called Ayushman Bharat PM-JAY was introduced in 2018 with the goal of offering a health cover of Rs. 5 lahks per family per year for secondary and tertiary care hospitalization. It targets 50 crore beneficiaries, or around 10.74 crore poor and vulnerable families, who make up the lowest 40% of the Indian population. According to Mansukh Mandaviya, Union Health Minister, 4.5 crore people have been enrolled in the program as of December 2022.
6. PM-Kisan:
The flagship Central scheme PM-Kisan was launched in 2019 and provides qualifying farmer families with cash transfers totaling 6,000 in three installments of 2,000 each.
From the current year's updated predictions of 12,800, this is down 9.37%. The mid-day meal scheme was renamed in 2021 to provide hot cooked meals to 11.8 crore government school students in Classes 1 through 8, and the Center also decided to expand the programme to include 24 lakh children enrolled in balvatikas, the pre-primary division of government schools, starting in 2022–2023.
8. National Education Mission:
For 2023–24, a total of 38,965 crores was allotted, an increase of 19.44% over the revised estimates of 32,612 crores for the present year. The Mission is an overarching program that brings together significant education-related initiatives so that education can be delivered holistically and without division from pre-primary to class twelve. It covers programs for secondary and higher education as well as those for teacher preparation and adult education, as well as the Sarva Shiksha Abhiyan under the Right to Education.
9. Pradhan Mantri Awas Yojana (PMAY)
The Pradhan Mantri Awas Yojana (PMAY) received an allocation from the Centre of Rs. 79,590 crore, up 66% from the budget forecasts and 3.19% from the current year's revised estimates. Both urban and rural housing construction is a goal of the PMAY. The PMAY-Gramin (rural) programme was launched in November 2016 with a goal of finishing 2.7 crore homes, and the PMAY-Urban programme was launched in June 2015 with a goal of building 1.2 crore homes.
10. National Social Assistance Program:
The National Social Assistance Program (NSAP), which offers monthly pension assistance to the elderly, widows, and those with disabilities, received a budgetary allocation of 9,636.
11. Development of Scheduled Tribes and Scheduled Castes:
According to the budget, the umbrella programs for the development of Scheduled Tribe and Scheduled Caste communities, respectively, will get $4,295 crore and $9,409 crore, respectively. Compared to the current year's updated forecasts, the money for the SC program increased by about 22%, while the ST development allocation experienced a roughly 10% increase.
You May Like