7 Strange Business Ideas You Didn't Know Existed and Are Successful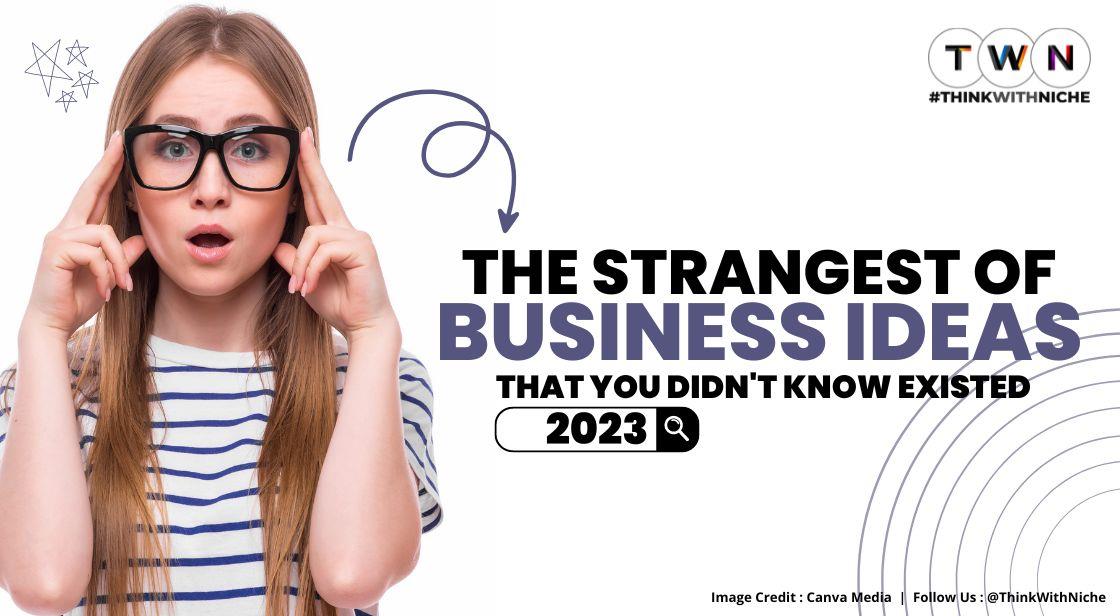 Looking for a business concept that will make you stand out from the crowd? We compiled a list of the most profitable original business ideas that anyone may begin with! This collection of business ideas covers anything from handling head lice to making unusual things out of roadkill, but they all have one thing in common: they're all actual, profitable businesses. Some of these are pretty crazy and outlandish business ideas, yet this is precisely what makes them work. If you think that your business idea is strange and would never work out. Think again! There are a lot of Strange Businesses out there that are booming. Learn about them in this article. #ThinkWithNiche
Continue Reading..
Like everything Human being touches, startups and the business world is filled with strange business ideas that only humans can justify. It's no longer a secret that we are strange creatures with strange habits and desires. Every single one of us has some strange quirk that makes us truly unique and that is exactly what our startup world reflects. There are so many strange, unique, and weird online business ideas out there that you are not alone if you think you have a strange startup concept. Perhaps some of these companies can assure you that everything sells in the business world. So here are some crazy, one-of-a-kind company ideas.
Strange Business Ideas
1. Sale of Engagement Rings
Josh Opperman's fiancee left him one fine day. He was even more disappointed when he attempted to sell his engagement ring to the jeweler. He only received $3,500 for a ring that cost him $10,000.That sparked his imagination, and I Do. People buy engagement rings from this strange company. It pays sellers a fair price for their rings and then sells them for a fair price. The startup was a huge success, and it served as a bright spot in the lives of many people whose fiances had broken up with them.
2. Edible Shoes
It seems like some people took their foot fetish a bit too far. Edible shoes are exactly like what they sound like. They are shoes that one can eat. These shoes are a rage on the internet and you can easily get yourself a custom-made edible shoe; according to your taste (excuse the pun). Evidently, edible shoes exist. A fast Google search turns up dozens of hits, despite the fact that the majority of companies that manufacture edible shoes also provide more traditional goods. Given that the majority of these delectable, foot-tapping delicacies are composed of chocolate, what happens when they start to melt?
3. Ghost Radar
Well, a Ghost radar is exactly what you think it is. An app to sense whether there is a ghost near you or not. These apps are used by professional as well as amateur professionals who claim to hunt down ghosts and stuff. The app is quite famous among people who are a little bit too obsessed with seeing ghosts. Weird much!
4. Cuddle Service
Human beings love to cuddle and hug out their issues. Well, that's exactly what a cuddle party or service offers. Warm cuddles and some good-old advice. These services are for people who are feeling down or left out and need some form of assurance. Cuddle parties not only offer warm hugs but also give important lessons on boundaries and connections.
5. Dirty Rotten Flowers
Want to send a deadly message to someone? Perhaps an old enemy or your ex. Well, Dirty Rotten Flowers does exactly that. It sends a dead bouquet of flowers to your not-loved ones along with a message. This is for people who have an evil sense of humor. However, giving a bad bouquet will convey your message more clearly than sending fresh, live flowers because the recipient won't have the chance to fall in love with anything, watch it die, and feel guilty because they kill everything they touch.
6. Doggles
Own a dog? Want it to look cool? Well, get them their own doggles. Doggles are basically cool goggles for dogs. The product is as cheeky and cool as its name. They are perfect to make your dog stand out from the crowd (or is it herd). The US army has purchased a few devices to shield its doggy companions' eyes from the sun and sandstorms while in Iraq. There are also doggles with prescription lenses.
7. Wishbones
Some people believe in wishbones so much that they started their own businesses of it. One such company is Lucky wishbone which sells well over 30,000 wishbones each day. Ken Ahroni started this company and is a millionaire right now.
8. Virtual Dating Assistants
If the dating scene is driving you crazy, consider outsourcing part of the job. Virtual Dating Assistants (VIDA) Select helps you set up online dating profiles, chat with possible partners, and plan and coordinate dates. All you have to do is turn up for the date at the agreed-upon time and location and enjoy yourself.
9. Rent-A-Chicken
The name speaks for itself! You can indeed rent a chicken with this service. Okay, but it's not like you could hire a chicken as an odd party guest or something like that for your next party. It is intended to excite people's interest in urban farming and raising chickens for consumption. To help you decide if you want to start a chicken farm, you will be supplied with a few hens and a coop. For first-time chicken owners, they even take care of your chickens over the winter and return them to you in the spring, saving you from all kinds of hassle. which, to be honest, we weren't aware there were so many of.
10. Tee Shirts With Tweets
Tee Tweets' business model, which involved selling high-quality t-shirts with print designs of actual tweets, was tremendously successful. When a famous person tweets something crazy or stupid, the tweet gets printed and sold as a t-shirt.
What a great business concept, don't you think? This t-shirt is bought and worn by superfans and sardonic admirers of such personalities. People buy t-shirts featuring quotes from people.
Summing up
Coming up with successful business ideas that other people perceive as distinctive, unique, or downright absurd isn't as challenging as you would believe. Opportunities are around, yet many individuals struggle to see them. The capacity to recognize, seize, and sometimes even create opportunities is what sets successful entrepreneurs apart from others.
You May Like
Innovation and Creativity

Innovation and Creativity

Innovation and Creativity

Innovation and Creativity