5 Great Smart Cities in the World And What India Can Learn From Them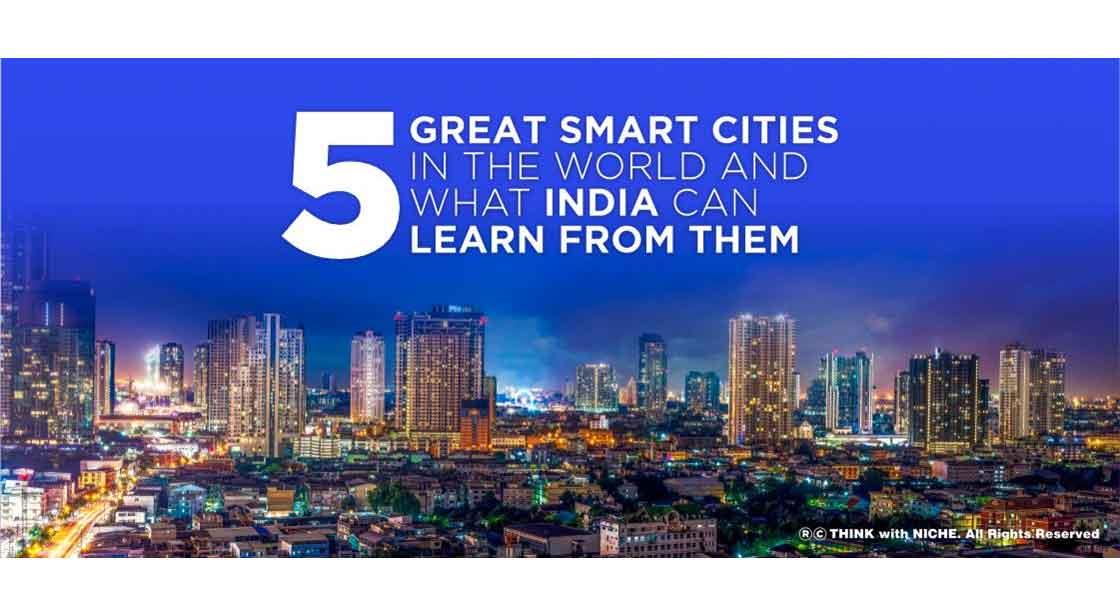 India is slowly moving towards a smart future. It has planned to make 20 of its cities into smart cities. But we have a long way to go. There are many smart cities in the world from which India can take important lessons. Here are 5 such smart cities. #ThinkwithNiche
Continue Reading..
As India is moving towards urbanization, more and more people are moving towards cities, in hope of a better life. And why not? Cities are where the future is. Better job opportunities, better healthcare, better education for children, and just a good quality of life. Life in cities is a notch higher than the quality of life in urban areas. Now that India has slowly begun developing its cities, the prospects of a better society don't seem too far away. We are finally talking about issues and addressing them openly that plague our cities.
In view of this, the Indian government announced that soon it will change 20 of its cities into smart cities. The list includes cities such as Ahmedabad, Chennai, Pune, Bhopal, Jaipur, Kochi, Udaipur, Guwahati, Agra, Aurangabad, etc. The list goes on. The biggest bump that India is facing right now in implementing its smart city scheme is that a lot many cities in India are poorly designed. Therefore before making their smart cities, the Indian government will have to make them liveable first. Thankfully there are many smart cities in the world from which India can take inspiration from. Let's have a look at some of the major smart cities in the world.
1. Singapore- Comprehensive Population Control
India has a deep-rooted population problem and that goes the same for Singapore. But thankfully Singapore has finally managed to solve its population problem. Despite having a population density of 8,000 people per square kilometer, Singapore is considered one of the most advanced and developed cities in the world. It has great public roads, a clean environment, sorted traffic, a good housing system, etc. Singapore could be taken as a model for many Indian cities since they also have a huge population per square kilometer rate.
2. Dubai- Fast Planning And Implementation
Any argument about smart cities and development is incomplete without the mention of Dubai, a breathtaking example of fast development and efficient resource distribution. Only a decade back, Dubai was nothing but a small, under-developed city in the middle of the desert. It had nothing of the scale or the glamour that Dubai is famous for today. But soon the city morphed into a beautiful, gorgeous city that is the epitome of development and smart cities. Dubai has a great communication strategy, well-planned structure, electricity, roads, economic services, etc. It is, as we said, the epitome of urban planning.
3. Copenhagen- Eco-friendly development
Copenhagen is the capital of Denmark and it is yet another example of a gorgeous and well-planned city. The city is the epitome of development with aggressive eco-friendly policies. Copenhagen is known for its eco-friendly measures. The city has been lauded as one of the few eco-friendly cities around the world with a system that monitors air quality, waste management, energy use, etc. The city also has a connected parking system, traffic lights, smart charging for electric cars, etc. All this makes Copenhagen, one of the greatest modern cities in the world.
4. Boston- Participatory Urbanism
Boston is one of the greatest examples of urban planning. Is created with being one of the first cities to bring a smart initiative. The planning of the city is such that it involves the participation of common people or 'Participatory urbanism'. It has a collection of apps and services through which a citizen can be kept informed of the happenings in the city. The citizens in Boston can also report potholes and other nuisance from anywhere in the city.
5. Amsterdam- Smart And Eco-friendly Concepts
Amsterdam is one of the most advanced and popular cities in the world. The city has embraced technology and smart concepts, but also has retained a fun, traditional look. It has a lot of services to make the city more eco-friendly. Most people use cycles there and there are car-sharing services in the city. All this provides people to not invest in expensive cars and cause unnecessary pollution. The city is working on a smart project which uses carbon dioxide to generate electricity.
You May Like