Work from Home: Positives & Negatives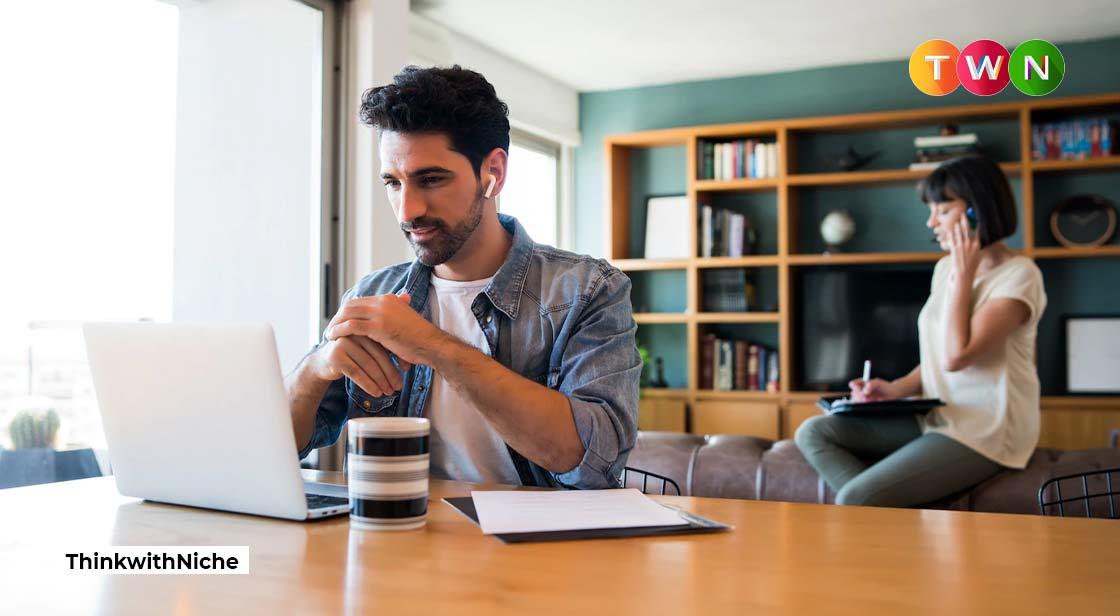 Work from home is growing in popularity these days. More and more people and organizations are choosing to work from home rather than the office. But as we think it is not very easy to work from home. It has its challenges. So in this blog, let us learn about the positives and negatives of working from home. #ThinkWithNiche
Continue Reading..
Happy New Year, everyone! Ooh! The cold wave is at its peak. It is raining outside. I'm here having tea in my favorite clay cup! It is one of the fancies of work from home job. You get to do your work from the convenience of your home. In the age of the Internet, it is not difficult also. You can easily keep connected with your office while being at home. Your office can be in USA or Russia, you can still be connected while being at home! I enjoy it when I have to write an article on the topic of my choice. I have a 'firepot' near my desk, so the warmth and love of my home keep me cozy. A hot cup of tea with some cookies is an added bliss! It makes your job nothing less than a joy! Indeed, working from home is a blessing!
In the last couple of years, the popularity of work from home has increased due to the Covid-19 pandemic. It compelled us to stay indoors. Schools and offices were closed, and everyone decided to work from home. It was a big relief in the bleak circumstances as it was getting difficult to stop the spread! While it was a regular career for some Freelancers, it was a temporary condition for infinite office goers! But owing to the Omicron virus, it seems as if it will become a regular career! We are all happy to be working from the comforts of our home, but is this settlement really beneficial? Let us check out the positives and negatives of working from home –
Work from Home: The Positives
Work from Home is certainly immensely beneficial. You get to work in the comfortable environment of your home. 'Home is where your heart is,' is a popular saying. So you cannot complain about it. It is your prerogative to work either lying on your bed or sitting on your armchair. You can work while enjoying the rain in the verandah or while enjoying a Dairy Milk chocolate in the living room. It's your choice! So let us have a look at the positives –
Home Sweet Home
The best part of this career is that we can work in the comforts of your home, and there is no need to step out of your house. You do not have to dress up every day and worry about your appearance. You can get up, have your breakfast comfortably, and then put on your laptop or PC to start your work.
Escape Crowd and Traffic
The daily traveling every day to and fro to the office becomes extremely stressful. Every day struggling with the traffic jams can be very agonizing. Toiling hard in the scorching heat or cold affects your health. Staying at home can help you escape the dust, sweat, and pollution. You can comfortably stay at home and carry on with your job.
Personal Challenges not an Obstacle
Work from home is a boon for people suffering from personal challenges like age, a handicap, or an incurable disease. Their problem of traveling to the office or climbing the stairs can hamper their growth in their career. They had the skill and the talent, but still, they were out of a job because of the problem. It was painful many years ago! But with work from home, personal challenges are no more an obstacle. You can earn and grow as a professional!
Work at your own pace
You have the privilege to work at your pace. Some projects have deadlines, but many others give you a choice to work at your pace. So you can complete your household chores or help your children with their homework and then do the work. Quality is the main requirement, so even if your speed is slow you can still do the job without any worries.
Multiple Jobs available
The office work is one thing but the great thing is that there is no limitation on the type of work you can do from home. You can do anything that you know, like, Writing, Article Writing, Blog, Transcription, Data Entry, Web Content, Academic Writing, Accounting, Customer Service, Web Design, Presentation, Translation, Teaching, Apps, and whatnot! You can possess any skill, and you have a job!
Take Care of your Family
Work from home gives you the privilege to take care of your family. You can be with your family and take care of their problems. You can be with your aged mother and console her in times of worry, or you can try to soothe down family tensions. You can contribute to the family finances. Your parents are also at peace that you are at home!
Work from Home: The Negatives
Work from home is a wonderful field of work but now let us talk about the thorns! After all, thorns are also a part of our lives! Work from home is an attractive phrase. You get to work from home and earn from home, but there are thorns too in these roses! You may see the work from home professionals with envy, but even they face challenges
Missing Office Culture
Indeed, this is one issue that keeps disturbing your mind if you are not associated with any organization. You are not a part of the office! You do not have a designation! You miss returning home and discussing the day with your parents. The office gossips and camaraderie keep your confidence high, and you miss it in the 'work from home' set-up.
Eat more, Work Less
It is a big problem! When you are at home, you have all the facilities at your disposal. You have your mother at home. She is very caring. Plus, you have a helper to serve you tea and other delicacies from time to time, so you end eating more and working less!
Difficulty in Maintaining a Routine
While at home, it gets difficult to maintain a set routine. Sometimes, other problems take your time, and you cannot maintain the routine. You get involved in family problems, and your routine goes haywire. They need your help, and you cannot ignore their need. You have to listen to them giving a break your work. It can hamper your efficiency!
Focus Main Issue
Yes, focus can be a big issue in working from home. You may sit in a secluded space at home to work still the voice of the family members can reach your ears, and their nitty-gritty problems or arguments can disturb you. And you can very well imagine how easily it can block your flow of thinking! It is not all, you can hear a movie playing next door or your mother baking donuts, and your temptations begin to attack you from everywhere! These circumstances can lead to a loss of focus.
Reduced Speed of Work
Slowness is a problem while working from home. With so many distractions around you, your work becomes slow. How hard you may try but, at home, your speed is reduced level. The energy to work present at the office is absent at home!
Lack of Motivation
Work from Home jobs does lack motivation. Firstly, you stay in the cozy setup of your home, and, many times, there is a family gathering. You want to be a part of the chatting and discussions. They decide to go on a trip, but you have to complete your work. You feel annoyed because you wish to join them. Plus, if you are a work-from-home professional, you do not earn as much as an office professional. You may be doing the same job as them. The only difference could be the setup. You may work harder, but your remuneration is much less. It is also a big obstacle in feeling motivated towards the job.
Conclusion
The work-from-home setup can have negatives, but one cannot ignore the infinite positives, the goodness of working from home. Its greatness is that the wheel of work continues, and in no way does it halt anywhere! You can attain freedom from unemployment and get a job. It can help anyone earn confidence as well as money. What's more, you enrich your skills at home! One job can get you more jobs. Gradually, you can become a skilled professional! So work from home, and write a new story of success!
You May Like
Standard Operating Processes

Standard Operating Processes