Top Construction Risks Management Threats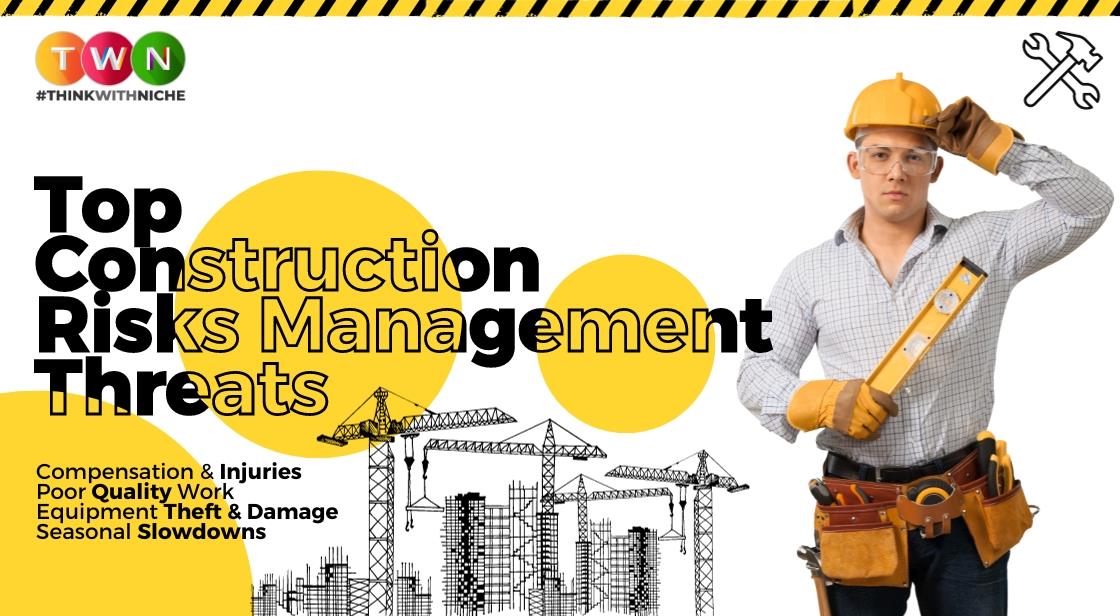 The construction industry is riddled with risks that can disrupt even the most well-planned projects. Construction companies and contractors face challenges ranging from worker injuries to equipment theft, structural flaws, missed deadlines, and seasonal slowdowns.
Managing these risks is critical to the success and continuity of construction businesses. In this blog post, we will delve into the key risk management threats in construction and provide valuable insights on how to mitigate them.
From ensuring workplace safety and adhering to building codes to protecting against equipment theft and managing seasonal fluctuations, we'll explore strategies to safeguard construction ventures.
By understanding these risks and implementing the right risk management measures, construction professionals can fortify their businesses against unexpected disruptions.
Continue Reading..
Construction companies can be affected by employee injuries, equipment theft, structural flaws, etc. By following industry best practices, you can minimize risks and choose the right insurance.
Construction business owners are exposed to serious risks every day. Planning for the unexpected, training your employees and having the appropriate insurance are all part of managing threats that could disrupt your business.
The following are the main risks faced by construction companies and contractors and some advice on how to manage them.
Top construction risks management threats
Workers' compensation and injuries to third parties
Construction sites can be dangerous no matter how much you try to make them safe.
Clients visiting work sites can pose a risk, as they may not know the safety protocol. However, even the most experienced construction workers can suffer on-the-job accidents and injuries.
To minimize the risk, you should enforce safety regulations and educate your team on best practices for work sites. Construction risk management plans also include regularly testing equipment and machinery, replacing damaged tools and making sure employees are wearing safety gear such as non-slip shoes and hard hats.
Many states require that construction companies, even those with no employees, carry Workers' Compensation insurance. This will pay for medical expenses and help injured workers recoup their lost wages. Employer's liability coverage can be included in workers' compensation policies to help cover the costs of lawsuits if an injured employee sues your company for negligence.
All construction companies should have general insurance to protect them against injury to their clients or other visitors. Your general liability policy will also cover damage to property if your employees or you cause damage.
You may also want to consider getting insurance for carpenters to safeguard against unforeseen risks and liability associated with work such as injuries and property damage.
Consider adding contractors liability insurance, as an endorsement, to your general liability coverage. Contractors pollution liability is a type of environment insurance that protects against pollution events causing bodily harm or property damage to third parties.
Also Read : Top Asset Management Companies: Global Finance Leaders
Missed deadlines and poor quality work
Construction companies are liable for projects with structural flaws that do not meet code requirements, or other defects, such as cracks, issues with climate control systems and mold. Your client may sue your business if your work does not comply with federal, local, and state building codes.
Compliance with building codes and regulations should be the cornerstone of any construction risk management plan. Construction companies and contractors are often required by governments to hold Surety Bonds as a way of guaranteeing that they will adhere to these standards.
Construction companies and contractors can face legal issues and headaches if they miss deadlines. If, for example, building materials are late in transit, and your business misses an important milestone on a project, you may be held responsible for damages.
Professional Liability Insurance, also known as errors-and-omissions-insurance, helps cover your legal costs if you are sued by a client for negligence due to a construction delay or incomplete project.
Equipment theft and damage
Heavy machinery, tools and building materials are essential to the construction industry. Equipment failure or theft can easily derail an entire project.
To prevent damage, it is important to train workers on how to use, maintain and store construction tools. Installation of security cameras on job sites may help to deter thieves. Heavy machinery should be protected by GPS tracking systems and anti-theft devices.
Seasonal slowdowns
Snow, freezing temperatures and heavy rains are common in areas where outdoor construction is done.
Save enough money in advance to cover business expenses when the economy is slow. To keep your finances in order, you might ask clients to make deposits on future projects.
You and your staff will be able to earn money until the weather improves if you focus on indoor construction projects. The winter is a great time to attend trade shows and update your business plan. You can also market your company by attending prospective client meetings.
BizInsure offers insurance quotes from reputable carriers
Compare construction insurance quotes with top-rated U.S. carriers by completing BizInsure's simple online application. You can start coverage in no time after you have found the best policies for your business.
Conclusion:
The construction industry's landscape is fraught with potential risks, but with proactive risk management strategies, construction companies and contractors can navigate these challenges effectively.
From prioritizing worker safety and adhering to building codes to investing in the right insurance coverage, safeguarding against equipment theft, and planning for seasonal slowdowns, construction businesses can fortify their operations and protect their bottom line.
By staying prepared for the unexpected, training employees, and adopting industry best practices, construction professionals can build a resilient foundation for success.
You May Like