Tapping Into Social Media for your Business's Growth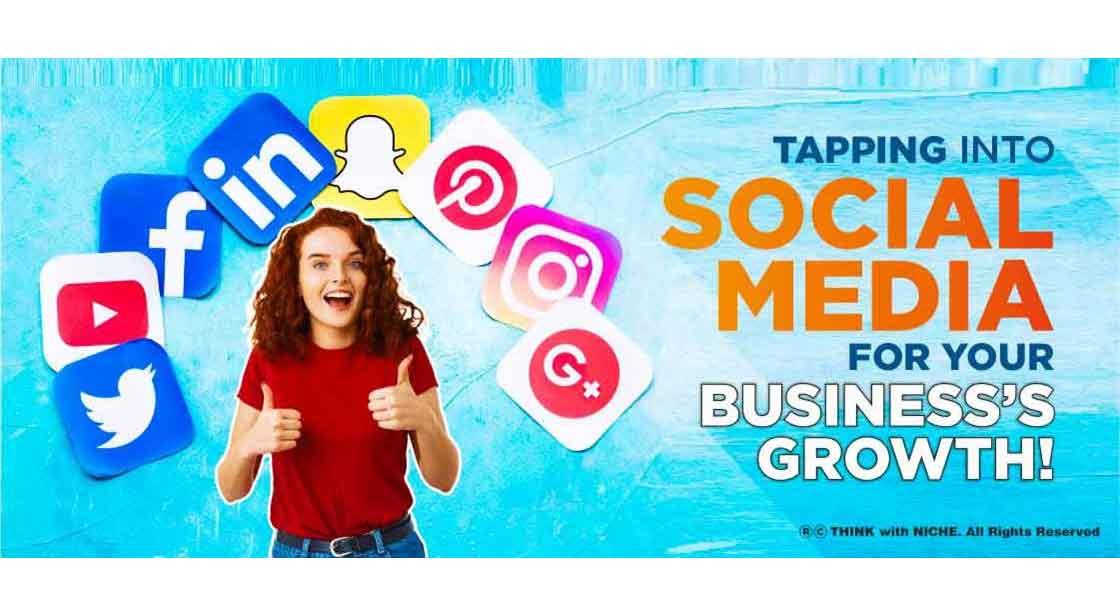 If you are a business owner, you are probably already thinking about using social media marketing to spread your brand message. Many small business owners use online platforms, such as Facebook, Twitter, LinkedIn, Pinterest, and Instagram, to grow their businesses. And when you're still out on social sidelines, there's no better time to get started. ThinkWithNiche brings you an insightful analysis on how the various tools of social media can be put to the best use for your next business idea's growth in the new year of 2022! #ThinkWithNiche
Continue Reading..
An effective social media marketing strategy is an integral part of your overall marketing plan, and using non-traditional ways to interact with your audience is what will allow you to increase your reach. Social media marketing is one of the most versatile and cost-effective strategies a small business can use to reach its target audience and increase sales over time. Good social media marketing can bring significant success to your business by building loyal brand followers and even driving leads and sales. ThinkWithNiche brings to you insightful analysis of how the various tools of social media can be put to the best use for your next business idea's growth. Social media marketing includes posting content from your website, sharing pictures and videos about your products, services, and company, and establishing connections with potential and existing customers through social platforms.
In addition to free personal information, popular social media sites such as Facebook, Twitter, and LinkedIn also provide paid advertising platforms that can take your marketing activities to a new level. We like paid social advertising because it is a very economical way to expand your influence. If you play well, you can show your content and products to a wide audience at a very low cost. Regardless of size or budget, your business can grow its audience and achieve its goals by advertising on social platforms like Facebook and Instagram. With a strong social media strategy and the ability to create engaging content, marketers can reach their audiences. Because audiences are better segmented than more traditional marketing channels, companies can be confident that they will focus their resources on the audiences they want to reach using social media marketing.
The simple interaction of people with your content will increase brand awareness and begin to strengthen your company's reputation. Every post published will be introduced to a new network of people, which may lead to them becoming potential customers, and the more people know about your business, the better. Satisfied customers are more likely to share their experience with others online, which in turn will help promote your brand and attract new customers. Online spaces allow you to easily share dynamic content and also provide you with interactivity that you simply cannot achieve through other traditional marketing channels. Social platforms help you connect with your customers, build your brand awareness, and generate leads and sales. Social media is an effective marketing communications platform that can help bring attention to your brand. You can use Facebook to share anything from photos to important company news. Used properly, a Facebook page can be invaluable to small businesses.
Since you can post links to your social platforms, you can share links to your latest blog or product and service pages to encourage your followers to take a trip to your site. Instead of posting your marketing message for all to see, you can reach your target market and work to drive more leads to your site.
You can create target audiences based on demographics, interests, behavior, and more. For example, you can use the analytics platform on Facebook to find out what types of content are most popular in your target market. Once you have a large following, you can use additional tools to analyze consumer demographics. And be sure to use analytics on every social platform to get even more insight into which of your social content works best with your audience. Measure the impact of your social media marketing efforts and use social media analytics tools that can learn a lot about your audience and how they interact with your business. It also shows you which social media sites are most active, helping you to spend time on the right networks. With the Sprouts group report, you can view data from Facebook, Twitter, Instagram, LinkedIn, and Pinterest at the same time in a custom format that can be exported by date range and profile. These numbers can help you understand what type of content your followers are responding to best and adjust your marketing strategy accordingly. You can use these metrics to make changes to your social media marketing strategy or even decide on new campaigns. You can also use social listening to see what customers are saying specifically about your brand, and then use that information to make changes to improve customer satisfaction. One way to find new customers and market opportunities on social media are by listening to social media. Distributing your content to as many platforms as possible allows those people to get to your business organically.
For example, older consumers may search for specific keywords on Facebook on your website, but millennials may start searching on completely different social media platforms because they are looking for products in completely different ways. One of the main reasons social media marketing is so effective is that brands can target ideal customers based on accurate demographic data. Showing ads to the right people is a key part of the marketing process and must be taken seriously to avoid wasting ads. Facebook's powerful targeting capabilities mean that we can only deliver ads to people we think will be interested in our content. While it's important for your brand to be unique, you can still find inspiration from other companies that have established themselves on social media. You can usually find them in the business section of the social networking website. Case studies can provide valuable information that you can apply for your social media plan.
From Instagram Live to Instagram Stories, there is no shortage of tools businesses can use to promote their services and products on their website. Instagram is a visual platform based entirely on photo and video messaging, so it's best suited for businesses with strong visual content to share. Many companies try to create video content to make their videos go viral, but in reality, the possibilities are quite limited. Between GIFs, memes, Facebook Live, and more, the content strategy needs to be carefully thought out and implemented. The word speaks for itself - social media marketing strategies refer to the various ways in which you can reach your target audience on social media to achieve your business goals. If you want to maintain sales and ensure a long-term sustainable business, then you should keep these reasons in mind and start making social media advertising a major part of your marketing efforts.
You May Like