Steps To become Insta Influencer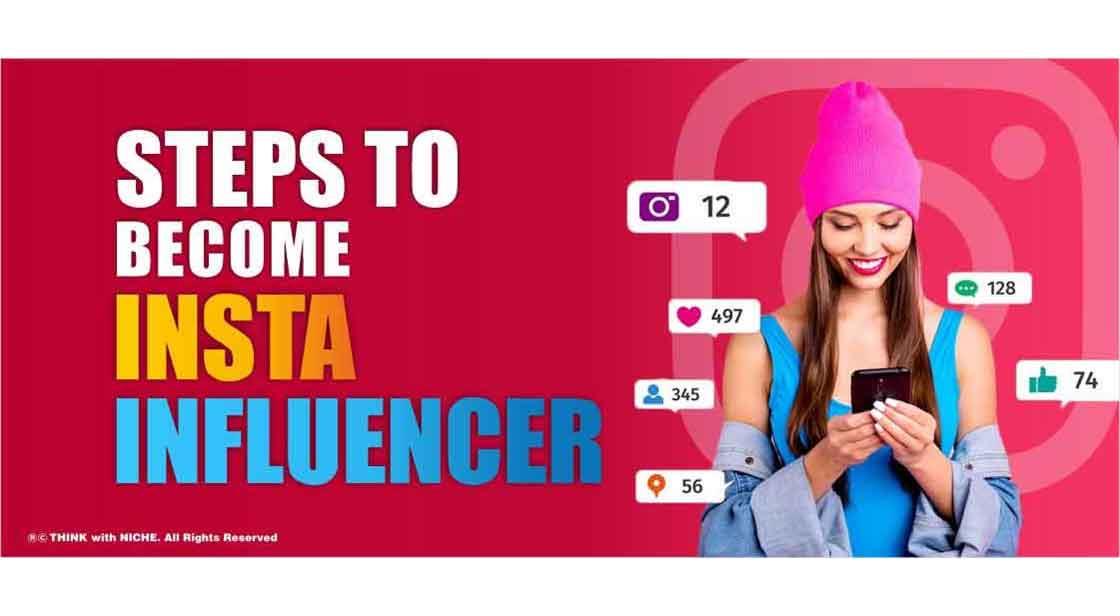 Instagram isn't the same platform for influencers it used to be. With the right tools and approaches, aspiring artists may still tap into a golden business. The influencer marketing sector is predicted to reach $15 billion by 2022. #ThinkwithNiche
Continue Reading..
There is no doubt that Instagram is no longer the same platform for influencers as it once was. However, ambitious artists may still tap into a treasure-trove business with the correct tools and methods. The influencer marketing sector is expected to reach $15 billion by 2022.
Instagram influencers make money, get millions of followers, and have a big social media presence by unleashing their inner creativity. But, before you jump in, keep in mind that there's a sea of influencers out there, both new and old, and you'll have to work hard to stand apart. Here are some easy but powerful, methods to get started and grow as an influencer:
Choose an Appropriate Niche
Finding a niche to focus on is essential for being an Instagram influencer, or any other social media influencer for that matter. Choose a specialization that corresponds with your passions and expertise to preserve authenticity. It is critical if you wish to become an authoritative figure on a certain subject. The more enthusiastic and informed you are about a subject, the more others will see you as a reliable source of information on that subject. Because brands select ideal influencers based on relevance, picking a specialization can help you connect with the right brand partners.
Decide on Who your Ideal Audience is
Consider the kind of people who might be interested in your niche after you've decided on it. It makes it easy to figure out who your audience is and how to interact with them. So you may choose a content strategy and personal brand voice that will appeal to them the most. If you want to be a beauty influencer, for example, your target audience may be young girls or women.
Have a Creator Profile
If you're serious about being a social media influencer, you'll need to take your analytics seriously as well. Keep track of your audience demography and how people interact with your material to better understand how to build your impact. As a result, switching from a personal Instagram profile to a Creator Account is critical. Influencers who wanted to track their success on Instagram previously had to use Business Accounts. It gives you access to Instagram Analytics, which gives you information about your posts and followers. Add links to your Stories and use advertisements to promote your content. However, Instagram influencers now have access to various special capabilities for content production through Creator Accounts. It may use a desktop computer to access the Instagram Creator Studio. Get access to creator-specific analytics, such as engagement statistics and following rates. Products featured in your Feed article can be tagged. Prioritize critical communications by filtering your inbox.
Write a Fascinating Bio
People may get a quick overview of what your content is about and whether it's relevant to their interests by reading your bio. As a result, it'll be the first thing that potential followers glance at to discover what you usually post about. That's why, if you want to be an Instagram influencer, you need to write a captivating bio. Make certain it appropriately reflects your account's purpose. For this, use keywords and phrases relevant to your niche, but don't overcrowd the area because it will become difficult to read. A list structure or non-text components dividing separate sections make the material easier to skim and grasp. You may also provide pertinent hyperlinks.
Set an Appropriate Profile Picture
Even before they visit your profile page, users may get a peek at your account and content by looking at your profile image. It might even be the driving force behind them clicking on your login and checking out your Feed. As a result, it should be able to quickly capture and attract people while also providing information about you.
Maintain Consistency
Consistently updating and giving your fans new stuff to connect with is one of the best methods to expand your impact. Regardless matter how much disagreement there is regarding the best posting frequency, strive to publish at least once a day. Even if it isn't possible for you, try to post a set number of times per week for your fans. Increased Instagram posting frequency may result in lower engagement per post. It does, however, boost your total interaction, which is important for increasing your exposure and recruiting new followers. According to the study, doubling your daily post rate increases engagement.
Provide Quality Content
Although it is crucial to update frequently, don't sacrifice quality to post more frequently. Quality should always come first since it's the reason why people choose to follow you over other Instagram influencers in your field. Keep in mind that when we talk about quality, we're not only talking about publishing high-resolution photos. Rather, it's about creating material that your followers and target audience will find useful.
Hashtags Are Important
When it comes to Instagram, nothing beats hashtags for content discovery. When someone searches or clicks on a hashtag, they'll see postings with the hashtag in the description or comments. It makes it easier for users to locate the material they want and connects them with related content providers. So, if you want to increase your Instagram following, make sure you utilize highly relevant and popular hashtags to increase the exposure of your material and, as a result, attract potential followers. When you put a similar hashtag into Instagram's search field, it will recommend hashtags to you. Additionally, you may utilize tools like Keyword Tool and Hashtagify to find extremely popular and trending hashtags in your niche.
Decide on Your Rates
You must understand what suitable pricing is based on things like your follower numbers, engagement rate, niche, and content quality. Choosing realistic pricing allows you to establish a benchmark for your value as a content developer. Because influencer pricing is typically an important consideration in their search, it also helps you connect with businesses that are a good fit for you. Use the Instagram Money Calculator from Influencer Marketing Hub if you're not sure how much is a reasonable rate. It calculates how much you should make for every post based on parameters such as your number of followers, engagement rate, and average likes per post.
Conclusion
During the lockdown, a slew of new Instagram influencers emerged. As a burgeoning Instagram influencer, make sure you take advantage of current marketing trends that continue to create waves on social media. Trying to put your touch on emerging trends is always a good idea. As a result, you become a participant in a broader discourse. If you offer material related to their interests, users and audiences that want to be a part of that conversation are more likely to find you and connect with you.
You May Like