Shape yourself digitally with Asus Laptop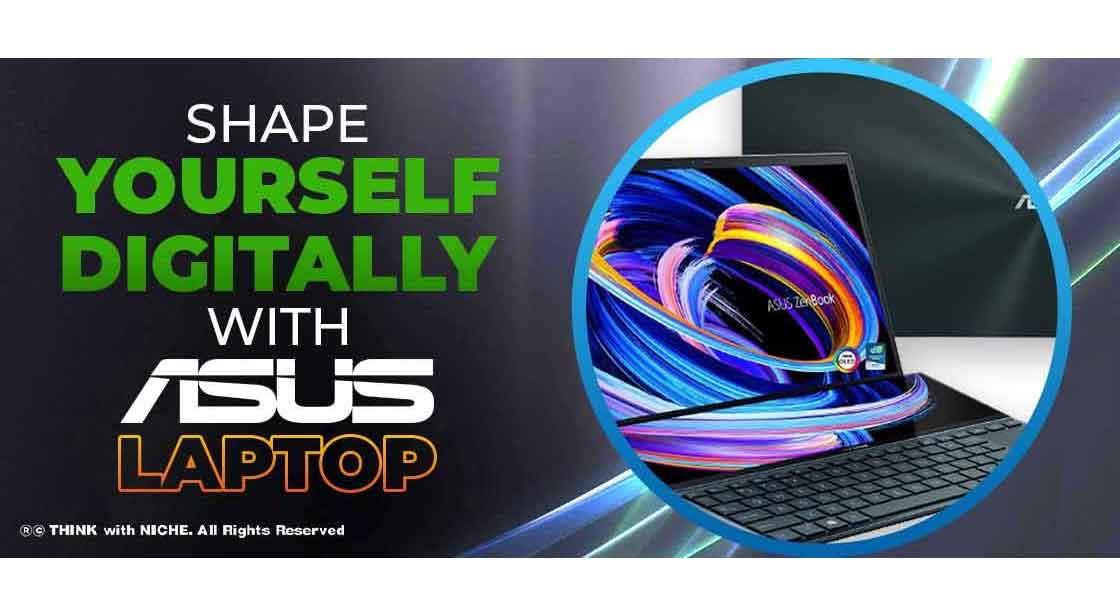 You want to create something, go for Asus. You want to work, go for Asus. You want to be a top-notch gamer, go for Asus! Let me guide you now in buying you your first ASUS! #ThinkWithNiche
Continue Reading..
As a kid, I was obsessed with computers. I'm not a computer geek, but my little world had a place for computers. Being physically active, I had a knack for this digital thing that was new in the early 2000s. Desktops were readily available those days, and the person having a laptop was considered true professional well-being. Laptops were a luxurious item back then and today have lived up to that reputation. Every working person and student owns a laptop in this era, and they are the need of the hour. Today, desktops are used as high-end equipment that can be easily upgraded and customized. Laptops, on the other hand, are readily available based on the work they are preferred for. To deal with your choice, Asus steps in with its wide variety of laptops to help you choose the best. Dive right into the blog and make your decision at the end, right away!
Asus History
Asus is a Taiwanese company that produces computers and phone hardware. The multinational company is headquartered in Taipei, Taiwan. From laptops to phones, from routers to servers, you name it! and they have the product available for you. Asus is also a known OEM (Original Equipment Manufacturer). OEM means the product is created by a company, but the marketing of the product is done by a different company. Asus is a listed company on London Stock Exchange.
Main reasons to consider Asus
Asus is known for its robust nature and top-notch technology. Asus promises to make your connection with your machine special. Before considering any Asus laptop, ask yourself your main motive behind the purchase. If you are a student and you want a laptop needed for research purposes, you will need a laptop that has decent RAM and good battery backup. GPU is not at all necessary for you if you are not into any creative work.
If you are a working professional, you might need a laptop that can boost up the CPU to give you a faster workflow. GPU might be needed for you if your work involves the creative side.
If you are a gamer or a person that deals with the creative part mostly, then you need a laptop that has a good CPU and GPU units in it. CPU will make your execution faster, and GPU will smooth the flow. Gamers tend to go for a laptop that has a powerful GPU system that can render and display the graphics at an extreme level. Rhyzen graphics cards are one of the most powerful graphics cards available in the market. The rhyzen series paired with an Asus laptop makes a deadly companion for gamers. The gaming industry has flourished globally and is now a thriving industry in the Indian subcontinent. It opened the door for a new career in gaming, and also the sales of gaming laptops have gone all-time high. Shortly, you will see the sales of gaming laptops more than smartphones and other laptops.
If you are in some creative field like graphic design or VFX, photoshop, animation, you might need a powerful machine with a high-end GPU and CPU, including accurate colors of the screen. People with these backgrounds tend to go for a desktop rig for up-gradation beyond the limits. Laptops are catching up to the bar set by these rigs, and Asus is almost there, thanks to its continuous development and innovation.
Asus Laptops to go for
With thousands of options available in the market, it's common to get confused and choose a not-so-right product. To save your time, we have chosen the best Asus laptop for every genre of the profession.
Best Asus laptops for students
Has three versions of it (C223, C423, C523)
Has Chrome OS
Runs on Intel® Celeron® N3350
ROM – 64GB expandable up to 2 TB
Very thin and easy to carry.
Has same Chrome OS
Runs on Intel® Celeron® N4020 integrated with Intel® UHD Graphics 600
It's very light to carry, and it is made with military-grade material.
Best Asus Laptops for working professionals
Asus ZenBook flip 13

Asus ZenBook 13

Asus ZenBook 14

Asus ROG Flow X13
All the laptops are power-packed to give you the experience you never had before. They have the RAM (8GB to 32 GB) to make you work easier without causing any lag. These laptops are paired with intel graphics cards and Nvidia cards to facilitate design-related work.
Best Asus Laptops for gamers
Asus has two series that are made especially for gamers. Asus calls them the Republic of Gamers (ROG) and TUF Gaming.
ROG has three subcategories that can be accessed to get the best gaming laptop you want.
ROG Zephyrus Series (most popular or OG in gaming language)
ROG Flow Series (for gamers who have jobs also)
ROG Strix Series (for hardcore gaming like Zephyrus)
Laptops in the series are made to compete in the real world. Made with sturdy material, they last long. They have a high refresh rate and compete with others very hard. GPUs in these beasts have some serious power to lift off your gaming career.
The Zephyrus series is the most preferred one due to its usage in various fields. A creator can use it for creating something stunning, and a programmer can fall in love with this series. A student can learn, earn and play with Zephyrus.
Asus has come a long way from making collaborative products to owning a gaming niche. If you want to go for a laptop that makes you go gaga, choose Asus.
You May Like