Setting up an Office Space in your home for Success at WFH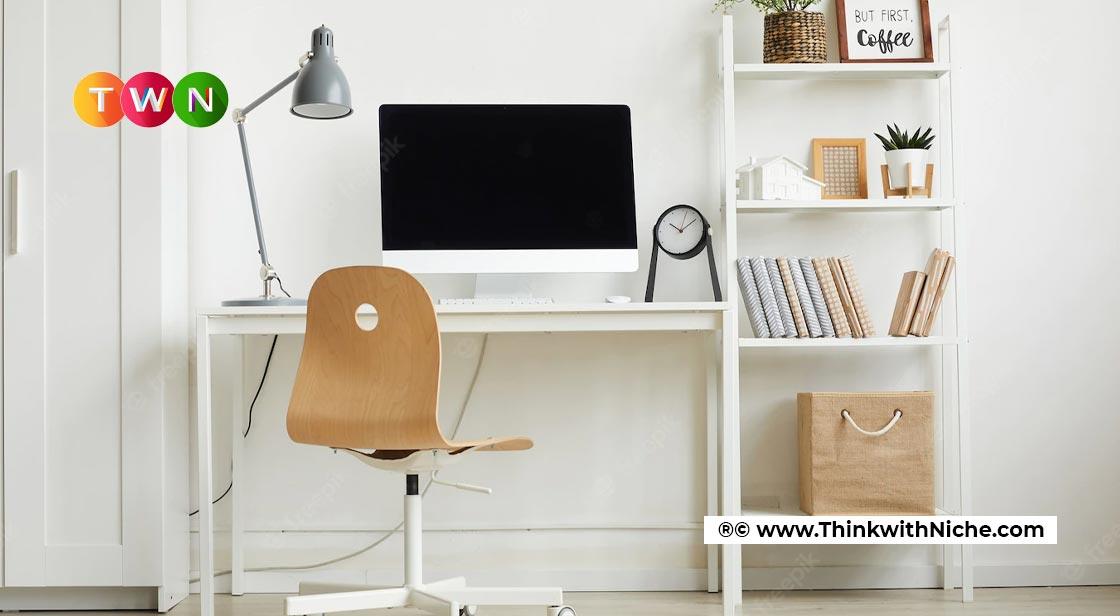 ThinkWithNiche brings to you an insightful write-up on how to set up a home office space for success at WFH. Many people will work from home during the pandemic and perhaps for a long time thereafter. Here's what you need to do to ensure that your home office supports your job — and doesn't ruin your health — in the long run. Working from home isn't a new trend, but the COVID-19 pandemic has forced many office and knowledge workers to do so on the spur of the moment. #ThinkWithNiche
Continue Reading..
Even after the coronavirus outbreak has passed, many companies will have realized that they don't need enormous office buildings, and many employees will have realized that they don't need to be in the office every day or commute for long periods. ThinkWithNiche brings to you an insightful write-up on how to set up a home office space for success at WFH. Open-plan offices need to complement the rest of the room, so a combination of neutral wood and painted finishes works well. Open shelving allows you to customize the space with items that can be highlighted thanks to interior lighting. It also leaves room for display on shelves or cabinets to add decorative elements that make the office part of the home. Here are some ways to spruce up your space so you can be as productive as possible. Good décor will not only make your office space more inviting, but it will also increase your productivity. Choosing the right furniture, installing ambient lighting, and keeping your office clean will help you get more done. There are so many home office ideas out there to transform your space into such an elegant and welcoming space that you'll want to go to work in the morning.
Adding greenery to your space is another way to add visual interest to your office. Consider painting your office walls a soft neutral color like gray, lilac, or cool blue. If anything, lighting your office with natural light is better for the environment. If your office does not have enough natural light, floor lamps or table lamps can be used as an addition. Natural light enhances the space, which is always a plus in small spaces like a home office. It also lets the sun in, which is a great way to make you feel more alive and connect with the outside world without leaving your office. It will also protect you from office distractions and politics, making your workday more productive.
Choosing an office location is the first thing you need to do. You can set up your office in a guest room or even in a converted garden shed or garage. Ideally, you should use a small room that can accommodate a desk and computer equipment, and a door that can be closed to separate work from home life. If your home office is part of another room, you can create a desktop out of a closet, a closet with drawer doors, or other storage space. Made specifically for home use, many cabinets allow you to have a workspace with shelves, bins, and even a pull-out computer keyboard tray in one unit with doors that can be closed when the company arrives. For example, the use of a card cabinet, computer, and printer allow you to keep the entire workspace behind closed doors.
Here you can create a complete office experience or use the space or space you need. You can not only define your working hours but also design your office space exactly according to your needs. The goal of a home office setup is to create an environment where you can be as productive as possible, and creating a space dedicated to a home office (even if it's just a small corner of your apartment) can help you strike a balance between work and privacy and increase productivity. Whether it's a private room or part of another space, a home office is essential for many. Furnishing a home office must take into account needs different from those we are accustomed to considering when designing kitchens, bathrooms, bedrooms, and living spaces. But to create the perfect environment, you need to think about what kind of home office design you like best, what suits your personality, and what you need to get things done. But no matter how you decorate, furnish or furnish your home office, we have a few tips to help you create a space that makes your home business a success.
When space is limited, it's difficult (if not impossible) to set aside an entire room for a home office, so it's worth considering how to create a multipurpose use of your space. Your office space is more than the equipment it contains. It is a combination of furniture, lighting, and overall aesthetics. While you're furnishing your home office, think about who else will be using it and choose the space and furniture accordingly. Consider a partner table setup where two people can work at the same table at the same time. You don't want to set up your office in the living room/living room if people in your house congregate there. You must align the needs of your home with the needs of your work, making room for a purely professional space. You need to keep your office organized so you can think clearly, complete tasks on time, and have a work environment that encourages productivity.
In addition to the right equipment, the physical configuration is critical - the ergonomics of the work area, especially to avoid repetitive overuse injuries that can be caused by poor configuration. If you have limited storage space at your listed home office, find space elsewhere in your home for items and supplies you use less often. Identify a space that is rarely used, such as a guest bedroom or dining room. Creating a dedicated workspace will help you find a balance between work and home life. Just as you create separate spaces for work and non-work hours, you divide your time in the same way. Avoiding distractions will help you work smoothly throughout the day so you can work from home as productively as if you were in a regular office. Organize your schedule, daily routine, and workspace, and you will work better.
If you're struggling to find a room for your office, divide up the space so it can be used in different ways. If you don't know what space to divide, or if your home just doesn't have room, you might consider building a small office. They can be installed on your premises at reasonably low prices and mean you have your own private office space to keep your mind off of distractions. A home office desktop can be anything from the simplest console to a solid desktop. If that's what's needed, consider the angular version, which can be more compact.
You May Like