4 Business Lessons for Success from KFC founder Colonel Sanders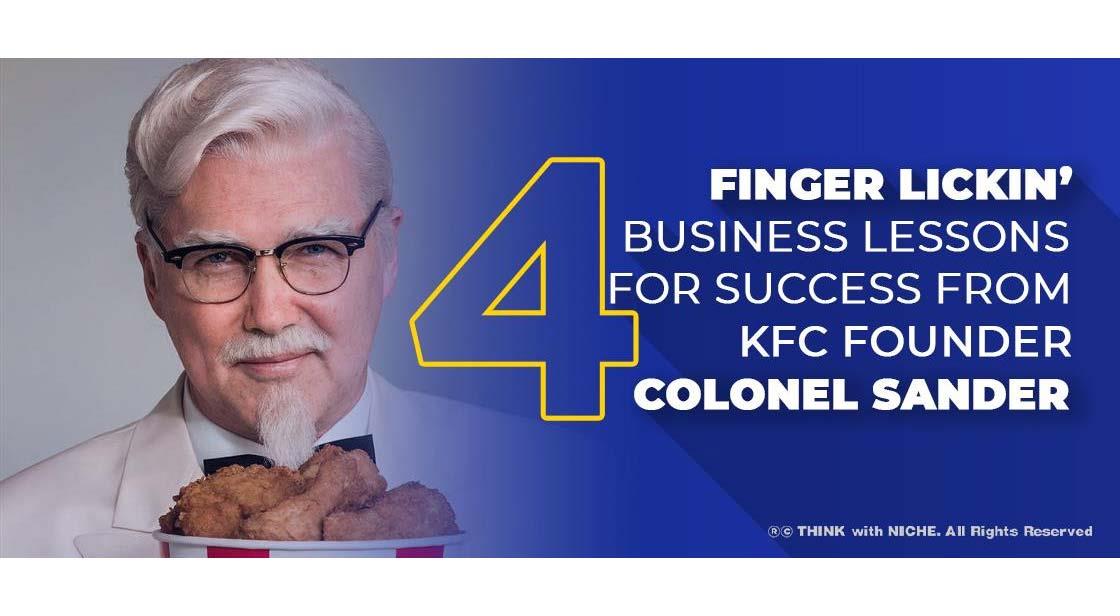 Do everything you can and the best you can. It's the only way you'll ever feel like you've accomplished something," Sanders wrote. Sanders put his simple, handmade cooking abilities to good use, following his aforementioned credo of "do everything you can, and do it best you can." #ThinkWithNiche
Continue Reading..
Sanders sold KFC to Heublein, a liquor and food giant, in 1971, and the Colonel became enraged as the quality of his beloved KFC degraded, and his relationship with Heublein deteriorated.
Despite a tragic turn of events near the end of his life - he died at the age of 90 in 1980 — his book contains some gems on dealing with life's curveballs, honing your entrepreneurial spirit, and simply enjoying work life more.
Take an interest in Technology and Experiment
The fried chicken wasn't originally on the Colonel's menu because it took too long to prepare. The pressure cooker was introduced in 1939, and Sanders soon began experimenting with fried chicken. Of course, he was successful. He had refined his secret recipe of 11 herbs and spices by 1940, and he could prepare fresh, fried chicken in less than eight minutes. Keep an eye out for emerging technology and how it might benefit your company through inventive applications.
Start Simple and Do Simple
Sanders put his simple, handmade cooking abilities to good use, following his aforementioned credo of "do everything you can, and do it best you can." In a room adjoining to the service station, he put up his dining room table and six seats and began providing hot meals to hungry clients. There were no menus or options, only high-quality meals.
The news spread, and Sanders' strategy of selling complementary things, fuel, and food paid off handsomely.
Sanders promoted himself by putting up signs on barns within 150 miles of Corbin. According to Sanders, one driver drove 200 miles after following signs. "When I arrived, I expected to see a 12-story structure." Of course, Sanders' setup was much smaller, but it provided high-quality food, which was the most critical factor. When the hungry driver delved into the cuisine, it didn't matter that Sanders's starting business was little, the promotion felt entirely justified.
The Kentucky governor bestowed the honorary Colonel title to Sanders in 1936 in recognition of his contributions to the state's cuisine. The restaurant had grown to 142 seats by 1937.
Don't Be Afraid to Change your Career
Before becoming Colonel, Sanders had a variety of positions. He was a mule-tender in the army, a locomotive fireman, a railroad worker, an insurance salesman, an amateur obstetrician, and a ferryboat owner. His destiny as the founder of KFC began to take shape only after he was offered the lease of a gas and service station. Sanders started franchising KFC when he was 65 years old. "Don't leave at 65," he warned in an interview. "Perhaps your boat hasn't come in yet like mine hasn't."
If you keep looking until you find something you enjoy, you'll most likely succeed at it.
Add Value wherever you can
What are the expectations of your customers for your product or service? Now add a smidgeon more. When Sanders took over the Standard Oil service station, for example, the locals refused to buy gas from the newcomer. Sanders needed to find a way to win over the locals.
People expected gas for their cars, but instead received not just a windshield wash, but Sanders also filled up their tires. People traveled from far and wide to see a full-service service station. The station's sales have tripled, setting a new high.
Unfortunately, when a severe drought hit Kentucky in the late 1920s, just as the Depression was beginning, Sanders' business went bankrupt. Farmers were unable to pay their service station credit.
Sanders's reputation preceded him, though, and Shell offered him a free station in Corbin, Kentucky provided he agreed to relocate.
Conclusion
Sanders showed his fried chicken to a buddy, Pete Harman, in Salt Lake City, 12 years later. He made the fried chicken himself for Harman and his wife, hoping that Harman would sell it at his restaurant. Harman made no promises, but he did a trial run. Harman agreed to offer the Colonel's chicken permanently after it proved to be popular with his customers. Harman's was the first KFC restaurant to open.
Life gave Sanders another curve ball three years later. Corbin would no longer be a popular stop for truck drivers due to the construction of a new interstate roadway. Sanders sold his service station at an auction when he was 65 and began collecting social security checks. With just his checks to fall back on, the Colonel embarked on a campaign to sell franchises across the country, cooking meals for restaurant owners along the way. Some avoided him, while others welcomed him, but he persisted and took responsibility for his company's success.
You May Like