5 Problems That You Can Easily Resolve with Aloe Vera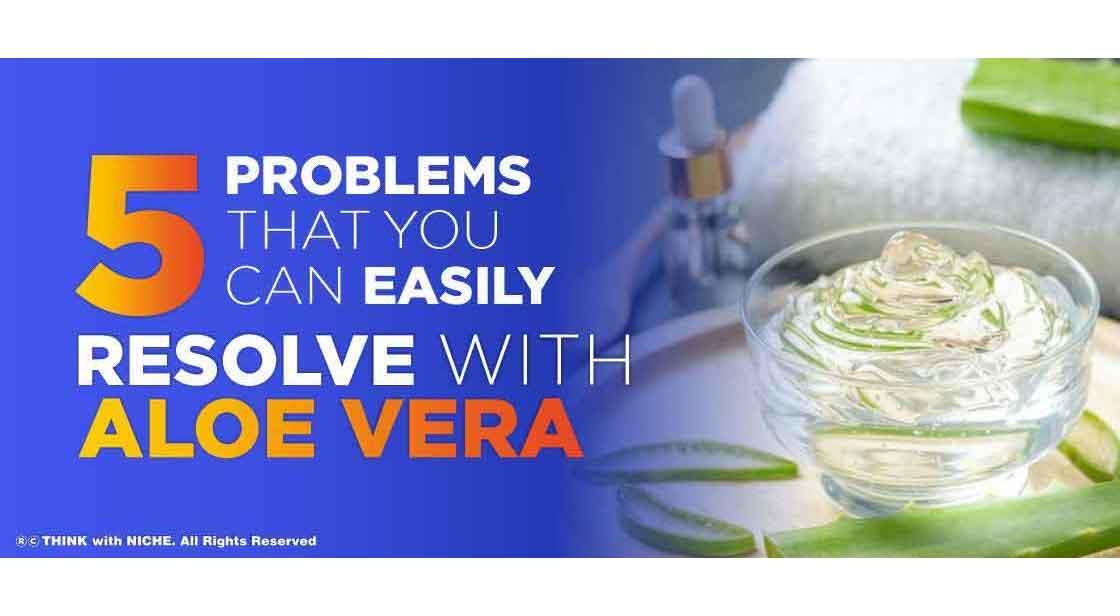 If you have wounds or cuts, you should use a product that contains polysaccharides, which are skin-healing fibers. These fibers can be found in aloe vera. It's also recognized for its anti-freeze properties. First, clean your injuries and wounds. After that, apply aloe vera to the affected region, wrap it in a bandage, and leave it for 5-8 hours. If necessary, remove the bandage and repeat the operation. #ThinkWithNiche
Continue Reading..
Aloe Vera may not appear to be particularly attractive. Its properties, on the other hand, are unquestionably exceptional. You can improve your appearance. Here's a list of problems you can fix:
Dandruff Can Be Prevented with Aloe Vera
It would be fantastic if you could figure out why you had dandruff in the first place. Perhaps you should alter your diet and take nutritional supplements. It's conceivable that the hair products you're using aren't suitable for your skin. Try switching to a shampoo that contains aloe vera instead of your typical shampoo. Aloe vera-based hair treatments, balms, and gels are also available. You will notice a significant change and will finally be dandruff-free.
Aloe Vera Protects Against Wrinkles
Aloe vera gel should be purchased and applied to your skin daily. Stop using chemicals and preservatives in your skincare products. You require a natural cure. Aloe vera is a fascinating plant that can smooth your skin and reduce the appearance of fine lines and wrinkles. Vitamin A, antioxidants, and a variety of other components in the plant are beneficial to your skin. Carotene, on the other hand, strengthens and repairs your cells. You appear to be younger as a result.
Aloe Vera Helps to Exfoliate the Skin
You're less likely to get blackheads, acne, or other skin problems if your skin is clear and clean. We recommend exfoliating your skin before applying gels, creams, and other skincare products. The following methods will be considerably more effective if dead skin cells are removed. Regularly, exfoliate and peel off dead skin cells. A cup of aloe vera and little baking soda is required. Prepare a grainy paste by combining the components. Instead of baking soda, you can use sugar. If you need to exfoliate your face, neck, or entire body, use this mixture. Gently massage for a few minutes before rinsing with warm water.
Aloe Vera is Good for Hair
If you wish to revitalize your hair, this plant is a good choice. It's a fantastic scalp treatment. Aloe vera is one of the most cost-effective hair care options. It's quite safe to use frequently. You can use pure aloe vera gel or a combination of aloe vera gel and coconut oil. Make a paste with your hands and apply it to your hair. Allow for 20 minutes of drying time before rinsing with a neutral shampoo. Your hair will be silky and smooth once more.
Aloe Vera Can Help You Get Rid of Acne
Aloe vera is an excellent choice if you're seeking a soothing cure. Because this plant includes polysaccharides, your skin cells regenerate more quickly. Because of its antiseptic and antibacterial qualities, aloe vera can be used as an anti-inflammatory treatment to treat acne and pimples. Finally, aloe vera gel is high in glycoproteins, which help to prevent rashes. It hydrates your skin while also protecting it from bacteria.
Conclusion
The number of advantages that aloe vera provides appears to be limitless. B-sitosterol, a chemical found in aloe vera, can help you get rid of bad breath. Anti-inflammatory qualities of B-sitosterol help to combat acid indigestion, which is the most common cause of bad breath. Take some aloe vera gel and mix it with twice as much apple juice or water. To make the cocktail, combine all of the ingredients in a mixing glass and stir well.
We have great articles in Hindi too for our readers who have a taste for the Hindi language. Click here to explore!
You May Like