5 Best E-Commerce Platform: Build Your Online Store Now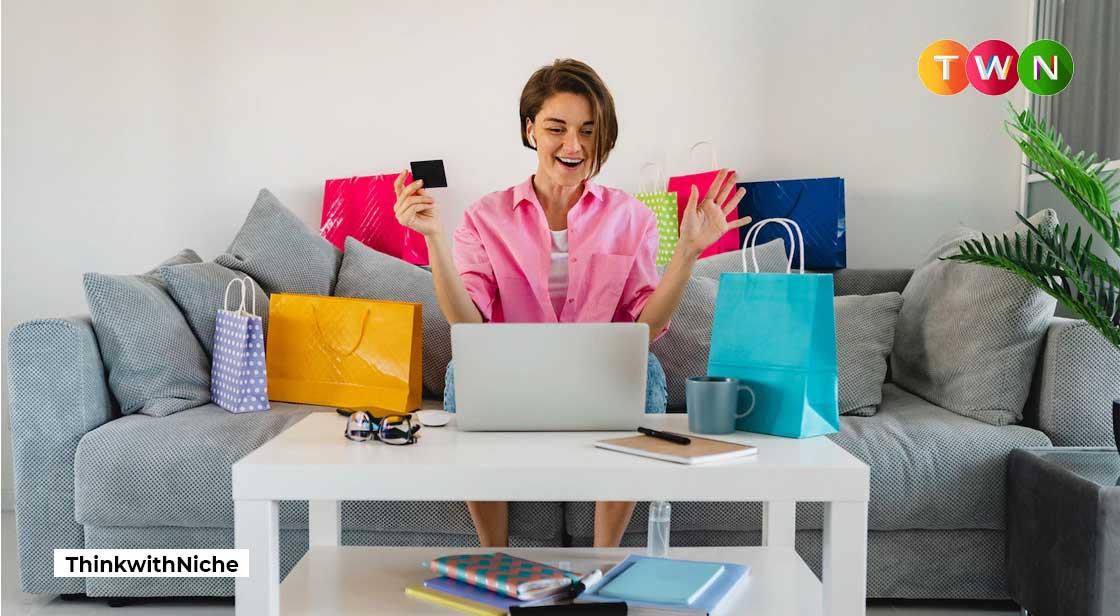 Creating and successfully driving an online store seems like a lot of hard work! However, certain eCommerce platforms can make it easier. Read on to discover five such platforms. #ThinkWithNiche
Continue Reading..
eCommerce businesses want a solid platform to create their online stores after adequate planning and legal registration. You'll start building your website and online business instead of looking for a place and preparing to open a physical store.
This website will be the face of your company. It will be the first thing your consumers see and will be used to browse and purchase your items or services. One of the most crucial aspects of beginning an eCommerce business is developing a website. Your eCommerce platform, whether it's all-in-one software like Shopify or an open-source platform like Magento, will be the foundation on which you construct and develop your online business.
Most eCommerce systems allow you to modify your design, add your domain, manage inventory, receive and dispatch orders, handle payment, and in addition to creating and launch your online business.
Although there are uncountable platforms on the market, here are the five best platforms for you to start your eCommerce business -
1. Shopify
The finest eCommerce platform is Shopify. It is the greatest option if you want to dropship and use Facebook Ads or Instagram promotion. With Shopify's drag-and-drop interface, creating an online store is simple. Most newcomers to website creation can pick it up in a matter of minutes.
Shopify is free for 14 days! Later, the Basic Shopify account with unlimited goods is $29 per month plus 2.9 percent + $0.30 per transaction. Shopify subscriptions are available in four different levels, starting at $9 per month for Shopify Lite, which does not feature a full web store. Sign up for a 14-day trial with no credit card required, and you'll have the first build of your business ready to go in minutes. The onboarding wizard guides you through the process of adding items, changing the layout of your shop, connecting your domain, and setting up payment processing.
Shopify offers ten free themes as well as over 50 premium themes beginning at $140. You may also choose from over 1,300 themes on ThemeForest. If it isn't integrated into Shopify, you may use the app store to discover an extension, plugin, or service that accomplishes it.
With over two million stores established on the Shopify platform in the last 15 years, it's difficult to find a better alternative for most small companies trying to get an online store up and operating quickly.
2. WooCommerce
WooCommerce is the greatest all-in-one platform for running an eCommerce and affiliate website. It integrates with WordPress to transform any website into an eCommerce store. Extensions for connecting payment gateways, social networking, email marketing, 1-click selling, and shipping are also available. WooCommerce is insanely simple to set up on your website. If you're already familiar with the WordPress platform, WooCommerce will be easy-going. This plug-in is open-source, free to download, and comes with a comprehensive set of eCommerce functionality. The technical specifics will be difficult for anyone unfamiliar with WordPress. It includes everything from purchasing hosting to installing WordPress to configuring your theme and plugins.
There are several excellent free themes available. WooCommerce has several free and paid extensions that may help you improve your store. Use the USPS extension to get real-time shipping costs, integrate multiple payment gateways, or use WooCommerce Subscriptions to allow consumers to subscribe to your goods, services, or even a paid newsletter. On a self-hosted WordPress site, WooCommerce is free for basic capabilities - extra extensions start at $29, and transaction fees vary depending on the payment provider. WooCommerce is included with WordPress.com's $45 per month eCommerce package. You may also use these extensions in conjunction with any WordPress plugins to further personalize your store.
3. Squarespace
Squarespace is another platform with drag-and-drop functionality. They were founded in 2003 and offer elegant templates and design services. After you've finished designing your website, you'll have access to marketing, inventory, social selling, SEO, and analytics tools. ShipStation is integrated with Squarespace, and you can install Printul and ShipBob from the app area. Shipping charges from major carriers such as UPS, FedEx, and USPS may be calculated in real-time. But for the payment, only Stripe and Paypal are accepted. The applications, on the other hand, only work with a few third-party tools.
The costs are quite modest. Squarespace is well recognized for its contemporary layouts and as a website builder. Squarespace offers two eCommerce-specific plans: Basic for $26 per month and Advanced for $40 per month. To begin selling, you must be on the Business website plan, which costs $18 per month when paid annually. You should be aware that transaction costs will cost you 3%. The top plan gives you the ability to retrieve abandoned carts, sell subscriptions and gift cards, and provide adjustable discounts. The bundle includes all the standard features you'd expect from an eCommerce platform, all of which are conveniently organized on the side menu. Finally, Squarespace is a user-friendly platform that can accommodate company owners with varying degrees of technical expertise.
4. Magento
Magento is a good choice if you have the budget and want something that is genuinely configurable and powerful. You might choose to adopt the open-source version of Magento if you want to be able to modify every part of your online business. You may change any piece and design your site using this eCommerce platform, but you'll need technical knowledge to do so. Although this platform isn't ideal for newcomers to eCommerce, if you have the technical know-how or the funds to hire a developer, you'll discover that Magento has the most features of any open-source solution on the market, plus it's free to download.
It has a significant number of developers that will work on your business for a charge or answer some of your inquiries for free. There's also a marketplace where you can buy extensions and themes to improve your platform's functionality. Magento is mostly used for free! However, enterprise solutions for large eCommerce firms are available for a fee. The yearly license charge might be in the tens of thousands of dollars. That's a lot of data, but it's in the cloud, so it's faster, plus it has extra capabilities like automated trigger-based email campaigns and automatic cross.
5. BigCommerce
BigCommerce is the greatest eCommerce platform overall. It's perfect for larger retail firms because of its powerful product search engine. It's also a wonderful option for those looking to open an eCommerce business and extend their operations to incorporate online orders. Its various tools allow any niche or business to succeed.
Using any of the adjustable templates to create your store, sell, and advertise your items, you may build your online shop without having to know how to code. It's geared at folks who don't have a lot of web development experience, but it also allows techies to adjust the HTML and CSS.
BigCommerce has a very limited number of free themes. The most affordable option is $29.95 per month. Checkout vouchers, gift cards, unlimited bandwidth, and professional reporting are among the perks. However, you won't receive a custom SSL or an abandoned cart saver, but it's still a great option for small businesses with annual sales of less than $50,000. The sales limit rises in tandem with the strategy.
Conclusion
Whichever platform you choose, you'll like the extensive range of features you may add. Discounts, recurring payments, the ability to grind SEO, per-user content adjustments, membership subscriptions, endless items, and more are all available.
After you've determined whatever option is best for you, you'll need to get to work customizing and launching your website. Consider how you want your online store to be arranged, the design you want to use, the colors you want to use, and so on. You may either build and publish your website yourself or hire a professional designer or developer to help you, depending on your platform and budget.
You May Like