Tips to Succeed in your Catering Business during the Pandemic!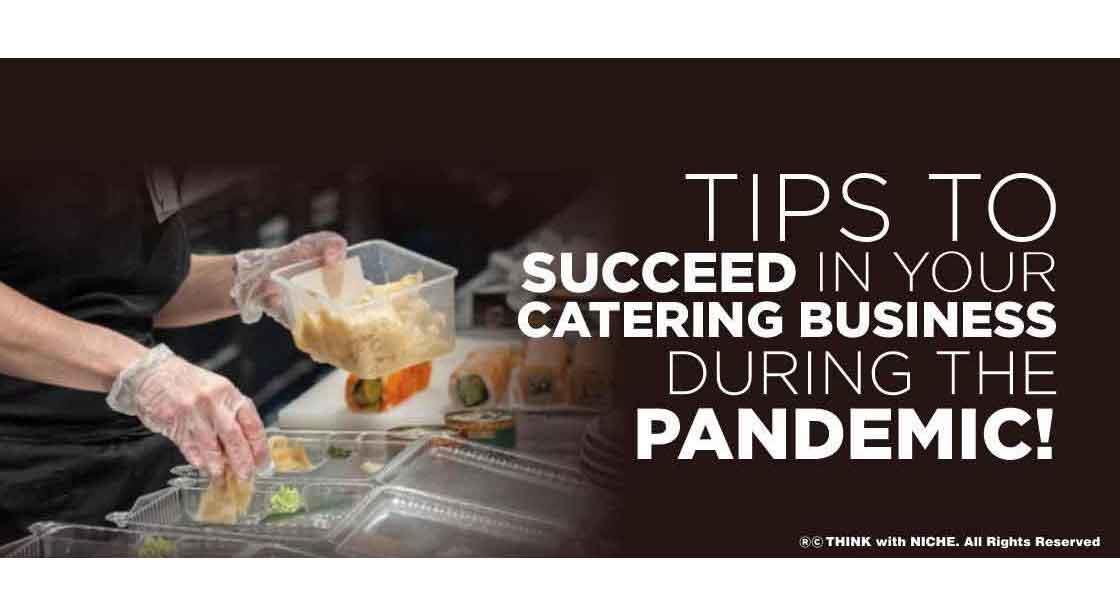 The catering business is undoubtedly very profitable. After all, food is the be-all and end-all of our being! But in these difficult times, all types of business have seen a beating, and the Catering business is no different! So in this blog, let us learn about some tips to succeed in the Catering business during the Pandemic. #TWN
Continue Reading..
The Catering Business is one of the most successful and significant businesses in the modern age. Delicious food is undoubtedly a great necessity at parties or special events. But it is the management of food that causes a headache! Caterers are the ones who manage everything beautifully, from the taste of the dishes to serving them to the guests. When they say, "It was a wonderful party!" it means that the food was great, and the Catering service organized it well! So the praise is not for the hosts, but for the specific catering business! The hosts can feel happy that they hired it!
Before we get started, let me give you an overview of the catering ecosystem.
The two most common types of catering are indoor and outdoor. It can be difficult to choose the right type of catering, especially for new clients who are trying to save money for other unanticipated costs associated with their event.
Because they differ in terms of planning, pricing, and other ordering procedures, it's critical to understand the various types of catering.
Any professional caterer will tell you that indoor and outdoor catering are two completely different concepts. Individual preferences and financial constraints may influence the choice between the two.
Just like sides of a coin, indoor and outdoor catering also have their benefits and challenges. Catering companies face significant challenges because they must figure out how to make both the inside and outside of their establishments comfortable for everyone.
That's why we've outlined the differences between these two types of food catering, as well as some catering advice, to help you make a more informed decision.
Indoor Catering Services
Indoor catering typically takes place in confined spaces such as restaurants, banquet halls, hotels, halls, and convention centers. Catering companies in these situations are familiar with everything they might require and typically prepare food in an existing or customized kitchen within the confines of the available facilities.
Due to capacity constraints, indoor catering can only accommodate a limited number of people, and the room temperature is controlled by air conditioning or ventilation systems installed in the building.
Outdoor Catering Services
Traveling to the event's physical venue, which is usually a long distance from the restaurant, is part of outdoor catering. It is typically held in a remote location where food and beverages are transported from one location to another. In this scenario, caterers personalize their kitchen and dining area.
Outdoor catering, as opposed to indoor catering, is influenced by natural elements because it takes place in an open space, which is usually covered by canopies or tents.
Best Catering Services in the USA
On Safari Foods

Junzi Kitchen

Sirico's Caterers

Herban Feast

Brother 2 Brother Catering

Ravishing Radish

DJ's California Catering

Leading Caterers of America

Rocky Top Catering

ZeroCater
Businesses Marred by Covid-19 Pandemic!
However, these are the times of the Covid-19 pandemic, and life has gone into a sad, dull mode. All businesses have seen a fall, and the Catering business has perhaps suffered the most! The bright, happy cheer in the environment has given way fearful covering of masks. The celebration and parties of Christmas and New Year have surrendered to Covid restrictions! The people have made the distance from crowded places and naturally, Birthdays and Wedding Anniversaries are only a home affair for now. Concerts and special events are compelled to accept the consolation of 'Some Other Day!'
We understand how torrid times you are facing in this pandemic situation. No parties mean No orders! How difficult it must be to deal with it! You must be thinking about crossing the boundary and venturing into a new business. But if you think a new brand new business would require investment! It would also bring risks with it! We understand how torrid times you are facing in this pandemic situation. No parties mean no orders! How difficult it must be to deal with it!
Catering Business Plan
A food catering business plan should include elements that are common to all business plans, with a focus on elements unique to the catering and food services industry.
Revamping of Catering Business!
You must be thinking to cross the boundary and venturing into a new business. But if you think a new brand new business would require investment! It would also bring risks! It is not a time to panic or be disappointed! You must have heard the saying, "Every cloud has a silver lining!" Every problem has goodness! What you have to do is just revamp your business and retain your success! So let us talk about the silver lining meaning, some tips to help your catering business prosper during a pandemic –
Not Popular in Covid, but Alive!
The best part is that the catering business is not dead during the pandemic. Food is a necessity, and it is the biggest plus of this business. You only leave hope about a product that is not essential. But food is a need, and even in the pandemic, this business may not be popular, but it stays alive!
Make a Shift in the Target Consumers
New Year has just begun, and the pandemic has already cast its web upon us. Social distancing has once again become the need of the hour. In such a situation, large gatherings are suspended for the moment. So Parties and events are canceled, but corporations and firms are open. The staff is working from home, but some essential workers are required at the office. The employers need them for long hours, but the cafeteria is closed in the wake of the restrictions. So their meals and nourishment become the responsibility of the employers. In such circumstances, you can offer them the services of your Catering Business. Many companies like Hospitals, Medical clinics, Shipping warehouses, and grocery stores are there who will happily accept your proposal.
Provide your Services Outdoors!
You must remember that your catering business is not just a business, but it is a way of serving the people. In these difficult circumstances, you can take your business outdoors. You can set up a small hygienic outdoor eatery near hospitals and clinics to enable the health workers to get some nourishment. Other people also step out due to some emergency, and your eatery can provide them relief. As Dr. William Schaffner, an expert in infectious disease says, "Eating outside is less risky than eating inside if everybody is six feet apart and the wait staff is wearing masks." It could also serve as your brand promotion. But the Covid norms should be adhered to perfectly. Another option can be to set up a small stall near the farmer's market. The farmers have to go there very often and, they do not have any place to satisfy their hunger. Your catering business can be a boon for them. At the same time, it is an opportunity to interact with small-scale business owners and create a good advertisement for your brand!
Mobile Van for Daily Needs!
A mobile van is a need for the situation. The day curfew could be applied very soon, and we would not be able to step out of the house. In such a situation, food and grocery items become scarce. Your mobile van can fulfill this need of the people. After taking permission from various residential societies, you can reach there to supply the daily essentials. The only thing is that the items must be supplied at cost-effective rates. These days are crucial, and people are, as it is, stressed out, so your help would somewhat relieve them.
Food Ordering App!
It can be a great idea to bring your catering business to the mobile app. Food ordering Apps are a big success in these difficult times! It is a big business, and so convenient for the customers. Swiggy, Zomato, and Uber Eats are great examples. Your customers order food online, which reaches them within a few minutes. It will not only keep you in business but help you expand your business. Another option is to the first partner with the Food Ordering Apps. It will help you to learn the functioning of these Apps and then launch your very own Food Ordering App! You need to introduce some new offers to compel the customers to turn towards you instead of their regular Apps. It is not that difficult. Is it? But, you have to maintain the hygiene and safety of your food and delivery executives.
Fulfill Grocery Requirements!
Your food ordering App can fulfill various other needs of your customers like grocery items and vegetables. A recent example is Swiggy which accepted orders for grocery items and daily essentials from its customers. The Swiggy Genie boasts of bringing medicines and anything you require in an emergency. No wonder it has become a trusted brand for its customers. You can use this idea to promote your catering business and transform it into a multi-dimensional business!
Conclusion
We understand that you have set up your Catering Business with much love and sincerity. But it is a very crucial time. These are not normal circumstances, and like we all are adjusting, we need to adjust our businesses to this demanding situation. We must keep holding the rope of hope and positivity to prosper. These tips will only help your catering business to expand its outreach. So prepare new mouthwatering dishes and action plans. Spread your wings in the skies of lingering taste, nourishment, and trust!
You May Like