5 Best Fitness App To Get You In Shape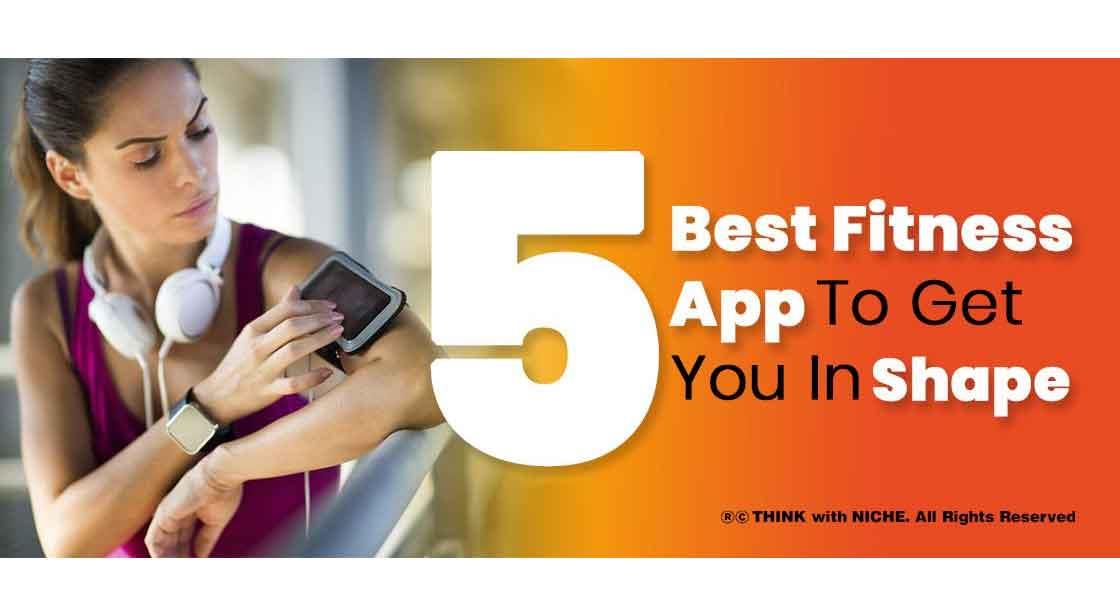 For many people, staying fit is a major challenge, and most of us don't have time to go to the gym. This is where fitness apps come in since they allow you to work out on your own and achieve your fitness goals without spending a lot of money. Find out about the top 5 fitness apps. #ThinkWithNiche
Continue Reading..
One of the best aspects of living in this day is the convenience we have. Our lives have never been easier because of technology. If there's one thing that takes the cake for most of us among all the fantastic technology, it's our smartphones. With a simple click, we have access to everything. All of these tasks can be done on a smartphone, from ordering meals to getting a haircut to scheduling a dental appointment. There are apps for everything these days.
The same goes for fitness and health. In recent years many techies have rolled out their fitness app to compete in the market. Fitness apps are programmed to get one in shape. It tracks a user's progress physically. The aim of these apps is to provide optimized guidance and motivation by catering to a user's fitness goals. These apps can suggest exercises, keep a track of your health, and even suggest you a diet according to your needs. However, since the market is huge, there are many fitness apps out there and it can be confusing for people to figure out which one to use. So we decided to make a short and concise list of the 5 best fitness apps that can help you achieve your fitness goal.
1. My FitnessPal
MyFitnessPal is a fitness app that ranks at the top because of its easy-to-use interface and intricate database that keeps a record of your eating habits and exercises. It offers personalized advice according to your needs so you can rely on the application. The app can also sync with more than 50 apps to keep all your workout information in one place. MyFitnessPal also has a large food database that tracks all of your calorie intakes. The software is free to download, but you'll have to pay an additional fee to subscribe.
2. Daily Workout Fitness Trainer
This app is made for folks who are just getting started with their fitness journey. The app is created as a free fitness trainer that offers a daily workout routine that can be done at home in 5 to 30 minutes. To achieve your fitness goals, you don't even need to go to the gym. Each session includes simple instructions and suggestions for exercises that may be done at home. This app's finest feature is that it is absolutely free to use.
3. Zones For Training
This app is for iOS users, more so for Apple iWatch users. The main arena of the app is to track your heart rate, your pulse, and a bunch of other important readings to make sure you stay healthy. The app connects with your apple watch to keep a track of your heart through heart rate tracking for cardio and strength training. For people who are concerned about their heart or have cardiac problems, the app is a clear winner.
4. Fooducate
A good diet is an important part of staying fit, yet many people ignore this advice, which is why you have Fooducate to help you out. The app's purpose is to recommend healthy foods that will help you stay in shape and achieve your fitness goals. The app has a barcode scanner that helps to decide how many calories you'll need for each product you buy. The app also has a feature that breaks down the nutritional value of each of your meals in detail. All of this combines to make Fooducate an excellent tool for people who want to stay fit.
5. Sworkit
Sworkit is one of the favorite apps for fitness enthusiasts as it offers a personalized workout routine and exercises. The app allows you to select your fitness goal from all categories such as strength, yoga, cardio, stretching, muscle, etc, and create a workout routine for you. You can choose a workout duration that is suitable for you. The software is free to use and is accessible for both Android and iOS users. However, if you want to use the premium option, you'll have to pay around $10.
You May Like