Think With Niche #ThinkWithNiche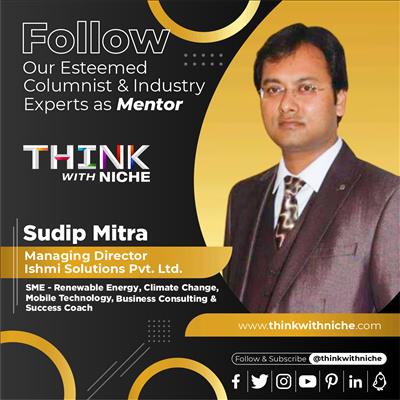 Sudip Mitra
Introducing Sudip Mitra: A Visionary Business Leader and Columnist at Think With Niche
Meet Sudip Mitra, a dynamic force in the world of business and sustainability.
With a proven track record as the Managing Director at ISHMI Solutions Private Limited, Sudip is on a mission to revolutionize the power industry with innovative green solutions.
His leadership at ISHMI Solutions encompasses a diverse range of cutting-edge initiatives, from online power and solar solutions to pioneering water generation and patented surface coatings.
As if that weren't enough, he also spearheads brand and communication management, both in the digital and traditional marketing realms.
At the core of Sudip's ethos lies a profound commitment to society and the environment.
He firmly believes in the restorative power of state-of-the-art technology and the latest advancements to bring equilibrium to our world.
His extensive experience as an Enterprise Head for technology and telecom giants like Airtel and Jio has molded him into the visionary leader he is today.
Sudip Mitra's mission is clear: to reduce the carbon footprint that burdens our planet.
This commitment serves as the cornerstone of all his endeavors, driving every action he takes and decision he makes.
What sets Sudip apart is not just his impressive professional journey but also his dedication to giving back to society and nature. It's this noble cause that has brought him to Think With Niche as an esteemed Industry Expert.
His knowledge-rich writings on renewable energy, climate change issues, and technology are his way of sharing the countless years of industry exposure and experience he's accumulated.
Sudip's contributions to Think With Niche are more than just insightful columns; they're a genuine endeavor to make the world a better place, one impactful article at a time.
Join us on this enlightening journey with Sudip Mitra as he imparts his wisdom, expertise, and passion for sustainability and technology to our readership.
His writing isn't just informative; it's transformative.
Discover the future of business and sustainability through the eyes of a true visionary, Sudip Mitra, exclusively on Think With Niche.