Think With Niche #ThinkWithNiche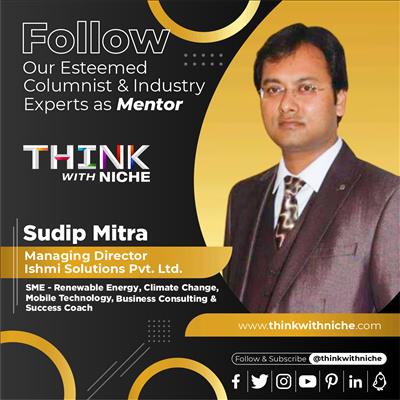 Sudip Mitra
Managing Director at ISHMI Solutions Private Ltd.
Sudip Mitra is the Managing Director at ISHMI Solutions Private Ltd., an organization driven to deliver green solutions for the power crisis in our country.
This organization operates in the field of:
1. End to End Online Power & Solar Solutions
2. Perfecting Water – Generate Your Own Source of Water
3. Surface Coating – Patented Solvents
4. Brand & Communication Management – Digital & Traditional Marketing
Core Values:
1. Excellence & Quality
2. Reliability & Consistency
3. Innovation
4- Coordination & Harmony
5- Ethics & Integrity
6- Safety, Health & Environment
Sudid believes in the philosophy of giving back to society and nature to restore equilibrium using state-of-the-art technology and the latest advancements. Reducing Carbon Footprint is the cornerstone of all his activities.
Vineeta is with us as an Industry Expert in the field of Human Resource Management and Shares her Numerous Years of Industry Exposure and Experience with the Readership of Think With Niche as a Noble Cause of Giving Back to Society using her Knowledge Rich Writes.
His Relation with Think With Niche is on Honorary Basis.