Think With Niche #ThinkWithNiche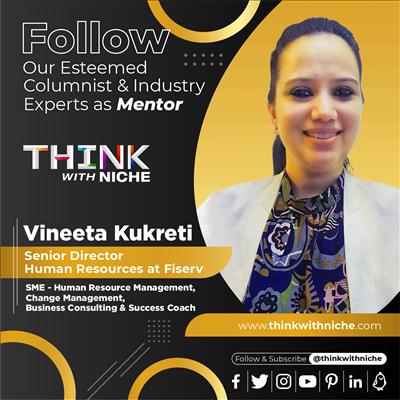 Vineeta Kukreti
Senior Director Human Resources at Fiserv| SME- Human Resource Management, Change Management, Business Consulting, and Success Coach
Vineeta is a Senior Strategic Human Resource Professional with 20 Years+ of Experience in Human Resource Management & Business Consulting.
She has Built and Led Proactive HR Programs for Complex, Service-Based Partnerships and organizations undergoing Acquisitions, Getting Ready to Sell, Startups, Change Management, Rapid-Growth, and Transitional Business Cycles in IT and Business Consulting Domains in the United States of America, United Kingdom, Europe, and Asia-Pacific Regions.
Vineeta, in her earlier professional journey, has been associated with- The Boston Consulting Group (BCG), Publicis Sapient, Sopra Steria, and American Express.
Vineeta is with us as an Industry Expert in the field of Human Resource Management and Shares her Numerous Years of Industry Exposure and Experience with the Readership of Think With Niche as a Noble Cause of Giving Back to Society using her Knowledge Rich Writes.
Her Relation with Think With Niche is on Honorary Basis.