10 Major Challenges For New Bloggers - And Solutions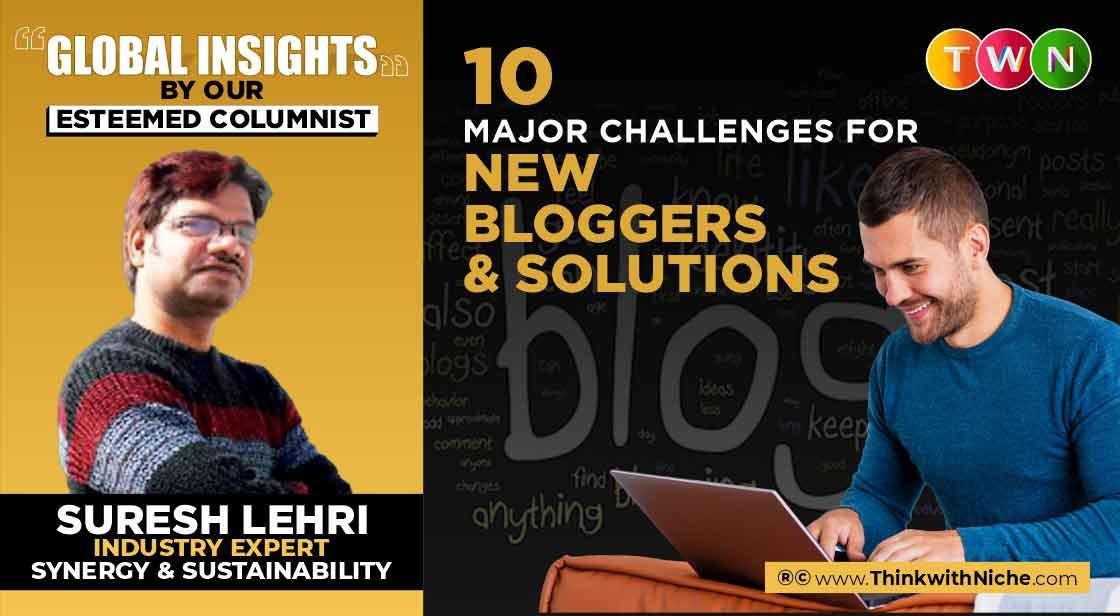 In reality, blogging is a full-time job and requires dedication, patience, creativity, commitment, marketing skills, and so much more. The sad reality is that there are lots of problems bloggers face and they cause most of the beginning bloggers to fail. Especially it is a drag to browse already popular blogs and see the whole range of skills and talents on display, excellent writing, brilliant photography, fun videos, and witty debates in the comments. And yet, if you ever feel discouraged from starting something just because other people are far ahead, remember to have the courage to suck at something new. Besides, those blogs probably have a whole team of professionals working for them. No one has all the talents. Blogging is not a difficult task but now it is not as easy as you think. In today's time, it has become very difficult to be successful in blogging.
There is no doubt that the competition in blogging is increasing, so as the competition increases, new bloggers will have more difficulties in establishing their feet. Let's find out what difficulties new bloggers encounter and discover some suitable solutions.
Continue Reading..
Sometimes, when you read blog success stories, it seems so simple and easy. This could even be once you've gained the experience and draw inspiration from your success. However, when you're just starting with your blog, you will encounter a lot of challenges that bloggers must confront. These challenges are common for nearly every blogger. One blogger's challenge may be more crucial than the most difficult for another blogger.
However, blogging can be a challenge at the beginning. You can make the battle more enjoyable, or master them faster if you be prepared and quick to learn. However, you'll have to fight.
1. Keep Yourself Focused
There's so much to do when beginning your journey and there's lots of new information which is often, not any satisfaction. It can be difficult to keep your focus and continue in the absence of comments and visits to your blog. It's helpful to know in advance that this stage is mere to be overcome. If you're starting from the bottom without a target audience or content and no experience, you'll only need to study and get up and running.
Additionally, you're not the only one. Blogs that are new don't always start as vibrant places for interaction. It's possible to see slow growth. Find other bloggers who connect with your issues and emotions. Sharing experiences and little successes will help you discover the motivation you're looking for.
2. Do Not Try To Be Perfect
When you're beginning your journey, you'll need to be able to complete everything correctly. However, the issue is that If you try to achieve excessive perfection, you'll face a difficult time making things happen. Success in blogging isn't all about perfection. It's about beginning in the beginning and learning to improve. When you are trying to make incredible content for your viewers 10 posts that have flaws will get you more success than one blog post that is bound to be flawless when you've got it done.
Remember that not every blogger is an expert marketer or writer. We all agree that we could have improved certain (or most) of our older articles. And, the small imperfections or rough edges make you unique and transform your website into something that is personally appealing and engaging!
3. Making Traffic
Bloggers usually write to an audience. However, finding the audience is among the biggest challenges of all. The secret phrase is TRAFFIC. There are numerous ways to bring the blog's traffic however, each one of them involves building an audience or spending money to get it. Every blog started small and takes time to gain a following. But don't put off trying to see it happen. Be active. In fact, you can build your blog's readership even before you begin it, or even before you've got a significant quantity of content.
It is important to realize that you have to attract an audience. This audience won't just appear out of the blue. When it comes to social media, if you know the process of a social media platform, you can actively grow your followers. If you are a curator it is possible to begin growing an audience in the nick of time with just one item of material. Building an audience is going to, at first require at the very least as long as writing posts for your blog. There are ways to do this, such as guest posting or working with other bloggers that can aid in getting your blog's attention.
4. Actively Participating On Social Media
I truly hope that you're not thinking"I'm a blogger Why are you speaking about social media? networks are among the most effective channels for promoting your blog without cost! However, between creating your blog, creating posts as well as creating images, and everything else about blogging maintaining your social media channels up and running may seem like something of an (almost) impossible job. The best approach is to concentrate on selecting just one or two social media sites as you start out and concentrate on understanding how to get visitors to your blog through these channels.
Tools will assist you greatly in getting the channels up and running at a minimal expense when you understand the way in which the network works. Automation isn't a problem Instead, it can allow you to stay on top of social media without having to spend all of your time on tedious and tedious tasks. Use it with caution.
5. Be Patient And Don't Give Up
The rewards for blogging may be minimal initially. This isn't an easy task. Many bloggers are expecting too much, too soon. Many bloggers fail simply because they abandon their blogs too soon. While I do not recommend that you simply sit back and wait it out, the success of blogging as well as social media marketing and other online-based activities can take time.
It is also highly recommended for you speak with other bloggers. Join Facebook groups related to the subject and share your experiences. Chatting with others who are facing the same issues can greatly assist in recognizing the tiny improvement and not giving up too soon.
6. Making Enough Content
If you're just starting out as a blogger, you will require a lot of material. Some even suggest keeping your blog off the internet until you have a minimum of 10 posts in order to ensure that anyone who does arrive at your blog will have more than one article.
Personally, I believe it's enough to know what your first two posts will be and establish a specific timetable for when you will be able to complete them. But, you should be aware, before you begin blogging that at the very least, in the beginning, posting one article every month isn't going to be enough to make you any progress.
To create a blog and followers for it, you must create post content on the blog. The channels that let you advertise your blog for free require more regular updates. It's impossible to promote your blog using just only one blog post. If you only write one blog post every month, it will take many times longer to write the required content that will grow the readership of your blog.
To make the process of creating content easier Here are some suggestions:
If you just begin writing, you'll be faster in writing when you have more experience

Use simple formats. List posts help make content creation easy, and chapters in a story" can be told more easily. There are other kinds of posts that limit the necessity to write.

You can read lots. Continue to read.
7. Finding The Perfect Area of Expertise
This one is difficult. It's not just about picking a topic in which you can make a statement. It is also important to choose an area that has an enormous and large audience.
While you shouldn't go to copy a niche blog from another site You should conduct your research and search for similar niches to see what other bloggers are doing. Look through the comments of related posts, sign up to groups or forums, and join Facebook groups. Also, talk to other people!
Once you have decided that you have found your niche, create a list of ideas for blog posts. If you're able to only think of a couple of post ideas it is likely that you'll have no ideas before your blog is able to find an audience and gained popularity.
Also Read: Important Content Marketing Strategy Tips to Make Your Small Business Grow
8. The Creation of Everything Related to Posts: the blog images, freebies, etc.
Many new bloggers believe that blogging is all about writing. However, blogging is much more. It is necessary to establish your blog and work out an enormous amount of technical issues. You must choose an aesthetic and add life to it. Images are required for every blog post. You must be a part of the network and engage. It is important to know about Search Engine Optimization SEO and social media marketing.
There are tools available to assist you with many things, and the majority of them are at no cost. For instance, you can use Canva to create stunning photos. If you're stuck: ask your fellow bloggers how they dealt with the issue. Since the odds are that at the very least, some bloggers you know had exactly the same issues.
9. Do Not Get Frustrated When You Over-Compare With Others
You've read the many blogs that saw their traffic explode and they made tons of money, and who are living their dreams, and so on. It can be quite stressful when you have to come up with your next article that will contain 10 readers, and your list of things to do gets longer by the day.
We are all enthralled by telling stories of success. They are especially effective when told from the point of view of having achieved it.
In reality, the majority of bloggers struggle to start and face difficulties to produce enough content and finding an audience to share that content. Don't be comparing yourself to your role models or bloggers from the past. Instead, speak to other bloggers who are just beginning their journey. You can learn from each other by helping each other out and being realistic about your expectations.
10. Not Getting Overwhelmed By All That is Brand New
If you're just starting out, everything is brand new. Don't attempt to solve every and every issue at once. Don't attempt to conquer every social media platform, instead, take it one step at one at a time. If you're struggling to write blogs, do not try to be a guest blogger. If you find making pictures for your social media a problem you can start by making just one or two images for the social media platforms on which you're active.
Remember that blogging is an adventure and not a destination. It can take time to sort everything out and you should allow yourself the time.
The ability to get free traffic via social media is feasible. It's just a matter of knowing how to go about it.
You May Like